Whether you're an overlander with years of experience or hitting the trail for the first time, this collection of our "Top Ten" lists of overlanding gear and accessories is sure to help improve your kit.
There is a lot to choose from out there, and you can rest assured that the items that made it onto our lists have been thoroughly vetted and tested by Clay and Rachelle (founders of Expedition Overland), and the rest of the team at Expedition Overland.
From our favorite pair of recovery gloves to the heavy-duty bumper mounted onto the frame of our vehicles, our recommended gear and accessories have been used by us around the world and have proven worthy of our stamp of approval.
We are proud to partner with some of the best companies in the industry, and you will see their products featured here. We will only partner with companies that create products we trust, as we rely on our gear to perform in the harshest conditions in which the success of our expeditions is at stake. There are other reputable brands to consider for sure; however, we recommend and stand by these products as they have passed our rigorous evaluation process.
🎄To make this blog more user-friendly (and because the holiday season is here!), we decided to organize these lists into categories based on differing price ranges. We hope you'll find that helpful whether you're shopping for that special overlander on your gift list or sneaking in a present for yourself!😉
1. A Premium Membership to onX Offroad:

The right navigation tool is at the top of our list for a lot of good reasons. For starters, a well-designed navigation app will let you both find your way to adventure while also ensuring you make it back home. You can share routes and campsites with friends in your network and discover new places to explore each time you head out. At just $29.99 for a one-year premium membership, the onX Offroad app is a piece of kit you definitely don't want to leave home without! Be sure to use code 'XOVERLAND' for 20% off!
2. Field Craft Survival Tourniquet and Holder:

A well–provisioned first-aid kit is an essential item in any overlanding rig, and an essential part of that kit is a well-made and easy-to-use tourniquet. That is exactly what you get with the tourniquet available from Field Craft Survival. Used properly, a tourniquet will save a life–maybe even your own.

3. SureFire G2X Pro Flashlight: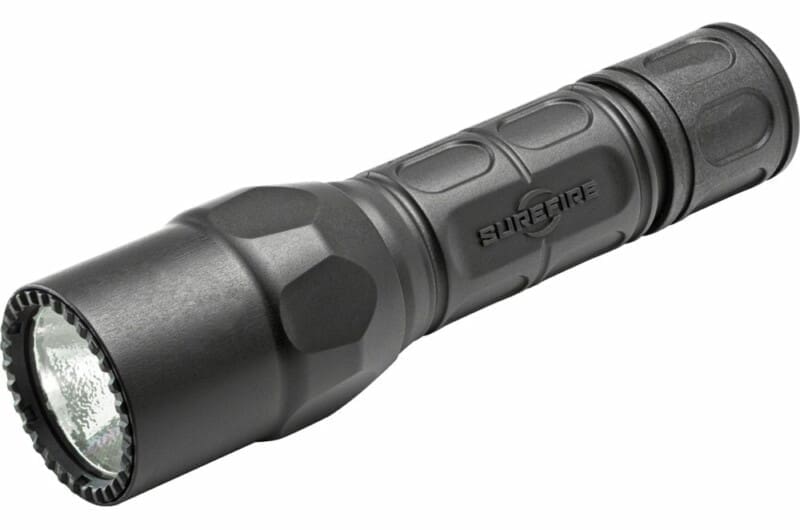 A bombproof, bright, and reliable flashlight is an overlander must-have. SureFire makes some of the best around and offers a wide range of options. The G2X Pro is an ideal all-arounder to keep in your rig or on your person.

4. Barebones Camp Lantern: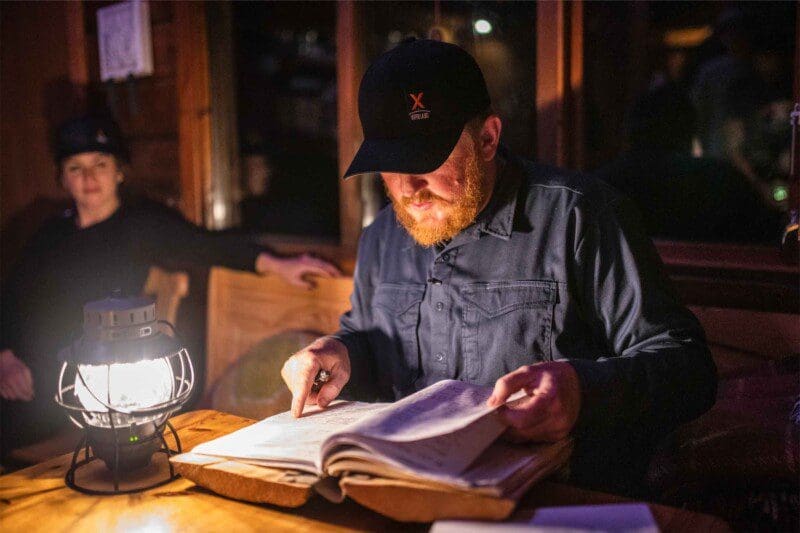 One of Clay's favorites! Technology has done much to improve camp amenities, and when it comes to creating an inviting yet functional well-lit area within your camp, the LED illumination provided by a Barebones Lantern is perfectly suited to the task. Barebones lanterns feature a rechargeable lithium battery that will provide several hours of safe light within your tent or outside around your dinner table.

5. The SOG Entrenching Tool: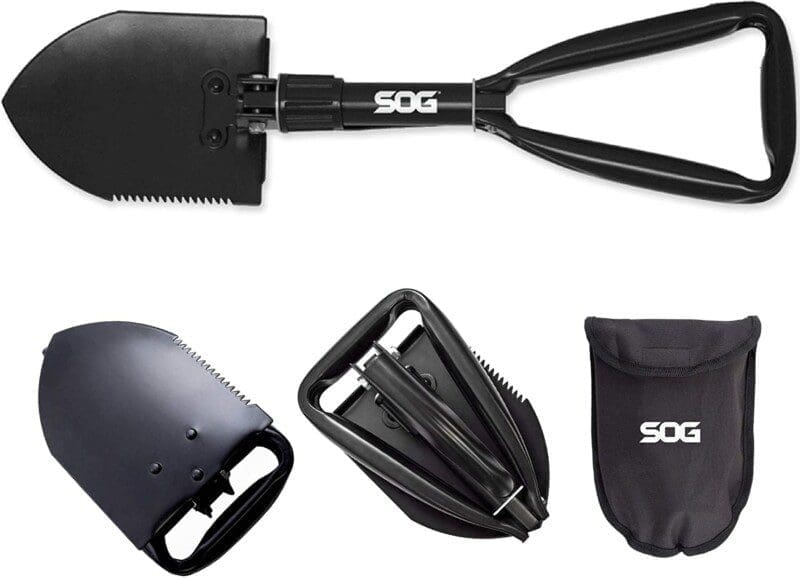 The Team has used this shovel in our kit since the beginning! No overlanding kit is complete without a sturdy shovel for all those "small tasks." We love the SOG for these reasons:
It's collapsible and stows easily.
At just 24.5 ounces, it's relatively lightweight.
It's highly versatile and can be used to clean campfire pits, dig catholes for waste burial, or recover a vehicle.
The SOG Entrenching Tool is extremely strong and durable.

6. An OBD2 Diagnostics Tool: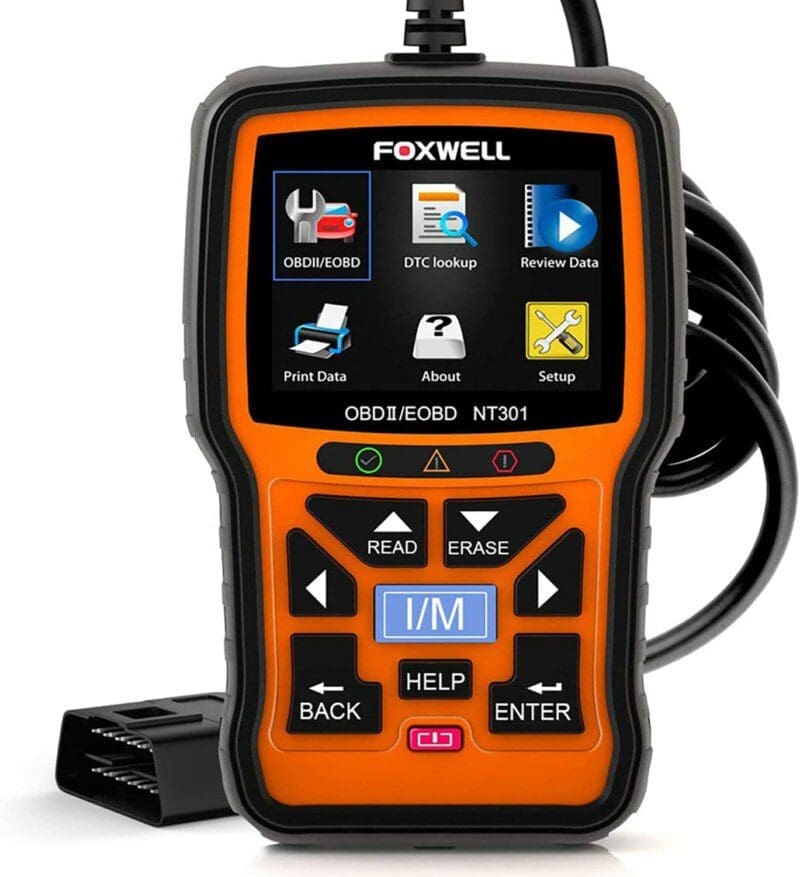 This tool is one of our staples for each of our longer adventures. Ever get that pesky code that turned out to be your gas cap not tightened all the way? An OBD2 Diagnostics Tool will help you out in the field and at home by giving you the codes you need to know what's happening when that "check engine" light comes on. If your vehicle was built anytime after 1996, this tool will be a solid investment toward maintaining your vehicle and not getting overcharged by a dishonest mechanic. An OBD2 Diagnostic Tool reads any error codes thrown by your vehicle's central computer. When that "Check Engine" light comes on, you can connect this tool to your vehicle's OBD port (generally located under the dashboard) and it will provide a code that will allow you to determine what's wrong with your vehicle. You can also use this tool to clear a code being thrown as the result of a modification made to your vehicle.

7. ARB Speedy Seal Tire Repair Kit: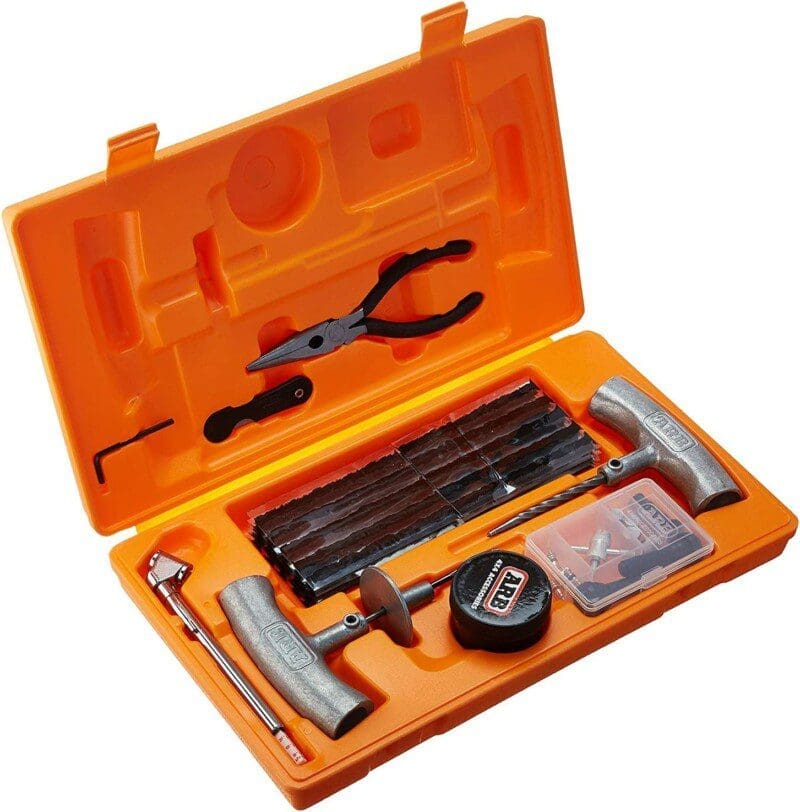 This simple but effective kit is another one of the X Overland team's go-to and must-have items in their fleet. Whether you're out on the trail or just daily commuting, it is just a matter of time until you have to deal with a flat tire or a slow leak. "Plugging" a tire is an easy fix for simple punctures caused by the likes of nails, wire, and similar items that occasionally find their way onto backcountry roads and trails. A tubeless tire repair kit takes care of these flats quickly and gets you back on your way. Like all of their products, the ARB Speedy Seal Tire Repair Kit has been developed to handle the extreme demands of off-road use. The components are of the highest quality and all you will need to replace are the plugs when you run out!

8. VTAC Vertx Stackable Storage Cubes: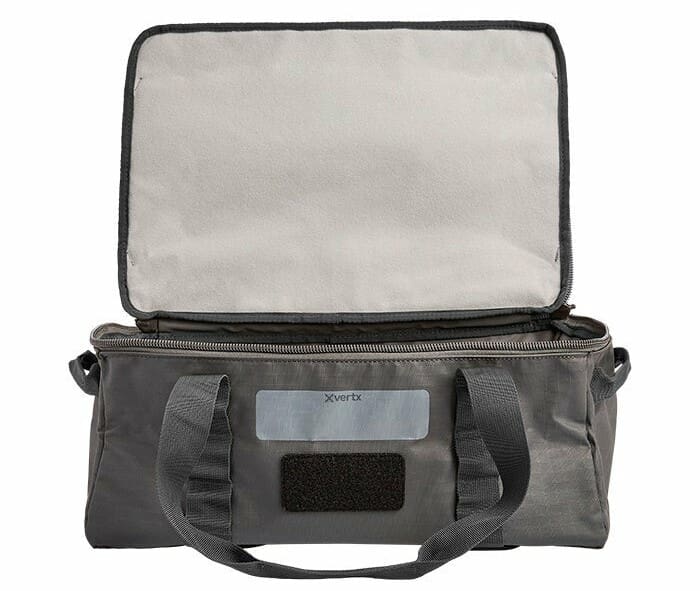 Have you ever looked into the cab of your vehicle and got anxious about the lack of organization? Objects that are not stored correctly are not only difficult to access in an emergency but also potentially dangerous in the event of an accident. VTAK Vertx Stackable Storage Cubes are the tool you need to ensure your gear is well-organized, accessible, and secure. With this highly thought-out system, you can store a variety of gear in different size bags that are color-coded for instant recognition of what's inside. These bags can also attach to each other or be stored separately. We use them to store everything from first-aid equipment to tools and recovery gear.

9. Magpul Sunglasses: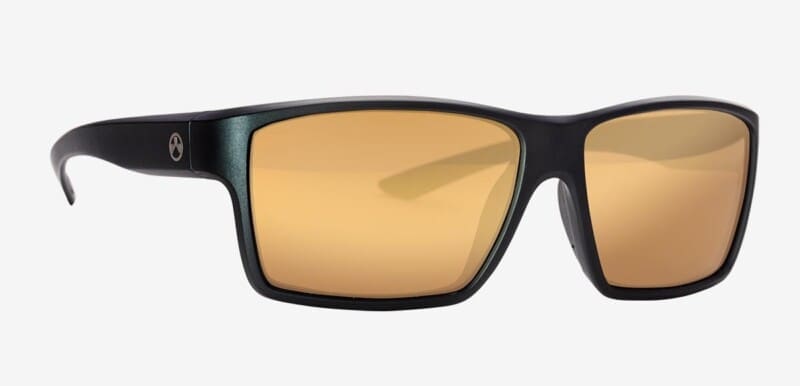 No matter the season, if you are going to be in the outback for extended periods of time you will need to protect your eyes from harmful U.V. rays. As an overlander, you will also benefit from eye protection during times of recovery. Magpul sunglasses exceed MILSPEC safety standards and are designed to function flawlessly in extreme environments. That's why we have them within arm's reach every time we head out.

10. A Subscription to Overlander Network!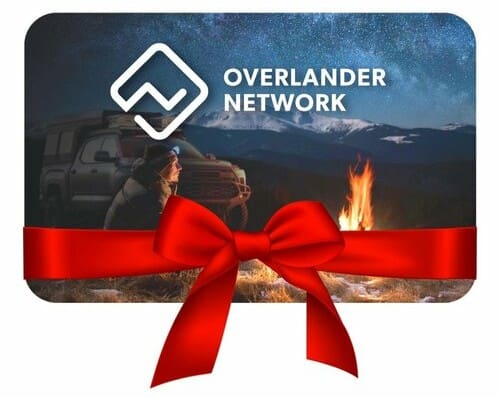 A great stocking stuffer for the travel and overland enthusiast! Featuring monthly, live masterclasses on a variety of popular overlanding subjects along with content that will inspire your next adventure with more to come! Overlander Network is also where you will find all of Expedition Overland's legacy and future content dating back to Season 0! The new app allows subscribers to download their favorite content for those long flights, off-the-grid travel, or favorite campsite. Knowledge, training, and entertainment are right at your fingertips.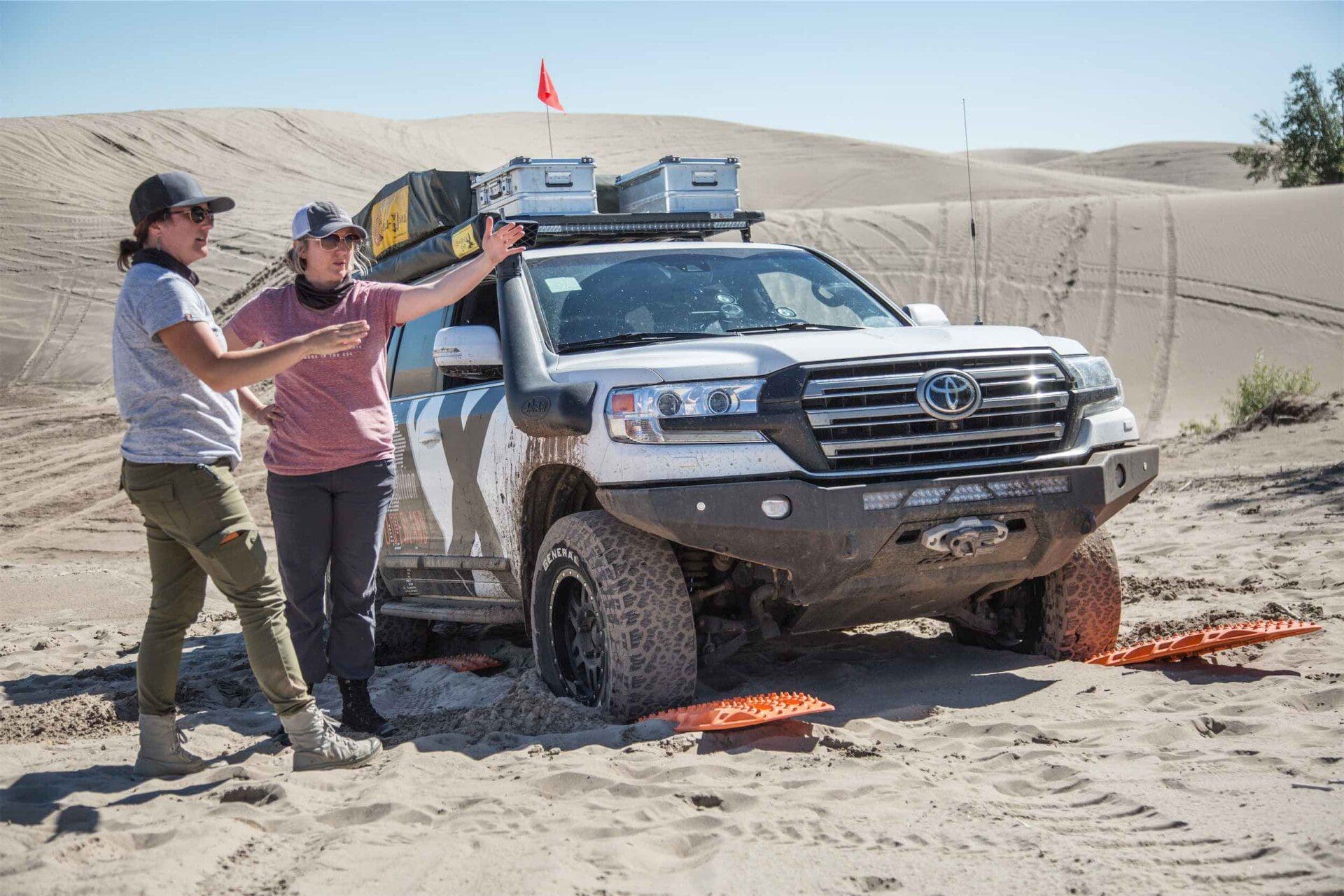 While all of the gear mentioned above is suitable for anyone when it comes to gearing up for overlanding, some of the items on this list are unique to women. Women have different needs than men while camping and overlanding, and we sought to address some of those here with some of Rachelle's favorite go-to items.
1. The Tinkle Belle: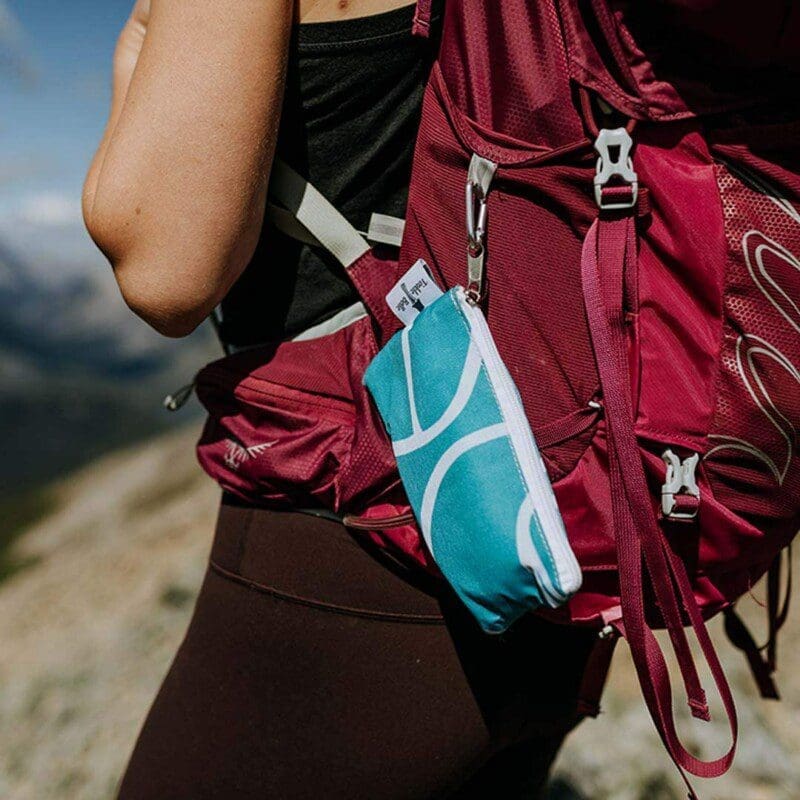 Let's face it, girls. When it comes to peeing in the outdoors, men have it easy. Why not help yourselves out by using this simple but effective urination device when nature calls? Also works great when you don't want to get out of that tent at night.

2. The Shower Pouch: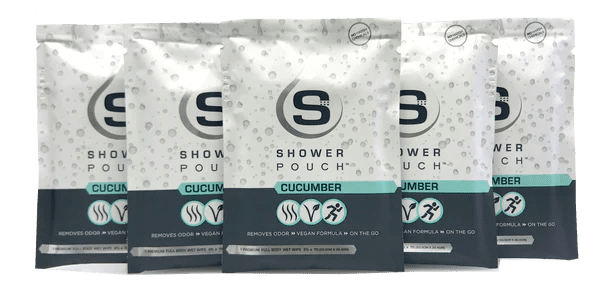 10% off with code 'XOVERLAND'. Ok, so this item belongs in the kit of both men and women alike. The Shower Pouch is the ultimate solution to staying clean, fresh, and hygienic while camping and overlanding. Unlike other shower wipes that dry out quickly once the bag's seal has been removed, the Shower Pouch contains one large, sealed, shower wipe per pouch, so you are assured of a moist, clean wipe every time you wash up at the end of the day. Pro tip from Rachelle: For those cold mornings, place your Shower Pouch in a pot of boiling water for a warm 'shower'!

3. Vertx SOCP Sling: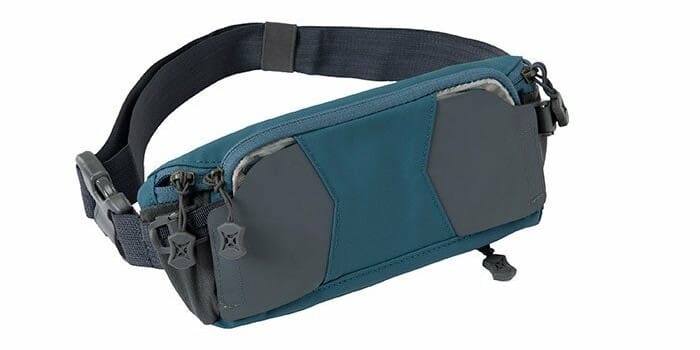 Use this sling bag by Vertx for EDC (Every-Day-Carry) items at home or while on the trail adventuring. Along with being set up to carry everything you'd place in a conventional purse, Vertx sling bags feature tactical construction that allows for easy carry of a weapon such as mace, a knife, or even a firearm.

4. Black Diamond Heavyweight Screentap Gloves: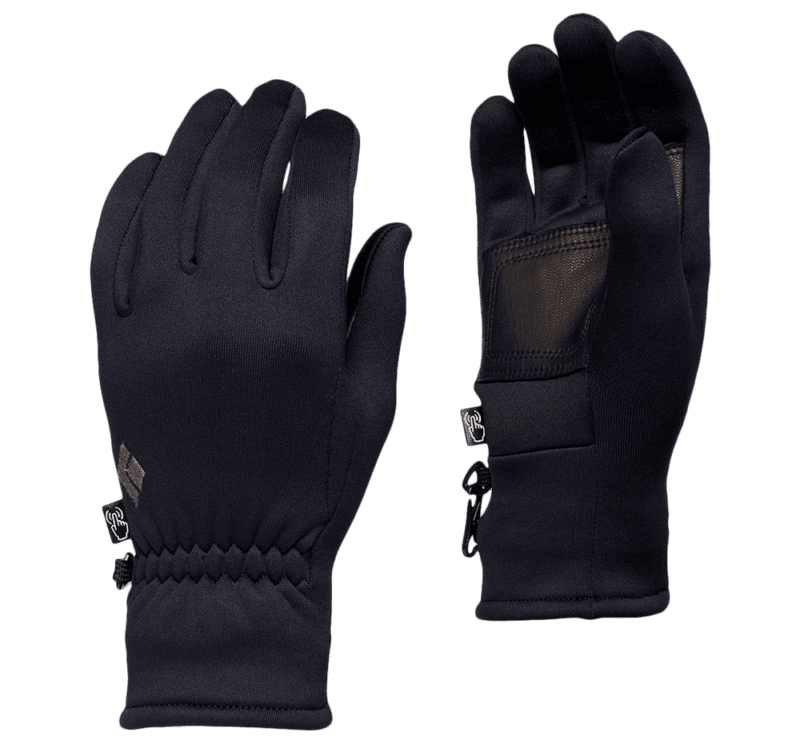 Rachelle's favorite gloves for years running. When the temps drop and the rain or snow flies, it's very helpful to be able to keep your hands warm while maintaining digital touchscreen functionality. Whether you're working with a phone and/or a dedicated GPS, having to take your gloves off every time you need to tap your screen will quickly result in cold wet fingers. Black Diamond has solved that problem with these warm Screentap gloves.

5. Vertx Crisp Action Glove: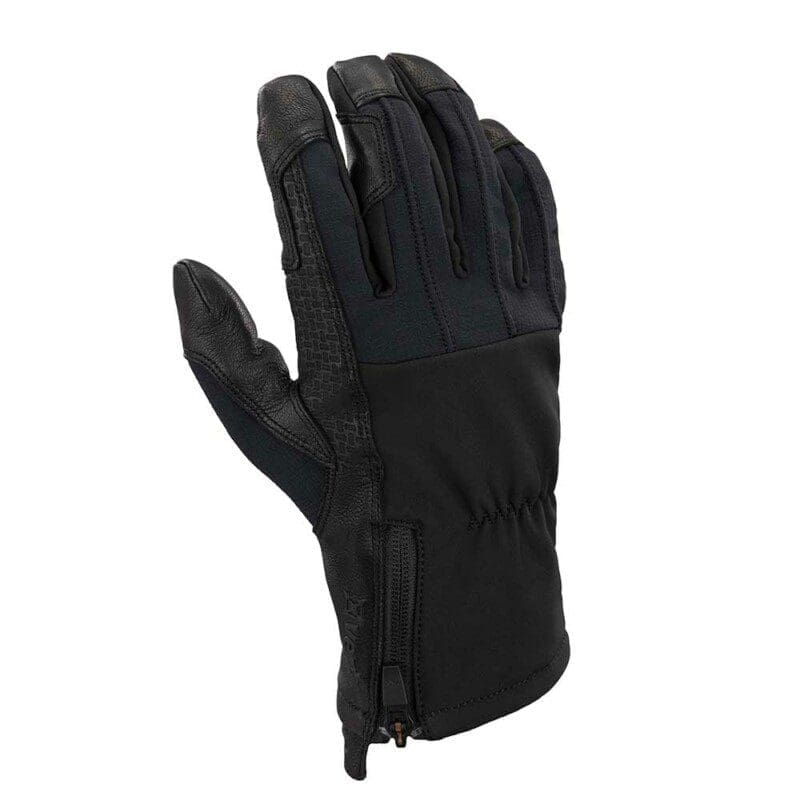 When you want a bit more warmth, a pair of Vertx Crisp Action Gloves is what you need tucked into the side pocket of your driver's side door to address the harsh and abrasive conditions involved in changing flats, doing recovery work, or setting up camp when the weather turns cold. These gloves are rugged, waterproof, and warm, yet allow for the kind of dexterity required for these everyday overlanding tasks.

6. Prana Women's Southport Pant: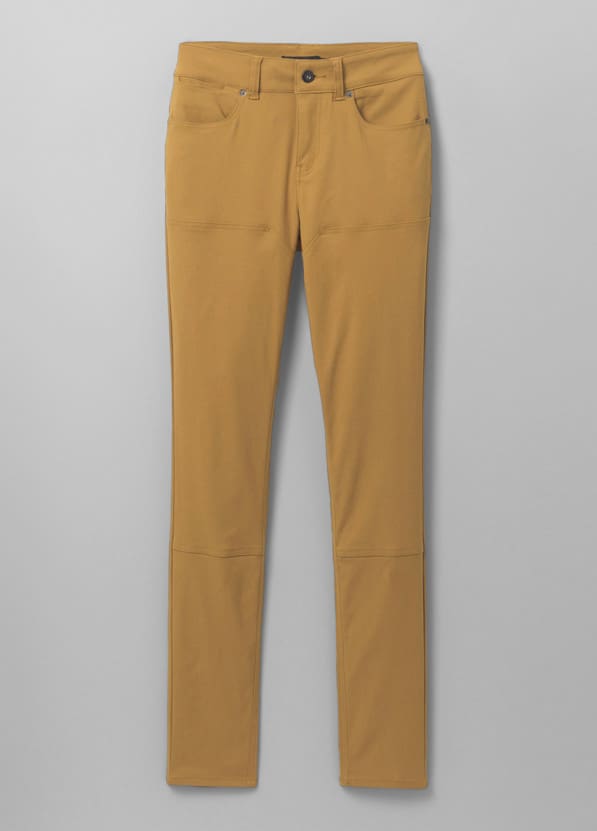 On an extended overlanding journey, comfort is nearly as important as utility. A typical day of travel can have an overlander driving, going for a short hike, doing recovery work, or walking into a small town cafe for a cup of java. The Prana Women's Southport Pant is designed to fit a female body, offers considerable utility, and looks great! Is it any wonder that this pant is a favorite of Rachelle's?

7. Vertx Swift Hoody: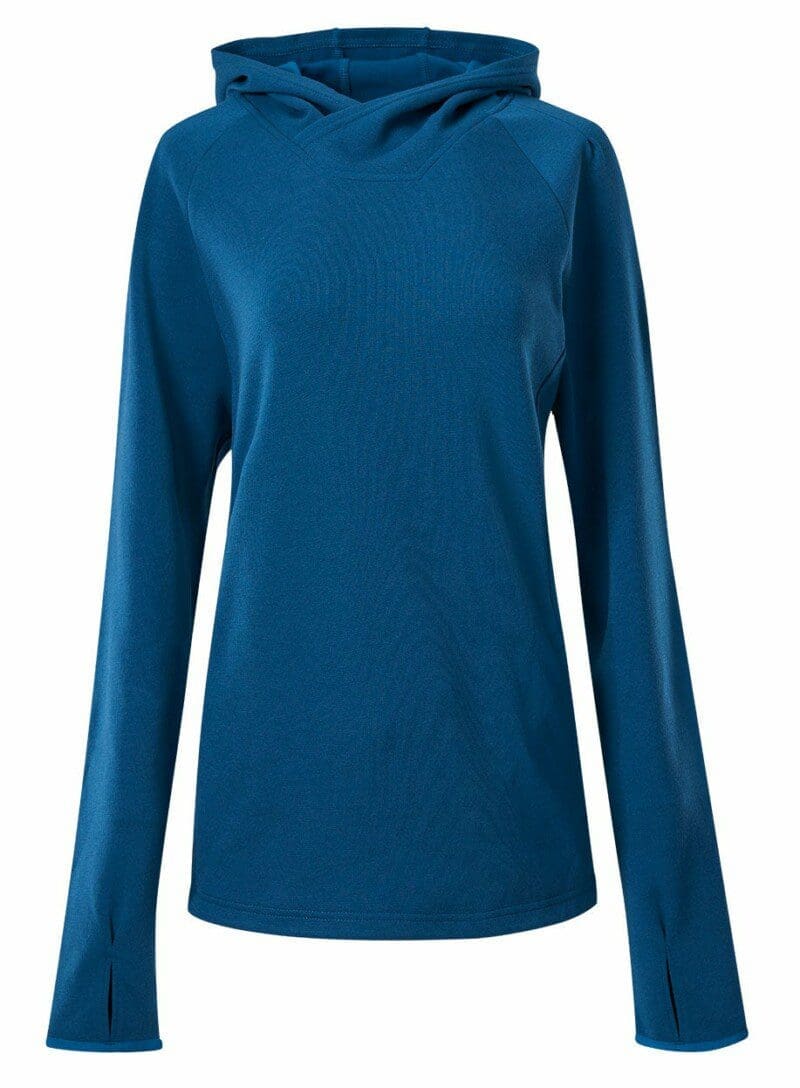 Looking for a comfortable, athletic and attractive hoody with tactical functionality? Designed specifically for women, the Vertx Swift Hoody features all of the above and more. This is the perfect layer to throw over a t-shirt to stay warm on cooler nights around the campfire while concealing your ability to confidently handle any threat that comes your way.

8. Goodr Sunglasses: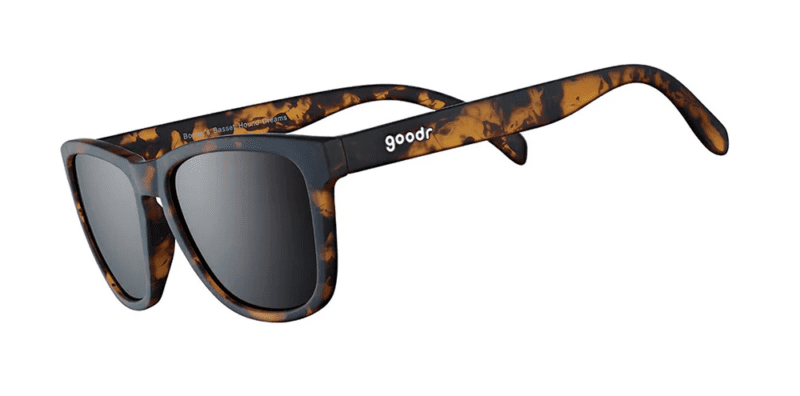 While Clay is a fan of Magpul, Rachelle prefers the fun, feminine style and athletic functionality of Goodr Sunglasses. Designed for activities like trail running, Goodr sunglasses will stay on your face during vigorous recoveries yet keep you in style around the campfire. Their affordability means you can have multiple pairs and stow them wherever you need them.

9. Benchmade 556-s30v Mini Griptilian Pocket Knife: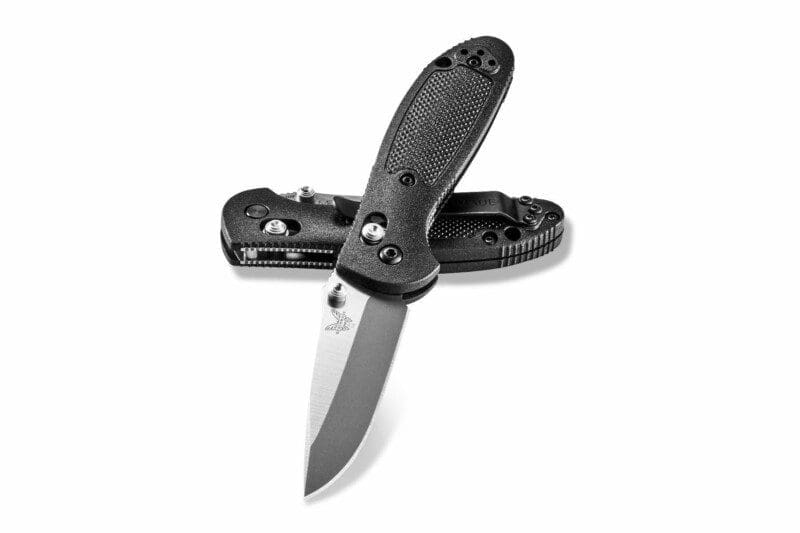 Multitools offer a lot of functionality, but even the lightest among them can still be cumbersome to carry. A lightweight and easy-to-open pocket knife, however, will go with you everywhere. Rachelle loves the size, incredibly strong steel, and simple operation of the Benchmade Griptilian. You'll never find her without it!

10. SureFire E2D Defender Ultra 1000-Lumen Tactical LED Flashlight: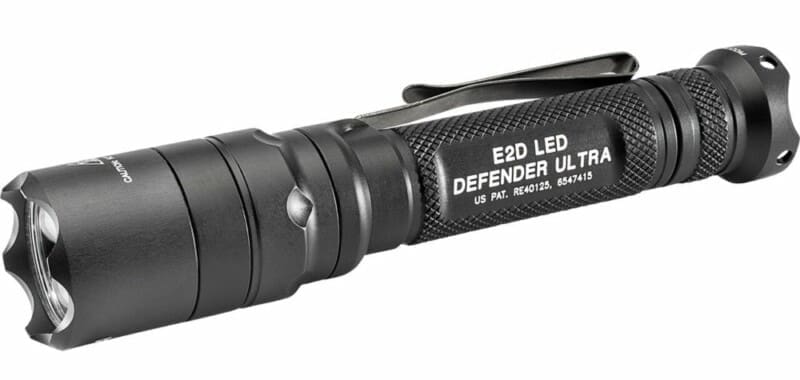 This small yet powerful flashlight is a part of Rachelle Croft's every-day-carry kit for several good reasons. If called upon for self-defense, this flashlight has the ability to temporarily blind an attacker. For general use, the 1000 lumens of light illuminates the dark allowing for easy navigation down a trail or within dark buildings. Finally, the small size of this flashlight makes it a perfect tool to peek inside an engine bay at any time. Added to all of that functionality is the exceptional strength and durability found in all SureFire flashlights. It will last you a lifetime–as long as you don't lose it!

In our experience in building and equipping overland vehicles for worldwide adventure, there are several very helpful pieces of gear that fall into a category of over $100 and less than $1,000, and that is what we are targeting here.
Nowadays, with some of these items, there are new options to choose from besides the most reputable brands. Many of these new brands are attractive to buyers because of their cheaper prices. We caution you, however, to do your research and choose wisely, lest in saving $100 you lose $500 due to purchasing a product that doesn't adequately perform the task you bought it for.
1. Maxtrax: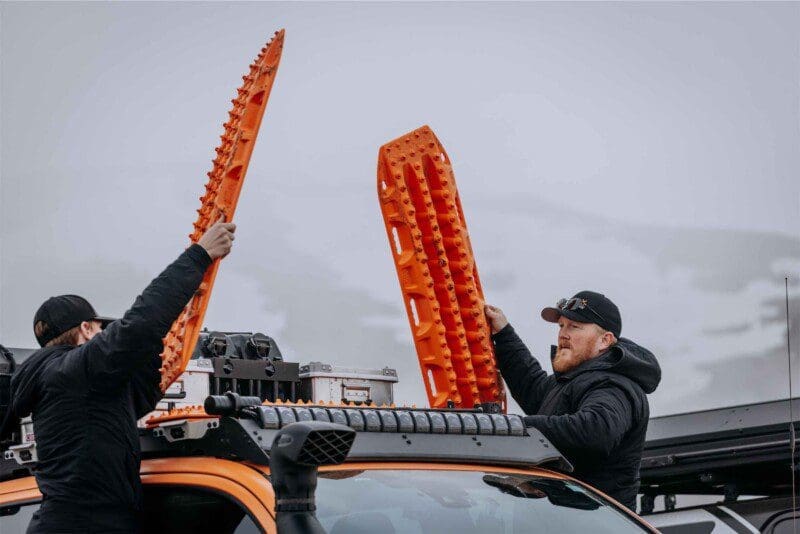 Maxtrax are at the top of this list because they stow easily and offer quick recovery for most situations without needing to be installed. We recommend a set of Maxtrax for any outdoor recreationalist because they provide an easy way to get unstuck and keep your day going whether at a snowy trailhead or during a summertime outing to the beach. Maxtrax can also be used for leveling your vehicle in camp, so you get two tools for the price of one. (Be warned that there are several knock-off brands providing cheaper products made in China. We have repeatedly witnessed these products failing catastrophically. That's why when it comes to buying recovery boards, we highly recommend Maxtrax, the brand that always has been and continues to be the benchmark for the industry.)

2. SureFire Stiletto Pro Flashlight: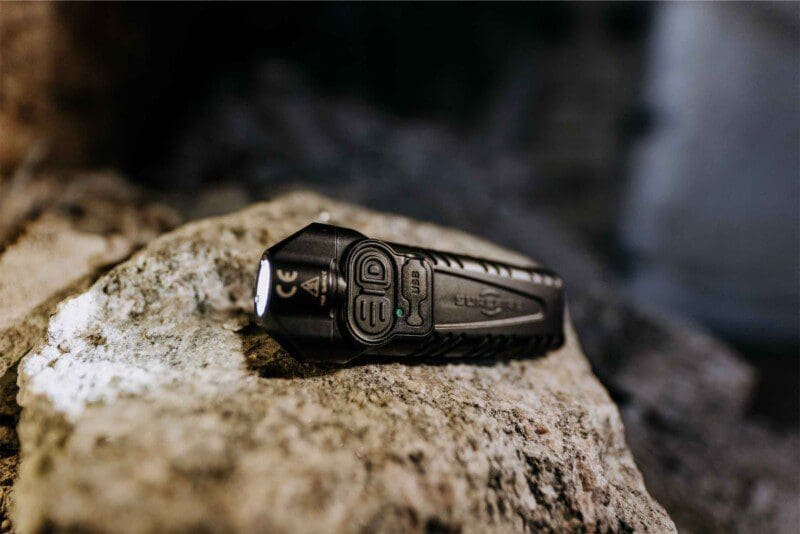 Clay's new favorite flashlight. The SureFire Stiletto Pro takes the concept of an EDC (Every-Day-Carry) flashlight to the next level. Its flat dimension and heavy-duty pocket clip allow for easy carry on a variety of garments and bags and its ability to adjust from 300 to 1000 lumens mean it's ready to light up the darkness to whatever level you need. We also love the fact that the Stiletto Pro features a built-in lithium-ion battery which we can recharge right in our vehicle to keep this flashlight powered up during extended overland journeys.

3. AluBox 42 Liter Case: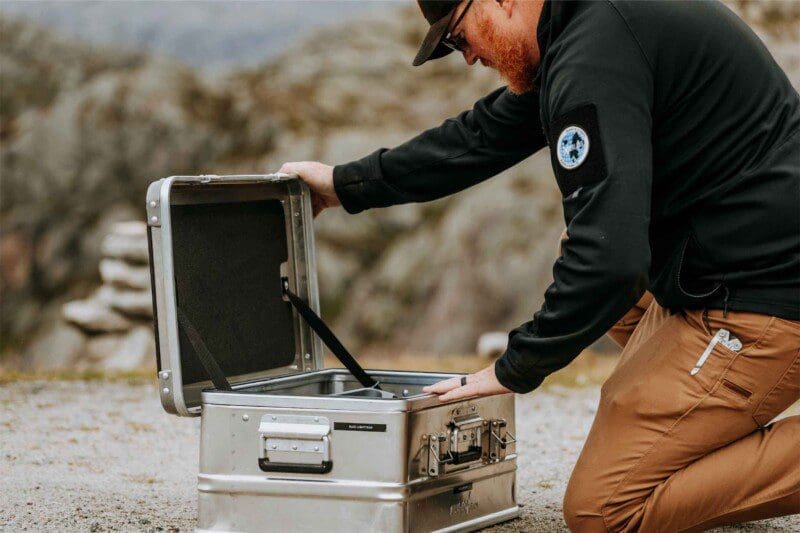 When equipping an overland vehicle at X Overland, we always seek out pieces of gear that can serve more than one purpose. Similar to a set of Maxtrax, a couple of AluBoxes will add to your overland outfit by providing you with an extremely well-built item that you can use for a variety of tasks. AluBoxes are the perfect place for any kind of dry storage whether it be for food (chips, bread, cereal, coffee), clothing, outdoor gear, or recovery equipment. These boxes can also be used as a stepping block to enter a sleep system or for reaching gear. AluBoxes are lockable and certified by The International Grizzly Bear Committee as "Bear Resistant," making them a legal way to store food in designated Grizzly Bear habitat.

4. Guzzle H20 Portable Water Filtration System: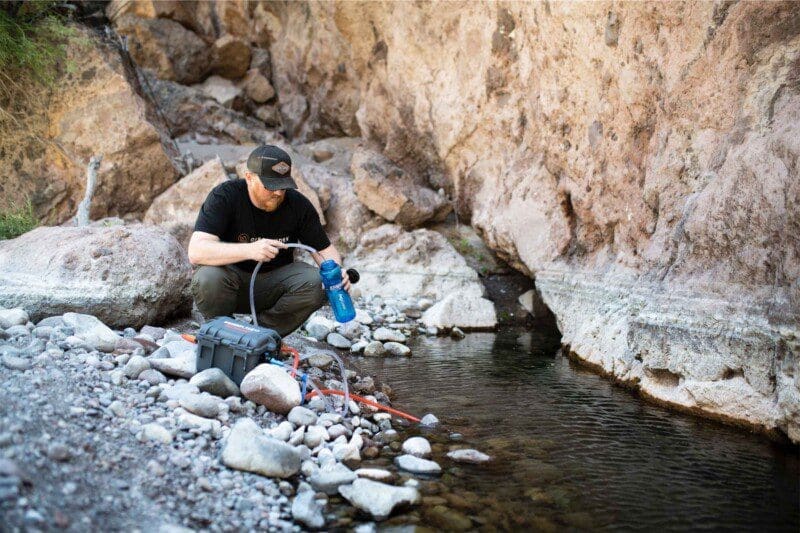 If you're planning on heading into remote areas for extended periods of time, you will have to find a way to obtain your own potable water. Think of the Guzzle H20 as a backpacker water purification system for your overlanding vehicle. We find this piece of gear indispensable in places like Baja, Central, and South America or even for extended journeys in remote areas of the American West.

5. ARB Twin Air Compressor: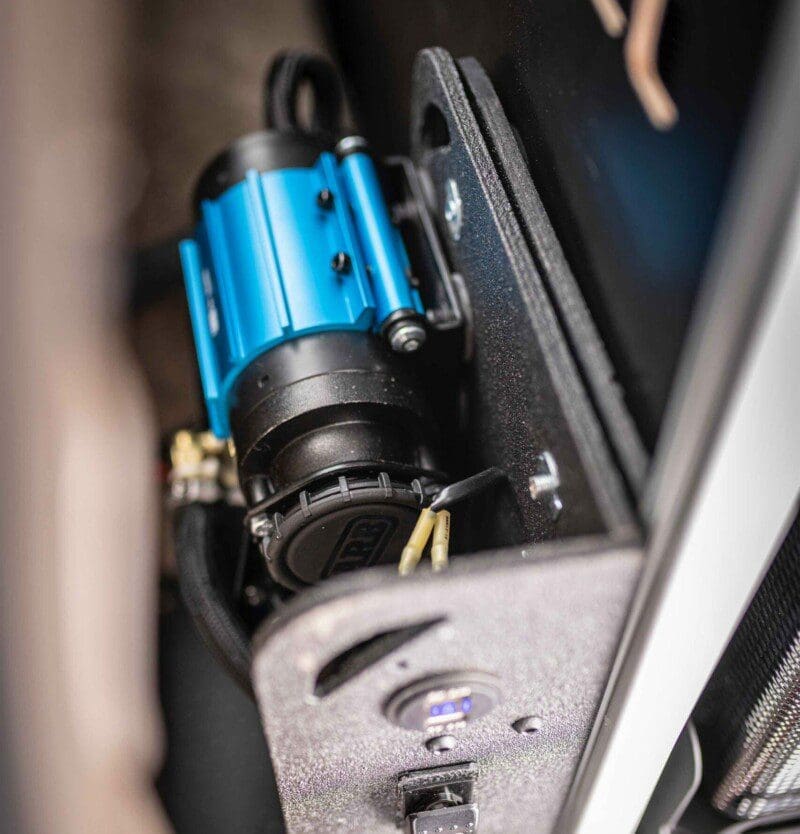 We have relied on the ARB Twin Air Compressor for years and it is an immediate install on every vehicle we build. If you find yourself on sandy, muddy, snowy, rocky, or bumpy roads, one way to dramatically improve your ride and keep from getting stuck is to significantly air down your tires. (Of course, without a heavy-duty air compressor you will have no way of airing them back up once you're back on pavement.) We love the option of a portable version to move from vehicle to vehicle, or the permanently installed version for our dedicated builds.

6. Indeflate Two Hose Air System: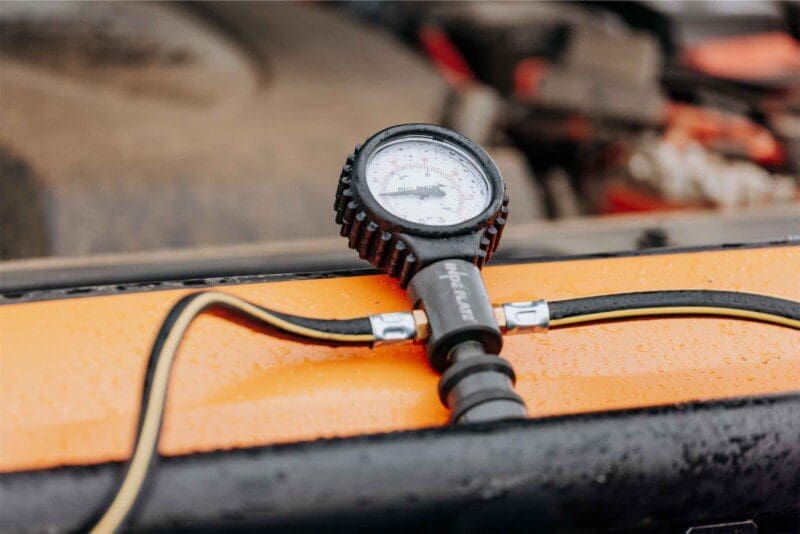 This was a game changer for us a few years ago. The Indeflate allows you to either inflate or deflate two or four tires at the same time. Made in South Africa and put to use by racing teams participating in the infamous Dakar Rally, the Indeflate has become a staple piece of kit among overlanders wishing to spend less time kneeling beside their tires and more time driving. To properly use an Indeflate, you must have a functioning heavy-duty air compressor on board (portable or installed).

7. Warn 3M Spydura Synthetic Reflective Nightline for Winching: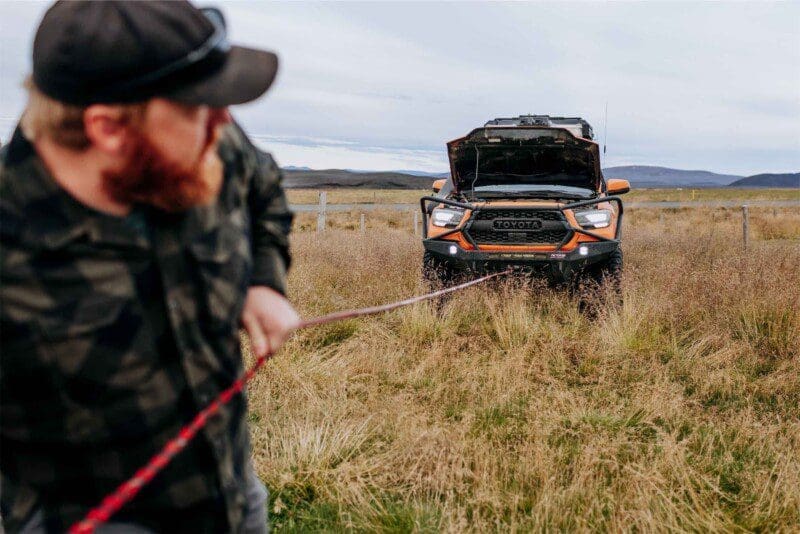 Clay Croft is fond of saying, "When you need a winch, you need a winch." (Just listen to any of our X Overland Podcasts featuring Clay discussing recovery and you'll see what we mean!) Clay knows quite a bit about using winches, and that's why he's a huge fan of the Warn 3M Spydura Synthetic Reflective Nightline. Just imagine a scenario in which you're winching in the dark and another vehicle comes driving into the situation with no idea there is a winch line across the trail. Yep. We're not okay with that scenario either. You'll also find these synthetic lines supple and easier to use than a steel cable, plus they are much safer in the event of a winching accident. All of the above and more make these state-of-the-art winch lines standard equipment in all XO vehicles.

8. Rigid Industries Rock Light Kit: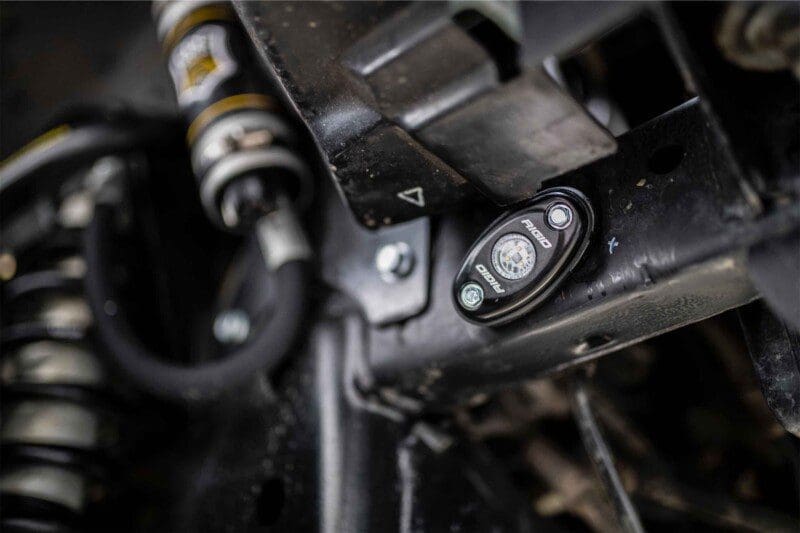 Originally designed for the purpose of providing light around the wheels and tires for off-roading at night, we have found another use of a rock light kit is to provide lighting for our campsites. They have been a game changer for us as we walk around the vehicles at night without headlamps. Rock lights are relatively easy to install and Rigid makes some of the best.

9. Apex Valves for Rapid Air Down: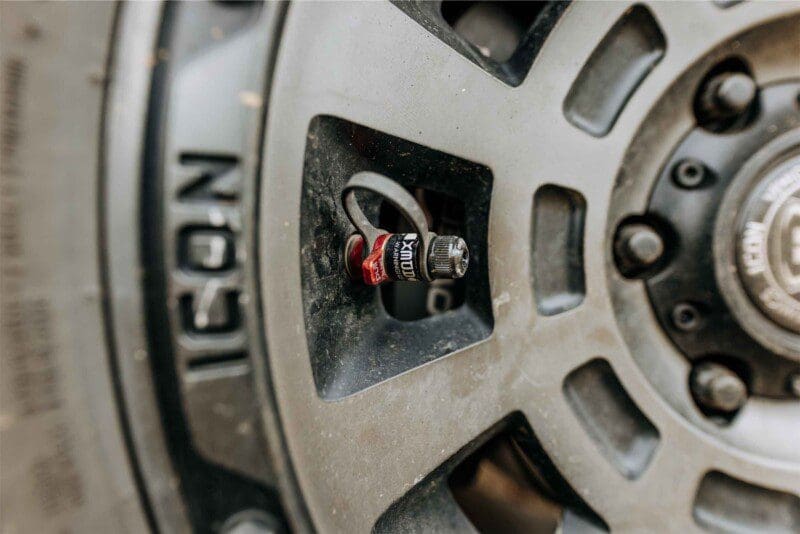 An alternative to an Indeflate System is a set of Apex Valves that take the place of the factory tire valve caps. Once installed, you relieve the air pressure of each tire one-by-one with a simple twist after setting your desired pressure. You can expect a jaw-dropping tire deflation from 35 PSI TO 10 PSI IN LESS THAN 15 SECONDS (based on a 35" tire). We have been experimenting with Apex Valves for over a year now and are loving them as an option.

10. Field Craft Survival Modular Visor Med Panel: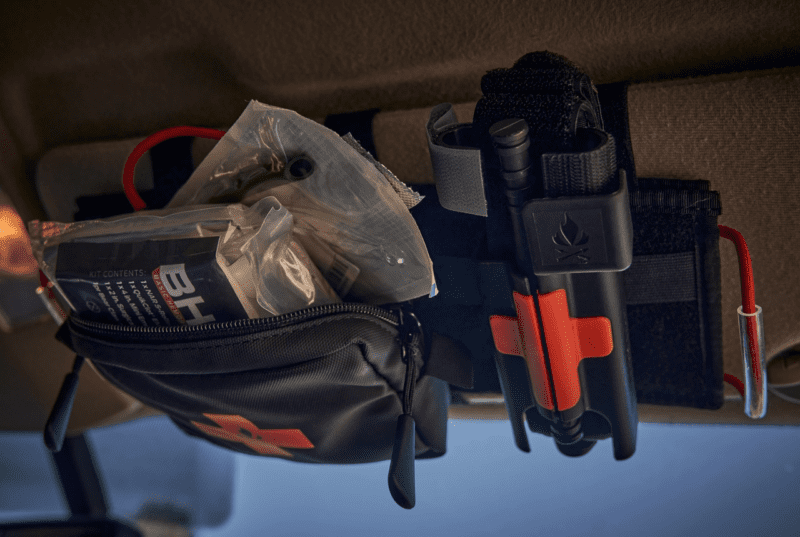 Essential first-aid items like tourniquets need to be accessible and ready to use at a moment's notice. No one understands this better than Field Craft Survival, and that is why Mike Glover and his team have created this visor system that allows you to keep your most important first-aid and self-protection equipment where you can get to it when you need it most.

11. Garmin inReach Mini: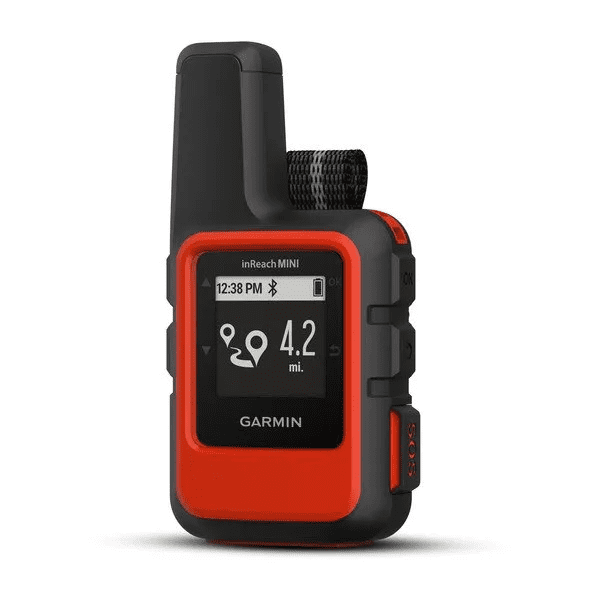 inReach Mini is your go-to connection for maintaining off-the-grid contact. It's our palm-sized satellite communicator for adventures where size and weight matter. Exchange text messages with loved ones, post to social media, or communicate inReach to inReach in the field (satellite subscription required).
12. MyMedic MyFAK Large: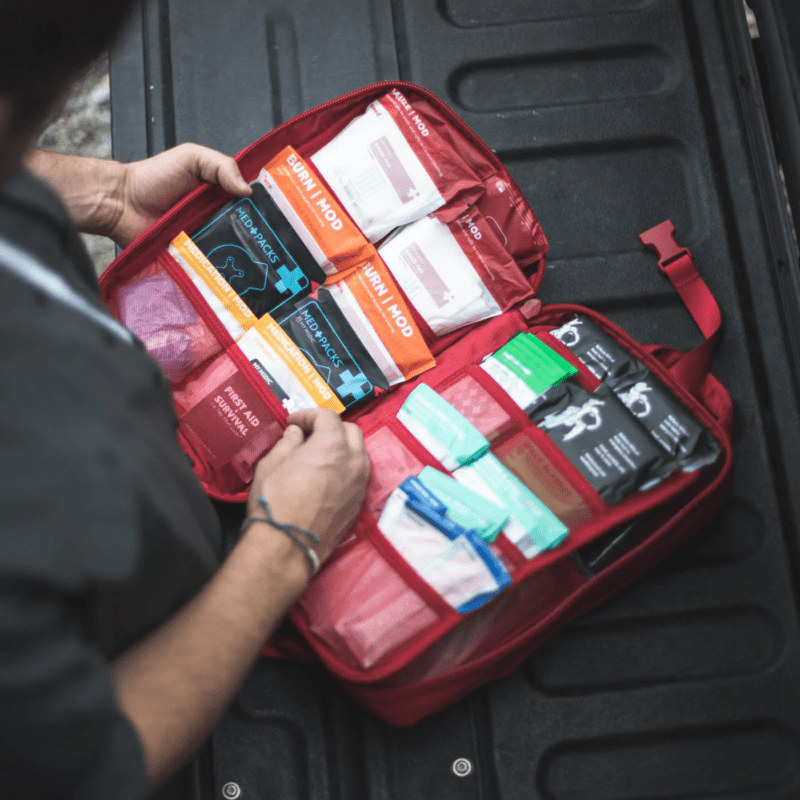 The new MyFAK Large is faster, tougher and more versatile than ever, so that you can react with speed and efficiency. Equipped with high-performance life-saving supplies. A must have on all of our trips, both domestic and international!
Adding gear to your overlanding kit is without doubt a fun part of being an ovelander! We'd like to add that in our experience, what you decide to bring with you often changes with age, interests, and experience, and that too is part of the fun.
We hope that these lists provide you with some useful ideas for your own kit. We know the gear featured here certainly helps us to be well-equipped and prepared for any adventure we encounter.
Whatever you decide to put in it, we hope your kit does the same for you!
Expedition Overland participates in affiliate marketing. This means that we may earn a commission if/when you click on or make purchases via affiliate links.
As a policy, Expedition Overland only affiliates with products, services, consultants, and other experts that we believe will provide value to our customers and followers.
You recognize that it remains your personal responsibility to investigate whether any affiliate offers are right for you. You will not rely on any recommendation, reference, or information provided by Expedition Overland but will instead conduct your own investigation and will rely upon your investigation to decide whether to purchase the affiliate product or service.