Adding armor to your vehicle is a balancing act. Add too much to an already overloaded vehicle and your vehicle will be sluggish, lose power and handle poorly. Forgoing any armor on challenging trails will likely result in expensive damage to your vehicle body (not to mention drivetrain). So where's that fine line?

Our Proven Recommendations
We've used CBI armor during our Central and South America series and to present. We especially like the alumunum series for ultra-light builds!
LEARN MORE
The ultimate goal of aftermarket armor is to provide additional strength, durability and functionality, protecting the vehicle from major damage (whether from rocks or other vehicles), so we can ultimately return home safely and under our own power. Whether you decide to install armor, and which pieces you choose, will ultimately depend on the purpose of your vehicle.
All stock vehicles come with light-duty "armor" from the factory. Original equipment manufacturer (OEM) bumpers are designed to minimize damage during impacts under five miles per hour, and to crumple (absorbing energy in the process) during high speed accidents.
In addition, OEM skid plates protect vital components (such as the engine, transmission and transfer case), but only in very light-duty situations. Stock bumpers and skid plates are lightweight, inexpensive to manufacture, and are designed for occupant safety in emergency situations rather than daily off-road abuse.
At Expedition Overland, we travel long distances to far-off destinations. We don't rock crawl, but we don't spend the majority of our time in the local Target parking lot either. Our armor choices are based on a variety of terrains, from remote off-grid two-track in Montana to hectic South American cities with bumper-to-bumper traffic. The practicality of having auxiliary light mounts, spare tire swing-outs, side steps, and engineered recovery points is an added bonus.
WHICH ARMOR SHOULD YOU PRIORITIZE?
We always start with a front bumper. Most damage that we see on the road is a result of front-end animal strikes or slow-speed fender benders. A front bumper with a hoop protects both headlights and the radiator, so if you accidentally hit a kangaroo in the outback (or a mule deer in Montana), you'll be able to continue your journey, or at the very least, drive to a service shop for repairs.
Aside from vehicle protection, well-designed front bumpers provide additional ground clearance and a greater approach angle, adding off-road capability. Additionally, aftermarket front bumpers usually have winch mounting plates, engineered recovery points, auxiliary light mounts, and provide a sturdy jack point for your trusty Hi-Lift or ARB Jack.
We currently run the CBI Aluminum Front Bumpers on our Tundra, Land Cruiser and Tacoma builds.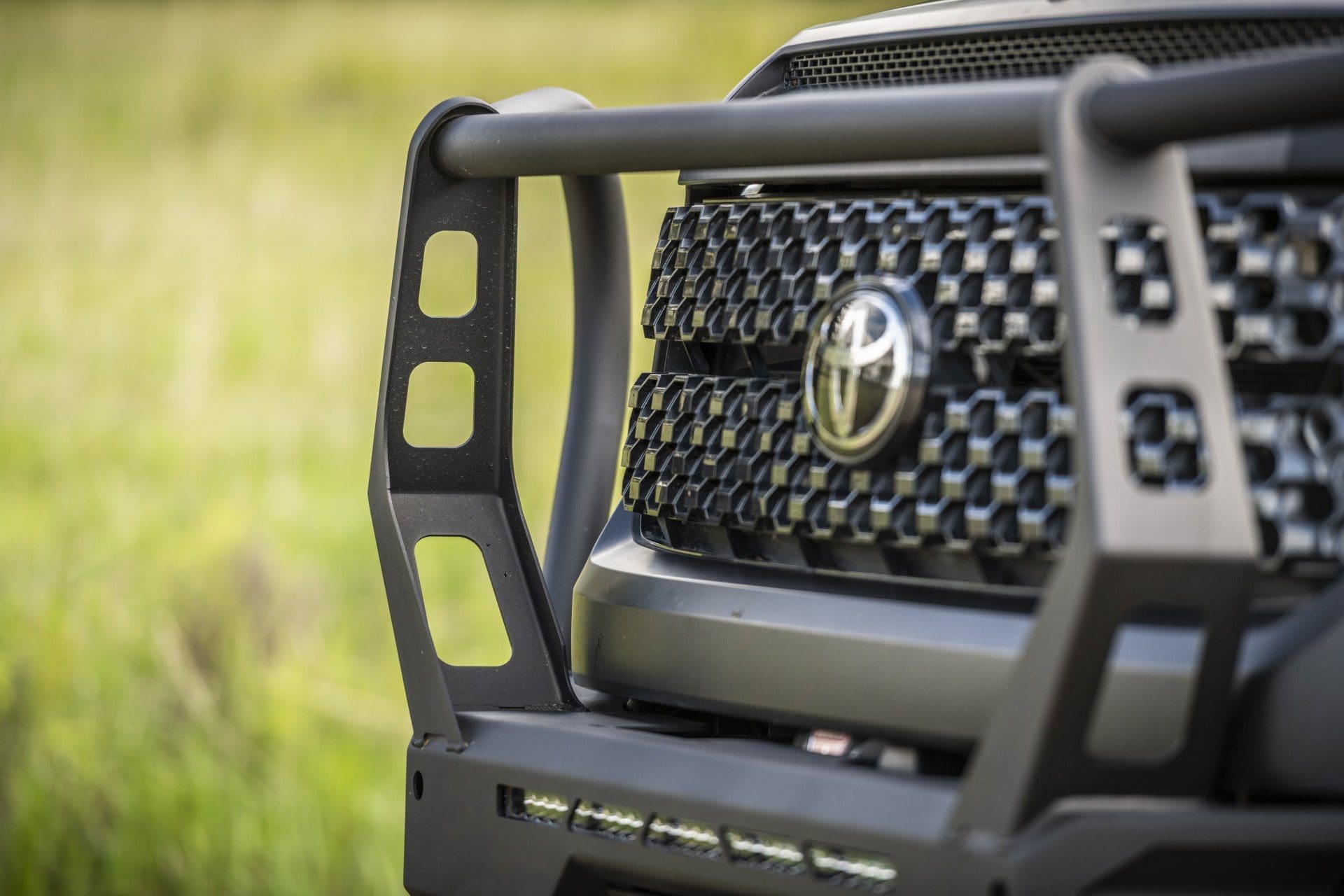 REAR BUMPER BENEFITS
Next up, we always select a rear bumper. In our case, rear protection is needed (we've backed into plenty of things in dark and rainy campsites) and additional departure angle is always welcome, but the biggest benefit is the added storage provided by the swing-outs.
On each of our builds, we've found that our spare tire location no longer accommodates the larger-then-stock General Grabber tires. Usually this is because the tire diameter is too large or because we've utilized that space for a water tank or Long Range America extended-range fuel tank. A swing-out on the rear bumper is arguably a better location for the spare tire, as it's more easily accessible compared to the stock location under the truck.
A set of MAXTRAX, or our trusty Wavian jerry cans can be stored on the swing-out as well. This all adheres to our general build ethos: You don't want to move gear out of the way to access the gear you actually want. In a flat-tire or recovery situation, accessing gear or the spare tire off the rear bumper is safe, quick, and easy.
We currently run the CBI Dual Swing Out Rear Bumper on our Tacoma, Land Cruiser and 3rd Gen 4Runner builds.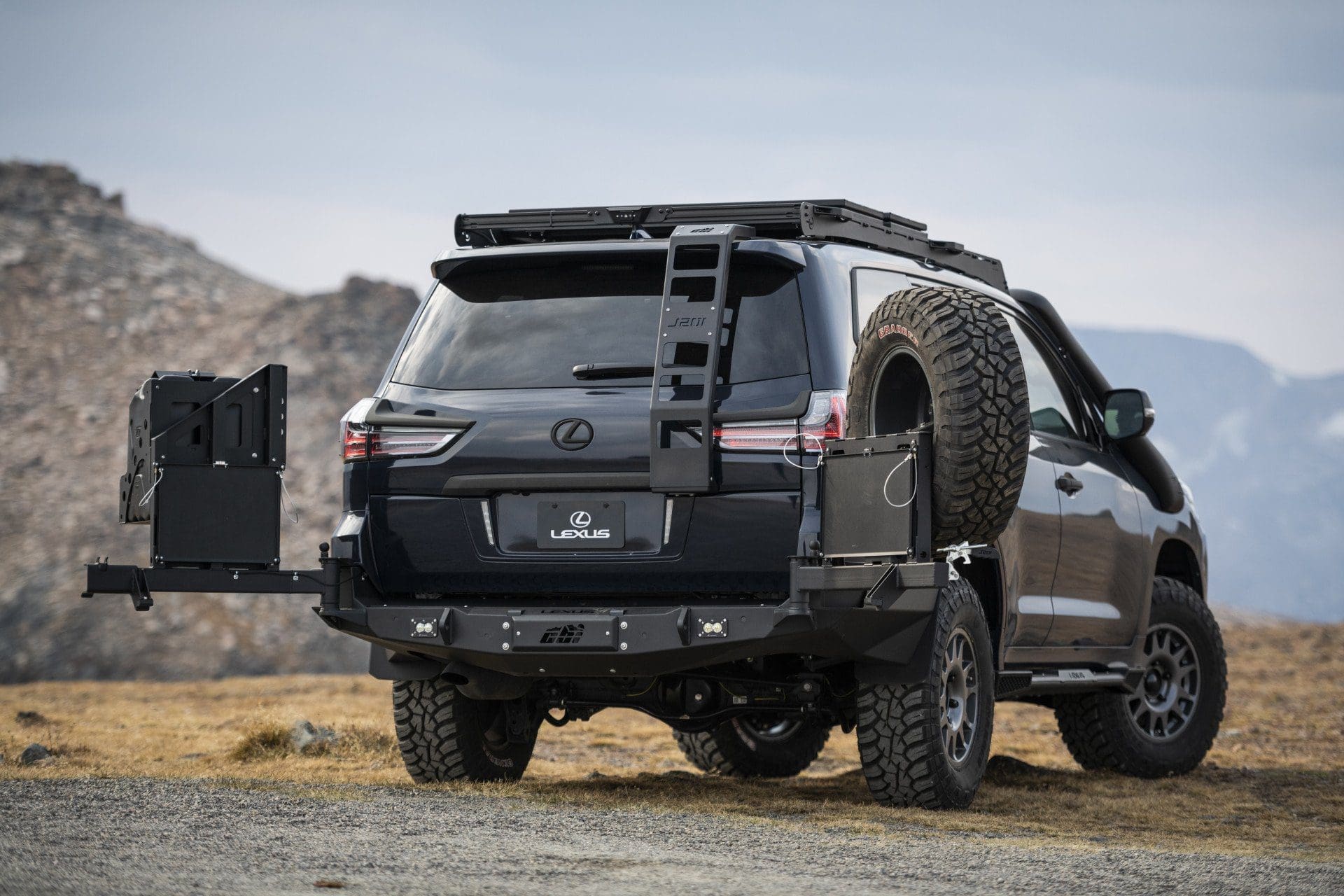 SLIDERS VS. SKID PLATES… OR BOTH!
The choice between sliders and/or skid plates will depend on your travel or recreational four-wheeling style.
Rock sliders are designed to protect your rocker panels from abuse. A crushed rocker panel can prevent doors from opening and closing properly. Not good. There are many bolt-on or weld-on rock sliders available for popular 4×4 models, but as a long-term traveller they're something you may not need. Ours are used most often as a step to access roof-mounted items (or to transport camera operators on the quick!). Occasionally we encounter terrain requiring good use of a rock slider. In those cases, we're glad we have them.
Depending on your vehicle and its intended use, skid plates may be a higher priority for you. Skid plates protect the engine oil pan, transmission, and transfer case. There are also skid plates available for the fuel tank and differentials, locker actuators, ABS sensors, lower control arms, and more. The options are seemingly endless.
For many, factory skid plates are more than enough, providing protection for stray branches or the occasional bottom-out. For others, especially those who find themselves in technical rocky terrain, steel skid plates may be the ticket. For our Alaska/Yukon and Central America trips we stuck with factory skid plates. They made it home used and abused, but the components they protected were just fine. Eventually, we upgraded to full skid plates for our South America expedition and they provided great peace of mind.
We currently run CBI Steel Rock Sliders and CBI Aluminum Skid Plates on our Land Cruiser, Tacoma and Tundra builds.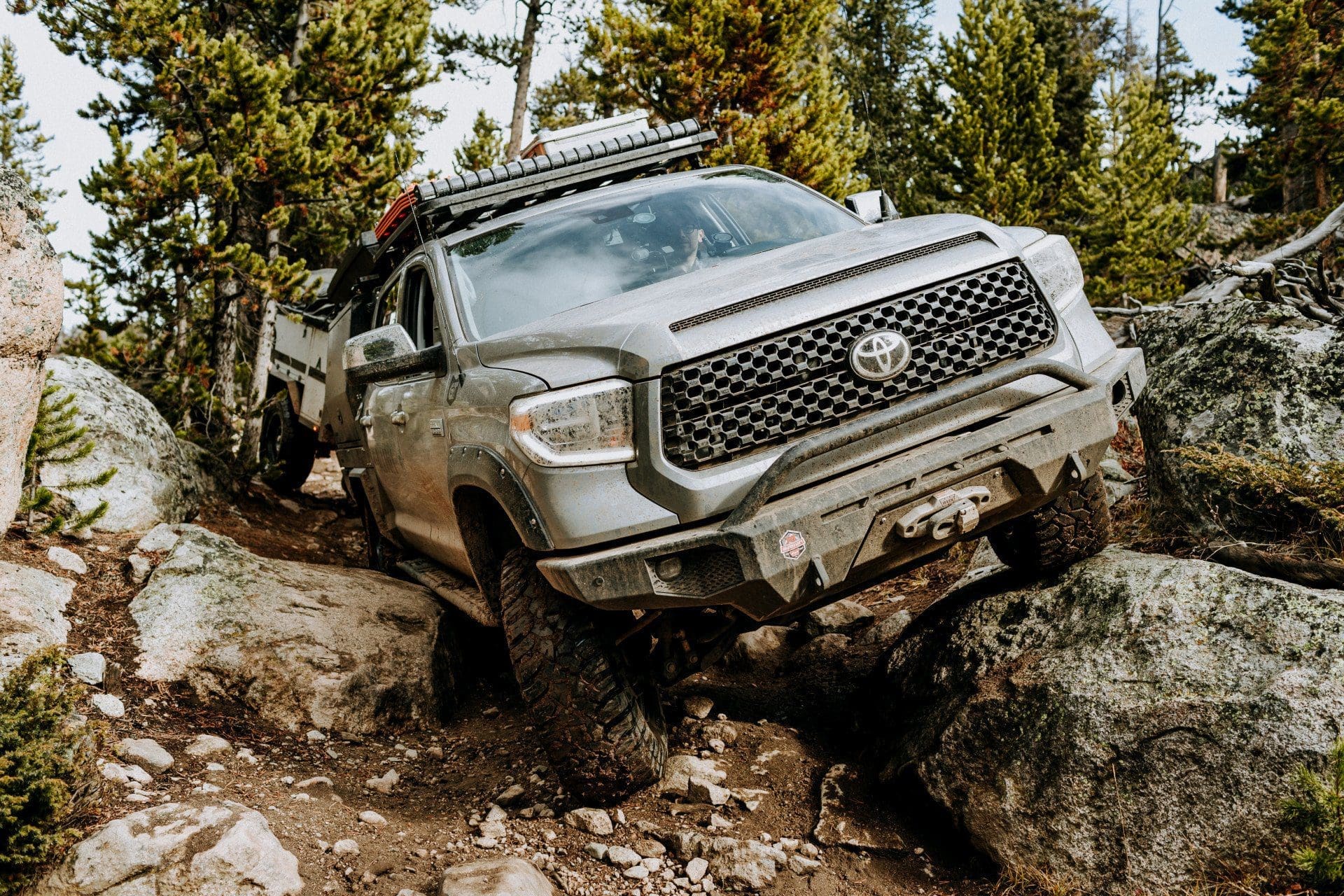 WHAT ARE THE DOWNSIDES TO AFTERMARKET ARMOR?
All armour comes with compromise. Weight is the factor that we grapple with most often. Keep in mind that with every pound of weight you add to the truck, that's one less pound of fuel, water, or gear that you can carry with you.
For most armor accessories, you'll have the choice between aluminum and steel. Steel is generally more durable and less expensive, but is significantly heavier than aluminum. If you find yourself in rock crawling situations where you're constantly dragging skid plates or sliders over rocks, steel may be your best bet.
If you have the budget, and are mostly touring or travelling long distances, aluminum might be the best choice. Aluminum armor will give you the protection you need when you need it, all while minimizing the overall weight of the truck (thus saving fuel and wear and tear on the vehicle drivetrain).
As you chip away at your GVW rating it's best to ask yourself, which aftermarket armor do you really need?
Drop us a comment below! Which armor has worked for your vehicle and its purpose? Feel free to share your experiences and what has worked best for you.