Our Proven Recommendations
Clothing is overlooked when it comes to planning your next trip. Our great friends at Vertx have been creating products with the overlander in mind. These selections were tested on the Nordic Series and continue to impress. Make sure to use code "XOVERLAND" to save yourself some money on your order.

READ MORE – Dressing the Part: What is the Best Clothing for Overland Travel?
"But what will I wear?!" said Jim Carrey in his iconic portrayal of The Grinch Who Stole Christmas. If you find yourself with the same troubling thought while preparing to head out on your first overlanding adventure, we have some tips to help you out.
Whether a newcomer to the space of overland travel, camping, and adventure or a seasoned veteran, assembling your wardrobe can be a challenging task. By sharing our collective insight on the subject, we'll help you pack your bags so you can thrive on the journey ahead.
Overland Clothing Philosophy
When starting an overland vehicle build, best practice is to think through your build on paper first before making impulsive decisions that leave you spending money without optimizing the results of your expense.
The same approach is recommended for establishing your overland galley or selection of recovery gear.
So why not with clothing?
Our philosophy is to look at overland clothing as gear–essential gear that will keep you safe, comfortable, and thriving on the trail.
Sure, you can head out for a weekend and throw in an assortment of clothing based upon the weather forecast for the next couple of days. Even during a simple trip like this one, however, effectively planning your clothing selection will pay dividends.
Headquartered in Montana, no matter what time of the year we head out, it is vital that we have the right clothing packed in our rigs. Even during the summer months, we can experience extreme changes in weather conditions due to storms, changing elevation, and even time of day.
This is why we go with a systematic approach to our clothing needs which assures key items like effective rain gear and insulative layers will be packed and easily accessible.
What we are ultimately working to convey is that to optimize your overlanding experience, it will behoove you to take the time to think through your clothing arrangement so you are ready for the wide variety of conditions you're likely to encounter.
Pro-Tip: To better prepare for your outing, try sitting down with a notebook ahead of time to plan out your packing list. Write it down and it won't be forgotten!
Overland Clothing Strategy–The Layering System
For outdoor activities that involve the need to adjust to changing conditions in both exertion levels and weather, layering is the go-to model for a clothing system.
By using the layering system as the core component of your overland clothing strategy, you're ensuring you'll be prepared for whatever conditions you encounter.
The layering system is simple and breaks down into these three components:
Base Layer
Mid Layer
Outer Layer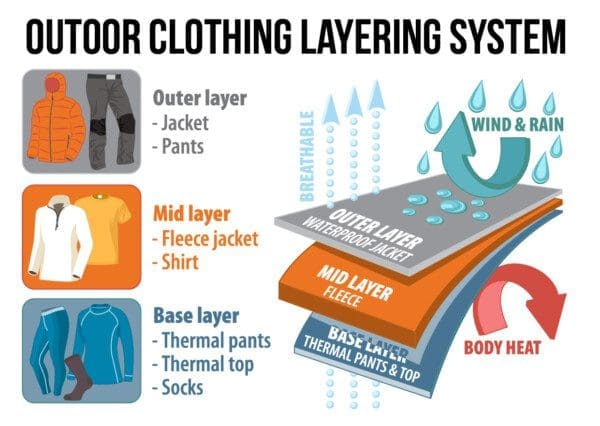 To gain a better understanding of how the layering system works, let's take a closer look at all three of these components.
The Base Layer
When it comes to clothing and how to dress for adventure in the outdoors, there's a popular expression among those who have been at it a while: "Cotton kills."
This may sound extreme, but the point is that cotton absorbs moisture rather than wicking it away from the skin. Once damp or wet from either perspiration and/or rain and snow, cotton stays wet and fails to insulate. The result is a cold human spiraling toward hypothermia. No bueno!
Because we're overlanders and not backpackers, we might have room to squeeze in some comfy cotton for easy times around the campfire. It can be helpful to our morale and emotional well-being to have that piece of comfort clothing along.
When getting after it on the trail, however, a strategic approach to clothing that begins with a base layer composed of moisture-wicking, quick-drying fabrics is the way to go. Because even if mid and outer layers are technically sound, when you're damp and cold underneath, you're never going to be comfortable and you're counteracting the advantages of the mid and outer layers.
So it's time to get serious about your skivvies and leave the cotton undies where they belong–at home! Begin your base layer with moisture-wicking material that includes your undies and socks and then moves forward to a head-to-toe layer of long underwear.
Synthetic fabrics such as polypropylene or rayon and Merino wool are popular choices. Synthetics are lighter and move moisture off of your skin more effectively; Merino wool is not as effective in moisture management, but it still insulates even when wet and is the best choice for reducing body odors over a long period of use without laundering.
To choose between the two, we recommend considering your activity level. If you plan to be doing a lot of intense recovery work or a side activity like cross-country skiing or trail-running, then a synthetic may be the best choice. If your activity will be limited to four-wheel-drive touring and light hiking, then perhaps Merino wool is the better option.
In either case, base layers are designed for an athletic fit tight to the skin. They should stretch and be comfortable but not be loose or baggy as they need to be tight to the skin to properly wick sweat away from your body.
The Mid Layer
The mid layer of your system can look like a lot of things depending upon the conditions you find yourself in.
Because we live in Montana where there are nearly nine months of winter and summer nights in the mountains can dip below freezing, it is common for our mid layers to take the form of fleece pants and down jackets. However, if you find yourself in more moderate conditions, your mid layer may simply be a pair of technical pants over silk long underwear along with a wool or synthetic sweater.
Whatever you choose for your mid layer, it should be seen as your primary source of insulation; whereas, your outer layer is the "shell" which will protect you from the elements: wind, rain, and snow.
Outer Layer
As stated above, the outer layer exists to protect you from wind and precipitation. Therefore, this layer is usually constructed out of a waterproof-breathable fabric such as Gore-Tex, can be easily removed and stowed, and is relatively lightweight. For overlanding, we recommend having both a jacket and a pair of waterproof pants to complete your outer layer.
Both jacket and pants should be durable to withstand the rigors of vehicle recovery efforts and camp life. We stress durability here for overlanding in contrast with the extremely lightweight but less durable outer layer options more suitable for backpacking.
Pro-Tip: When choosing your outer layer, consider visibility and opting for a color that will allow you to be easily seen. Imagine a scenario in which you are performing a vehicle recovery in the rain and fog–or at night–with a team of vehicles. There are a lot of moving parts in such a scenario and visibility is limited. Be seen and you reduce the chances of a potentially catastrophic accident.
Final Thoughts on Layering
We recommend layering because of its efficacy in application and efficiency in terms of packing and usage of precious space within your vehicle.
Layering allows you to adjust to often rapidly changing conditions caused by a combination of the climate zone and immediate weather conditions you find yourself in, along with whatever activities you're engaged in.
If you're operating in a desert climate, for example, the mornings are often chilly, the afternoon hot, and the evenings and nights cool to cold. Layering allows you to quickly and easily adjust to these rapidly changing conditions.
If you're working your way from a prairie environment up into the mountains, the weather and outside temperature is likely to change dramatically due to an increase in elevation. You might find yourself in a T-shirt in the hot and dry climate of the valley and sporting a down parka once you arrive in camp amidst the clouds at 7,000 feet.
Similarly, if you find yourself stuck and feverishly deploying your shovel and Maxtrax, a layering system allows you to adjust your clothing to your circumstances and level of exertion. You can quickly shed those outer and mid layers while you're generating a lot of body heat.
Finally, with a layering system you only need a single base layer, mid layer, and outer layer. You may be inclined to pack more, but a single system along with some changes in socks and underwear will keep you safe and comfortable in all conditions for the duration of your trip. Therefore, you have all the clothing you need in as compact a package as possible.
Footwear
Proper footwear will provide big benefits while overlanding and comes in a few different forms: casual, protective, and driving.
Naturally, your choice of footwear will vary depending on where you are overlanding and in what season and weather conditions; however, these essentials will remain the same, varying somewhat to suit your circumstances.
While on expedition, we require our team to wear closed-toed boots or shoes most of the time, the reason being, along with overlanding, we are in the midst of making a film on a limited time and budget. We can't afford to lose team members to a stubbed toe.
Even if you're not a part of a professional filmmaking team on expedition, however, a sturdy yet comfortable pair of waterproof-breathable boots will prove to be a valuable part of your kit. Whether you need to deal with a recovery situation, clear a trail, change a tire, or walk out to get help, having a well-made pair of boots with a pair of socks to match will provide you with safe and effective footwear for these kinds of situations.
Pro-Tip: Break in your boots before you pack them along. This is why an older pair of hiking boots that you're ready to retire from rigorous hiking can make for a set of perfect protective footwear to pack along in your rig for those sticky situations. Also, place a matching pair of socks inside of the boots so they're there when you need them.
As an overlander, you're going to spend considerable time driving and often in technical situations. So choose a set of footwear that is ideal for this task. Think of something like a well broken-in pair of sneakers or equivalent that provide the level of comfort and sensitivity you need to work the gas, brake, and possibly even clutch pedals effectively in nuanced situations.
Finally, when it's time to find your vibe around camp, nothing beats a pair of flip-flops. We would also add that if you have just gone through a strenuous recovery, getting into flip-flops can be a perfect means of allowing your feet, socks, and boots to air out and cool down. (No blisters, please!)
Pro Tip: Not all flip-flops are created equally. We recommend choosing a sturdy brand (e.g., Teva, Chaco, Reef, or Olukai) featuring durable toe straps and a well-made sole. Flip flops like these will hold up to camp life, last a season or longer, and fit well enough that you won't go around tripping on your rock-sliders while you're grabbing gear from your roof rack.
Hats, Gloves, and Sunglasses
No matter the season, consider obtaining a protective, well-fitting pair of gloves (allowing for dexterity), a warm hat, and an extra pair of well-made sunglasses. Place them all somewhere accessible and make that their permanent home when not in use.
A sturdy pair of gloves is an essential item for vehicle recovery, changing tires, and other such tasks.
A warm hat will serve you well in many locations after the sun has set, and an extra pair of sunglasses could really come in handy if you lose or break the pair you're wearing.
Storing Clothes in Your Overland Vehicle
When you set out to put together an arrangement of clothing for your overland adventures, it is helpful to consider how much space you will have available to stow all of your clothing: technical layers, boots and shoes, hats, and gloves, etc. This is true whether you are traveling solo, with a partner, or with a family or group. Before packing, have everyone take a look at how much room they will have for their clothing and then pack accordingly.
Next, determine the duration of your trip. Are you heading out for the weekend, a long-term journey, or the rest of your life? Pack accordingly.
Pro-Tip: Whether packing your clothing or your galley, the difference between packing for one night or several is often just a matter of adding to your food and water supplies. So if you're all packed up for one night, why not add some extra nourishment and spend a few more nights on the trail?
To help with stowage, use packing cubes for specific items like socks and underwear and weather-proof "dry bags" for your complete wardrobe. A rugged dry bag will allow you to strap your clothing to a roof rack or leave it outside your vehicle in camp without the threat of your clothing getting wet or dusty.
Compression bags are also very helpful for maximizing your use of space and provide an effective means of stowing a super-insulating down parka for times when you just need to get warm.
On both short and long trips you will generate laundry. Consider creating a dedicated place for dirty laundry, and be prepared to launder your clothes on the road with non-toxic, environmentally-friendly detergents and perhaps some paracord to hang your clothes out to dry.
When arranging where to stow your clothing, it's beneficial to determine a place where your various types of footwear will live. For example, if you go with our approach or driving shoe, hiking boot, and flip-flop, have an appropriate place for each that will allow you to easily make adjustments to your footwear throughout the progression of your day.
Additional Pro Tips for Overland Clothing!
Do you enjoy swimming? Pack along a quick-drying bathing suit!
Will you be camping where mosquitos and flies are a problem? Consider packing along a bug net for your head and/or clothing designed to repel insects.
Think of your clothing as analogous to a sleeping bag rating when it comes to survival vs. comfort. Pack for comfort!
Not really clothing per se, but pack along a quick-drying towel. They are useful for the occasional swim, outdoor shower, or anytime someone needs to dry off.
Final Thoughts
The clothing you decide to wear and pack along is a lot like choosing what accessories and modifications you'd like to add to your vehicle: Your preferences often change as you do. Like other forms of gear, technical clothing is always evolving, and improvements might lead you to trying something new and different from what's familiar to you.
As in all areas of overlanding, in our opinion, figuring out what to wear on the trail is part of the fun of becoming an overlander! While some prefer a purely pragmatic approach to their clothing, others prefer to sport a bit of style around camp.
What will your look be?😊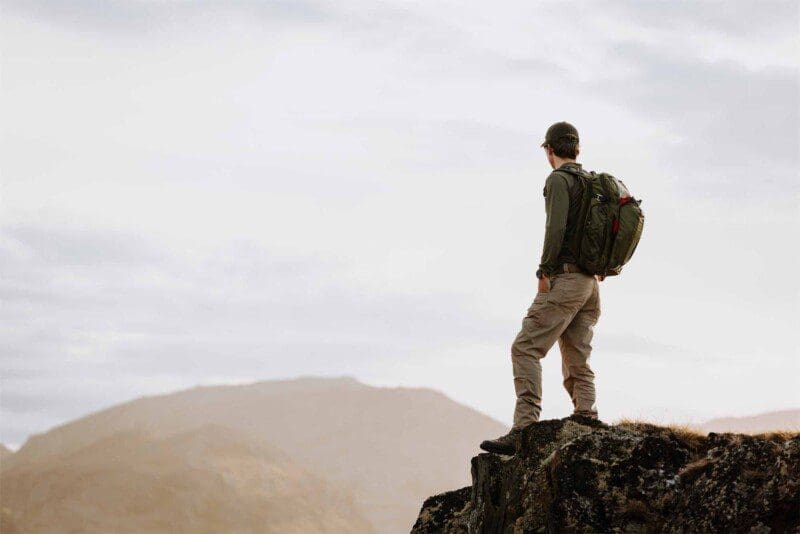 For the Nordic Expedition, our team enjoyed being outfitted by Vertx. Their products are designed for the outdoors, comfortable and durable. You can check them out here!