Our Proven Recommendations
Learn More
Overlanding Storage Solutions: The Small Stuff
In a recent post, we outlined how to maximize efficiencies in your overland build with large storage and organization solutions. If you missed Overlanding Storage Solutions: The Big Stuff, be sure to check it out HERE. This week we're moving into the nitty gritty of small storage and organization solutions. This includes storage boxes and cases, soft bags, packing cubes and ways to organize the small stuff.
Storage Boxes and Cases
Our absolute go-tos here are and Pelican or NANUK cases, but we use all for very specific reasons and for different items.
Here's why Alu Boxes are our go-to storage solutions:
They are robust enough (and light enough) to live up on a roof rack, allowing for quick access to items we use all the time.
In expeditions past, each box was dedicated to a crew member like a foot locker; team members could store gloves, hats, shoes and muddy or stinky items without having to open up the back of the truck and dig through bags.
also offers a

with lockable hinges for quick release of Alu Boxes stored on the roof. You just flip a lever and the box becomes easily removable from the roof rack. This can be effective at camp when you want to access gear easily or at a hotel where you want to carry the box into your room.
Alu Boxes are made from aluminum and are thus very lightweight. Inside the box lies a rubber gasket and straps to hold the lid open. Alu Boxes also have simple buckles and stackable feet so compatible sized boxes lock into place.
In the early days of Expedition Overland we used ammo cans for storage. They also offer the benefit of stacking, storing and sealing well.
While we store nearly everything in Alu Boxes, Pelican Cases offer a better storage solution for electronics or sensitive equipment. While you could use a Pelican Case for items that Alu Boxes hold, the result is a lot of wasted space. Pelican Cases are bulky, with ribbing inside for strength, and large seals surrounding the exterior. This makes them ideal for cameras, hard drives and lenses, but not for non-delicate items that require an efficient use of space.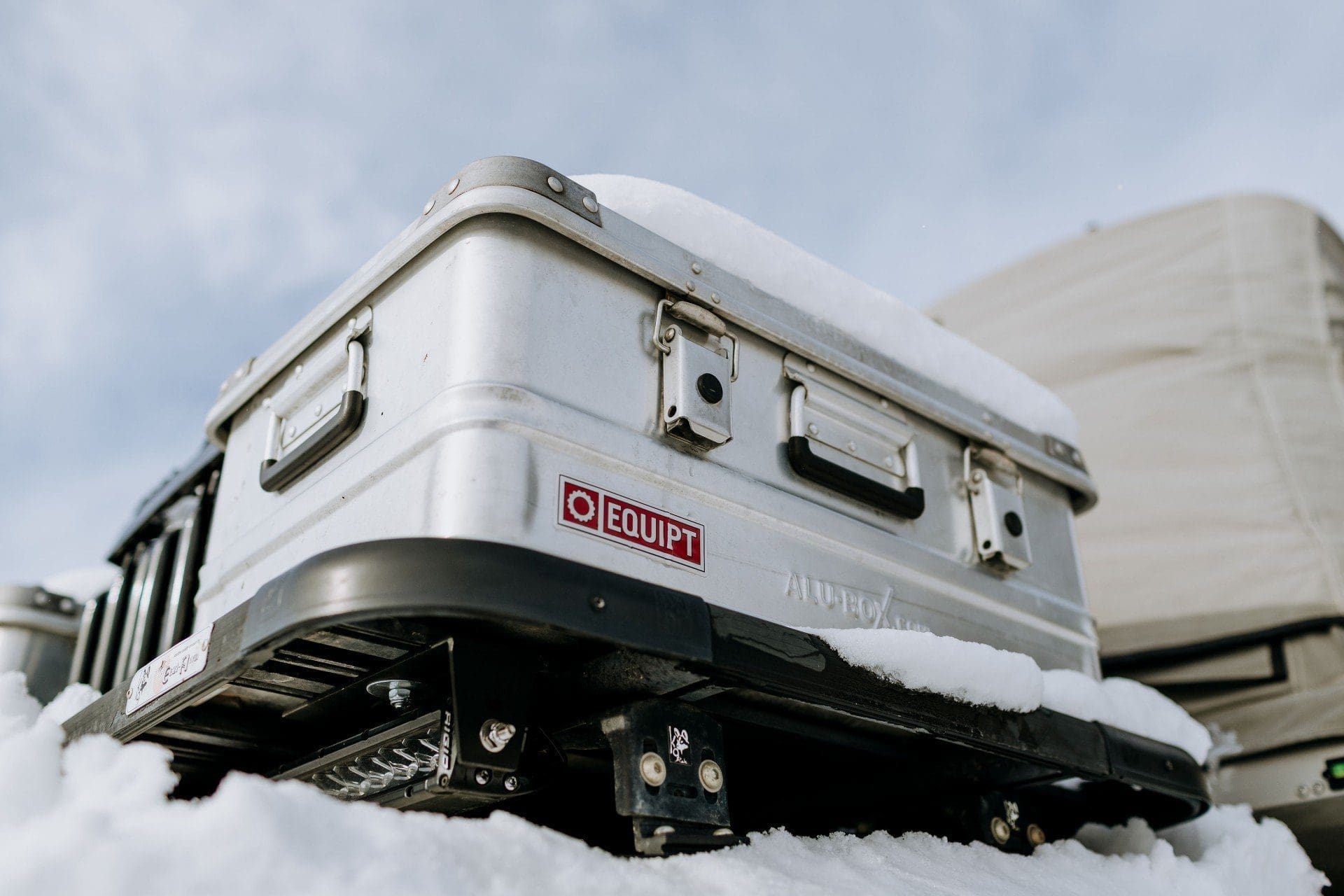 Using Soft Bags For Storage
We use soft bags all the time. They break down, fold flat and can be stored out of the way. Our absolute favorites are made by a company based out of Billings, MT called Red Oxx.
We chose Red Oxx bags sized within carry-on requirements for ease at the airport. Each team member has their own standardized bag and we've found that we can easily live solely out of these bags for around six weeks.
Soft bags are also better suited to being stored inside the cab of a vehicle. This provides more protection when it comes to the interior of the vehicle. Hard cases can rub and plastics start to look worn very quickly. Soft bags also make better sense inside the cab for safety reasons. In the event of an accident the soft bag would do much less damage.
Look for removable straps and handles when choosing a bag. We find shoulder straps nice to fly with but remove them during the trip. A grab handle also helps.
Inside our Red Oxx bags we keep… you guessed it, more bags. Red Oxx packing cubes keep the internal bag organized and prevent rummaging; kind of like the Russian doll effect of organization. We'll often pack all of our pants in one packing cube and shirts in another. They're an excellent storage solution and are well worth the money.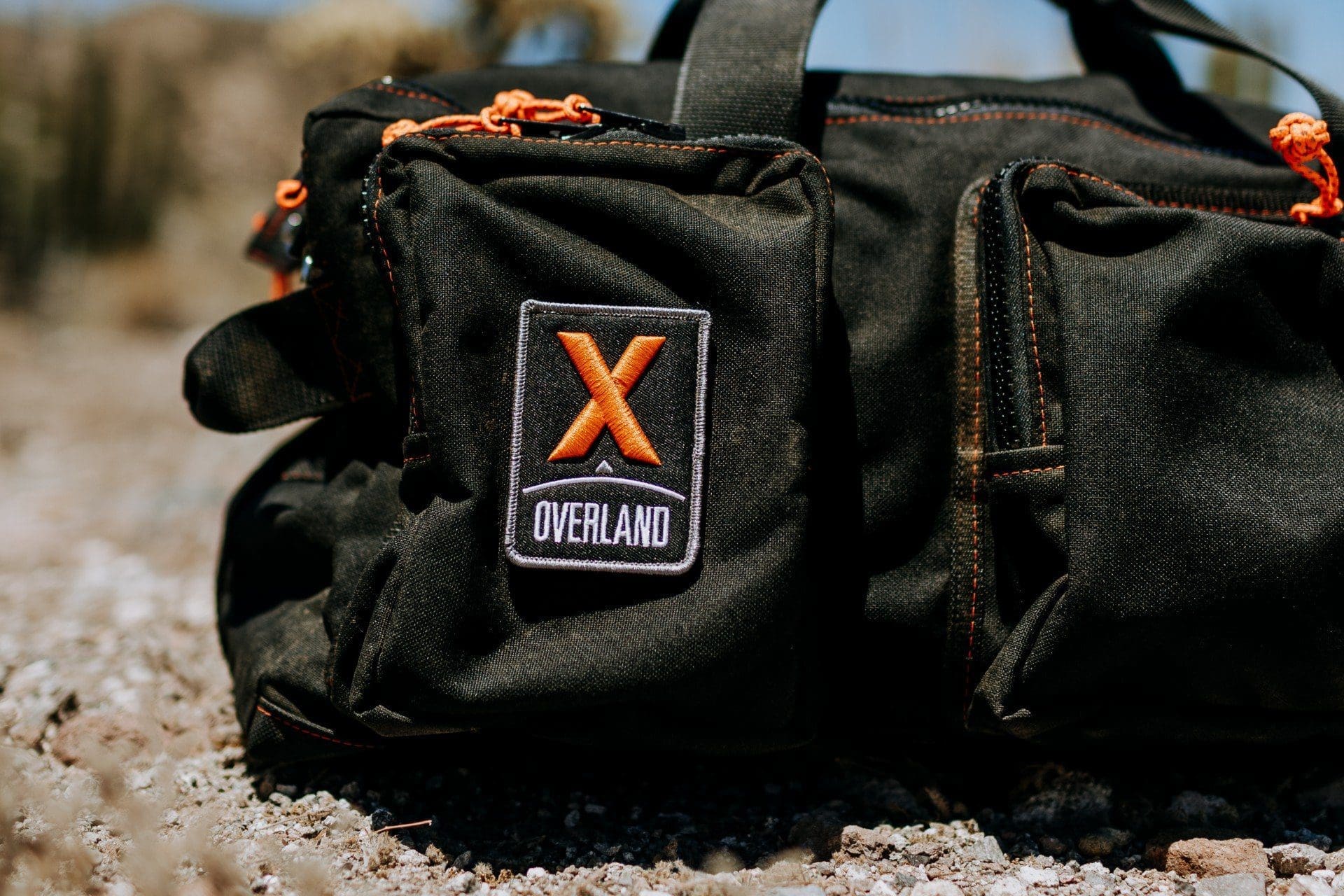 Don't Sweat the Small Stuff
We use Magpul's DAKA Pouches for just about everything. They're incredibly tough, water-resistant, well-made, and available in various sizes. We really like the new Window Pouch option which allows the user to see the contents. That is a game changer. Examples of items we store in DAKA Pouches include medical supplies, stickers and patches, electronics accessories, paperwork, pencils and pens, and small tools.
Magpul also just released their DAKA Can, which was originally designed for sunglasses. The Can has a snap lid (no zippers) and is rugged, weather and dust-resistant and non-crush. We love that it fits inside cup holders and side door pockets.
 If your bag isn't organized and you can't find anything, by Day 10 it will start to drive you nuts.
Now, you might be thinking that aiming for this level of organization is overthinking it for a weekend trip. You're probably right. But when you get into Day 10, 20, 60+ – that is when this stuff really starts to matter. The magic number is the 10-day trip. If your bag isn't organized and you can't find anything, by Day 10 it will start to drive you nuts.
There are all kinds of ways to organize a vehicle and we hope this information has proved helpful. Please comment below – we want to hear all about your own successful storage solutions.
Want more? Check out the Vehicle Storage Solutions episode of our PROVEN Series.
how to stay clean on the road