Have you ever haphazardly thrown items into the back of your vehicle after use, vowing that you'll deal with it later? Have you ever experienced an explosion of stuff such as snacks, jackets or other goods inside your vehicle? So have we. Over time, we've learned a thing or two about good vehicle organization and how to make these systems work for a big group of people. In this post we're discussing the large overlanding storage solutions that we use in the Expedition Overland trucks.
If you can give something a permanent home, you're winning.
Good organization and storage solutions in an overland-prepared vehicle are important for efficiency, proper time management and safety. They also just make life easier! To start, remember that every truck comes with cubbies and storage spots. We highly recommend using those first, maximizing what's already there before adding on.
For large storage solutions in our Tundra and Jeep builds we use PCOR Systems, while Goose Gear cabinetry in the back of the Tacoma keeps us organized. are a must on all of our trucks. 
Overlanding Storage Solution: The PCOR System
The PCOR System has a tray on the bottom for storage and canopy on top that allows us to mount a tent on the roof. Spare tires, a propane tank and jerry cans are all hard-mounted on the back. We never touch or move these items unless we're using them, which is a principle we always strive for. We don't want to move things to get to things. For example, mounting a fridge rather than using a cooler removes the need to move the cooler to access other items. If you can give something a permanent home, you're winning. 
We also want to optimize efficiency by keeping items within arm's reach, especially the things we use all the time. This also helps minimize wasted movements. For example, storing bed gear close to the entrance of the tent. We have also created a camera bay in the PCOR system with a power station and built-in chargers. Underneath the camera bay is a drawer where we access small items such as lenses and batteries. 
We also want to create good habits by having an easily-accessible 'home' for every item. This way we're more likely to grab that air down tool that sits in the door pocket AND air down when we should. It also makes it easy to return the item to its home when we're done. This works really well for us because we have a large team of people traveling together and use these items frequently. 
The best way to improve storage efficiencies is to go camping and pay attention to where items are stored and how far you have to move them to use them. Can you cut down on movement anywhere?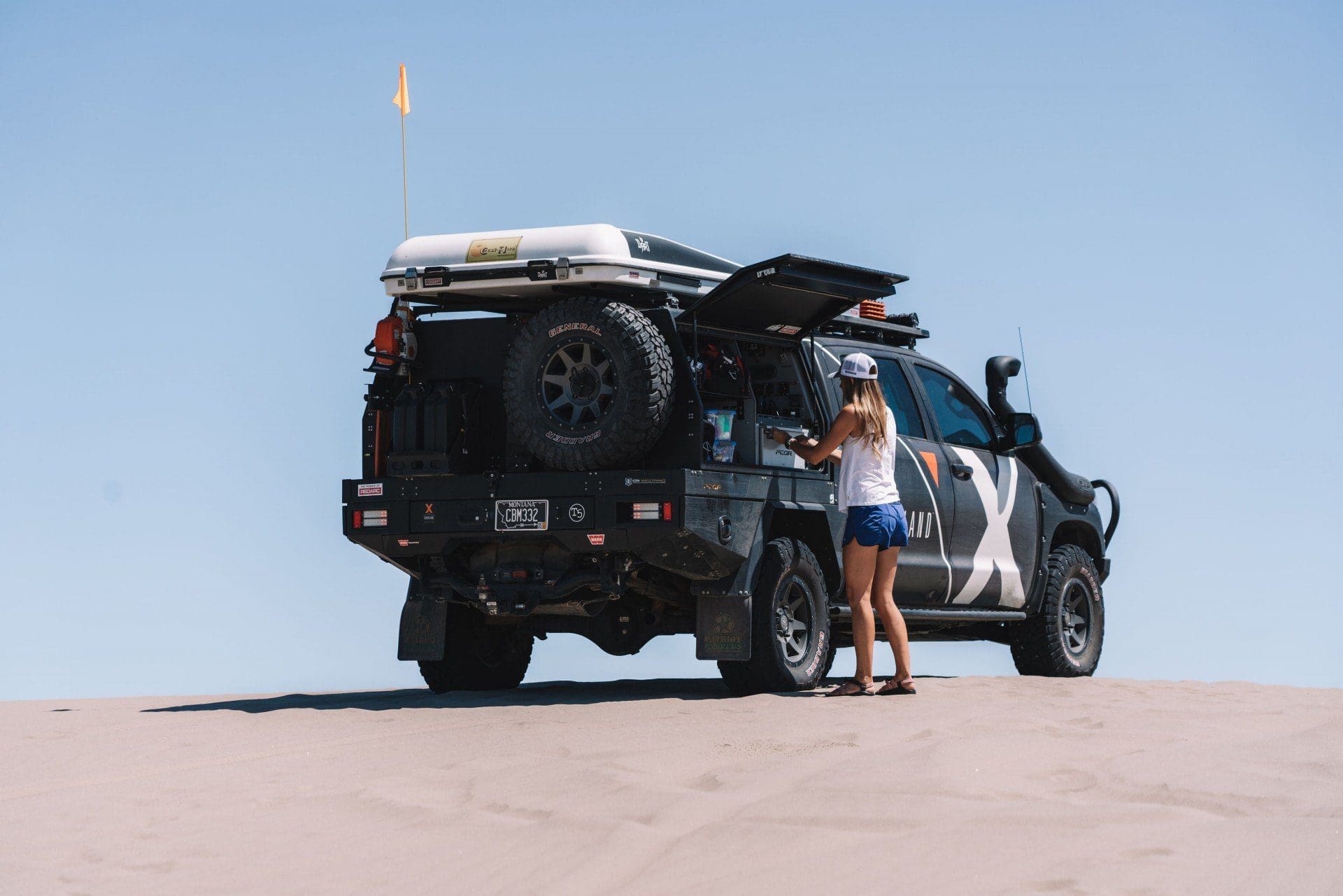 The Goose Gear System 
Goose Gear did a fabulous job building a cabinetry system for the Tacoma that we live out of like a camper. We use this system just like we would use a kitchen drawer, housing silverware, dishes, dry goods, etc. The Goose Gear system can also be used as indoor seating and the cabinets can be accessed from the top so we can grab items while the back of the truck is closed and without having to slide the drawers out.
One of our goals was to access everyday items from both inside and outside the vehicle. To do this, we installed hatches on the sides of the Habitat. Now we can access the power station and charge electronics whether we're just returning from shooting or backing up data during the night after a long filming day.
Beneath the power station lies a cubby for our sleeping bags. The Habitat system requires pulling our sleeping bags out daily, so we built a specific cubby to keep them latched and stowed away.
Roof Rack Systems
are part of your organization and need to be used wisely.
You've seen the videos with rigs loaded up on the roof – it looks cool, feels fun, like you're off on an adventure – but it's actually really dangerous. Too much weight on the top of a vehicle raises the centre of gravity, making a vehicle more prone to tip. On the trail this is definitely a factor. But it's also important to think about a high-speed defensive maneuver on the interstate where we spend a lot of our time.
We mounted an , which is plenty heavy in and of itself, and beyond that a set of and a couple of . We bolt MAXTRAX on the roof rack or back bumper because we need to access them all the time. We might not be stuck often but when we need them in a pinch they're within arm's reach.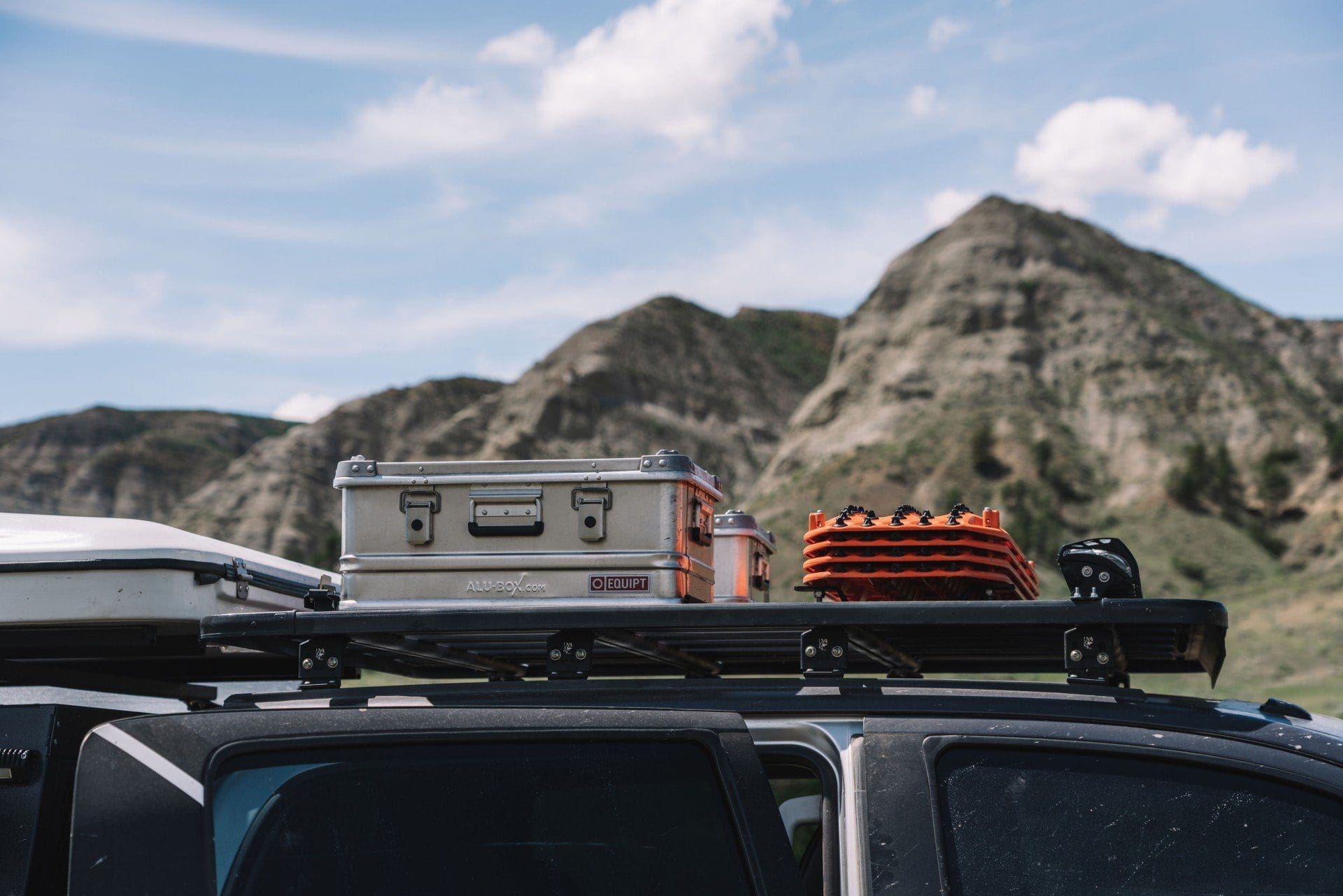 We've come a long way in 10 years but still experience inefficiencies and we're not perfect. Maximizing large vehicle storage solutions is a mindset that can be applied to any build. Then you just have to get out and use it! Let us know in the comments below – what has been a game changer for you?
Stay tuned for the next post where we'll share Part 2 of our Overlanding vehicle storage solutions series, including storage boxes, soft bags, packing cubes and other ways to organize the small stuff.