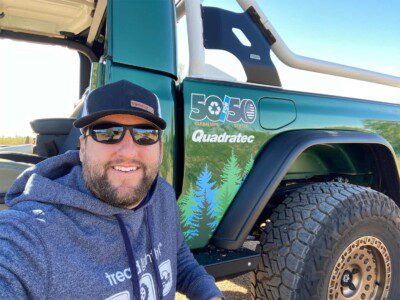 Matt became the Executive Director for Tread Lightly! in October of 2020. Tread Lightly! is a national nonprofit organization with a mission to promote responsible, motorized recreation through stewardship/conservation projects and ethics education to ensure off-roading opportunities are available for future generations.
As Executive Director, Matt is responsible for the strategic direction, operations, partnerships and overall leadership of Tread Lightly!
Matt's career has included time at global brands including adidas and Michelin, but prior to Tread Lightly!, he spent 16+ years in the advertising, marketing and design agency world, working with clients in the automotive, automotive aftermarket, transportation and sports + entertainment sectors.
Matt was born in Pennsylvania and grew up in New England (Vermont and Massachusetts). After attending college in Florida, he settled in the Upstate of South Carolina for nearly 21 years. Despite being an "East Coast Guy," Matt and his wife relocated to Utah in 2016. The time in Utah further deepened Matt's love for outdoor recreation.
Matt and his wife relocated to Surprise, Arizona in September of 2021. Matt enjoys hiking, camping, off-roading and exploring all this great land has to offer.