Tacoma Evolution
From the very beginning of our journey here at Expedition Overland, we have enjoyed our unique relationship with the Toyota Tacoma. It has been a fun and rewarding process to participate with Toyota in the evolution of this extraordinary truck since its inception in 1995. Our beloved Gen 1 2001 TRD Tacoma that we now, with reverence, refer to as "O.G.," carried the first XO team on its skill-building exploratory adventures around Utah and Montana; and, later, upwards into the deep snows of British Columbia for the team's first attempts at winter overlanding.
At that time, we were all passionate young overlanders with a zeal for travel, off-roading, and making films. We are all of that still (albeit a bit older) but our needs have not changed, only grown and developed and become more refined. The evolution of our Tacoma builds is illustrative of our own growth as both overlanders and filmmakers. "Atigun," along with his counterpart, "Raven,"  encapsulates all of the above in the form of our best Toyota Tacoma truck build ever.
Arrival of Atigun
We have built several eye-popping trucks over the past decade at X Overland, but Atigun is the clear show-stopper.
Beyond his boldly attractive look, however, are state-of-the-art modifications and technology that make Atigun our best overlanding film production vehicle to date, the "ultimate production headquarters" as Clay is fond of calling this truck. 
Wheels, Tires, and Shocks
Connecting Atigun to every road and trail surface the team encounters are a set of 35×12.50 R17 General Tire Grabber X3s placed onto a set of ICON Thrust Wheels. 35″ tires on a Tacoma are a first for the X Overland team. Combined with ICON Vehicle Dynamics CDEV shocks (electronic valving with app-enabled interface) this truck's ride is the best we've ever experienced. 
When aired down to suit the road/trail surface, the 35″ tires provide a far softer ride than their smaller cousins and with more floatation for sand and loamy surfaces. The larger 35″ tires also provide that critical amount of additional ground clearance that can make the difference between becoming lodged on a rock during a deep river crossing or making it comfortably to the other side. 
In the front, Atigun is equipped with ICON's 2.5 Series Extended Travel Coilover Shocks; in the back of the truck are ICON's 2.5 Series Omega Bypass Rear Shocks. The game-changer with this complete system is ICON's state-of-the-art electronic valving. CDEV provides automatic valve adjustments based upon intelligent computer processing that adapts valving to the road surface and driving dynamics independently to each individual shock.
Gone are the days of "clickers" and having to leave the vehicle to adjust dampening to road surfaces. Now you can set basic road condition parameters with an app on your phone and let the technology do the rest. You might think of CDEV as a system similar to antilock braking or Toyota's Traction-Control in that the computer is able to make micro-adjustments while responding to terrain/surface changes far faster and more precisely than a driver ever could by manually adjusting dampening on a dial.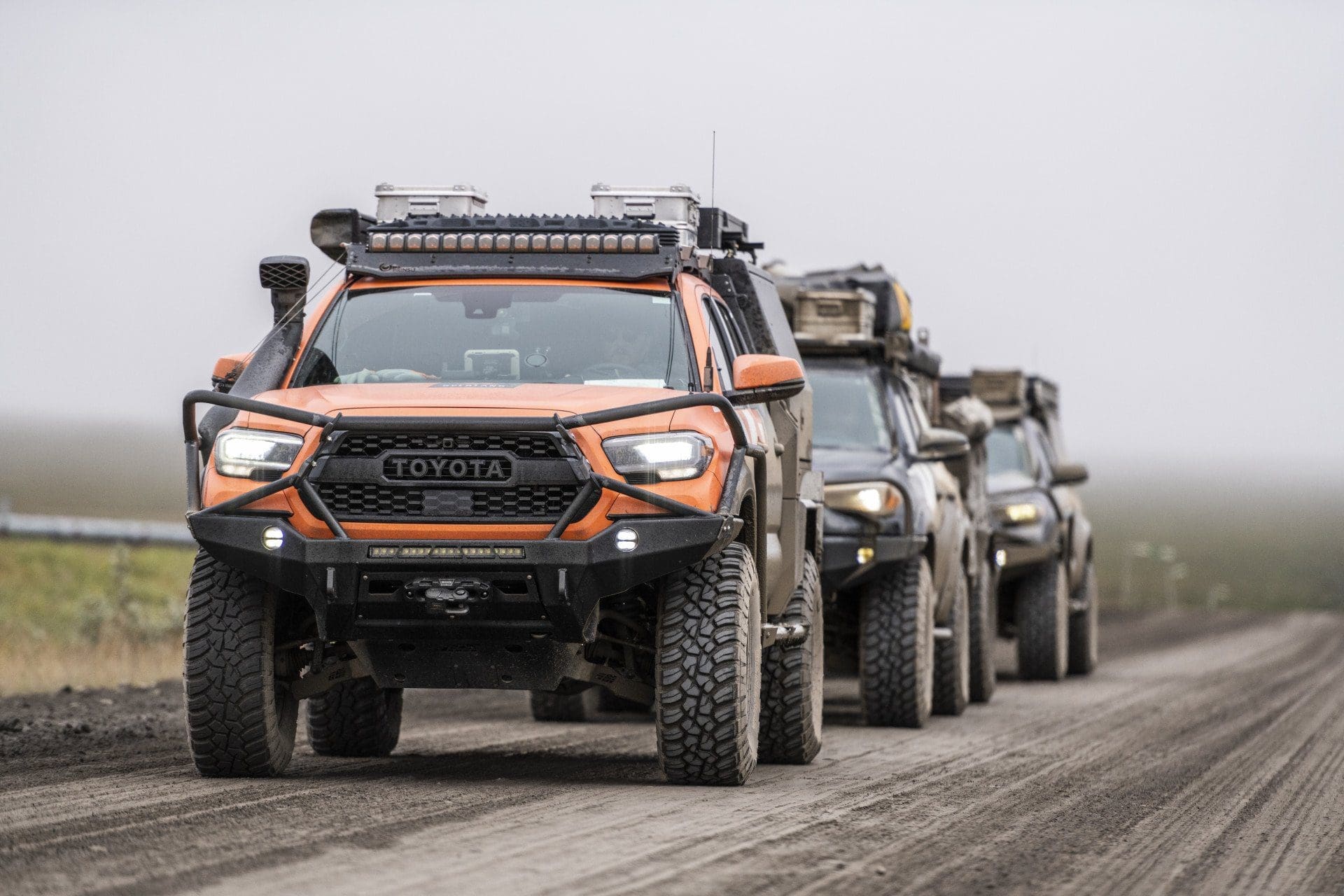 Effectively fitting a Tacoma with 35" tires is a considerable investment that requires a significant amount of wheel well trimming and a body mount chop with the need to re-gear. We confess that adding 35s gives our trucks an attractive look; however, at X Overland, the addition of 35s has the practical value of protecting our sensitive film equipment even more and enhancing the comfort of our crew as we log thousands of miles on our expeditions.
We had long-time partner Dark Horse Customs install Nitro 5:29 gears and a front . We kept Toyota's factory-installed rear e-locker and kept both filled with Pennzoil 75w-90 synthetic gear oil. This combination ensured Atigun would have the torque needed to rotate the larger tires, retain the reliability expected from a Toyota, and possess the ability to optimize the increased tire performance when situations got sticky.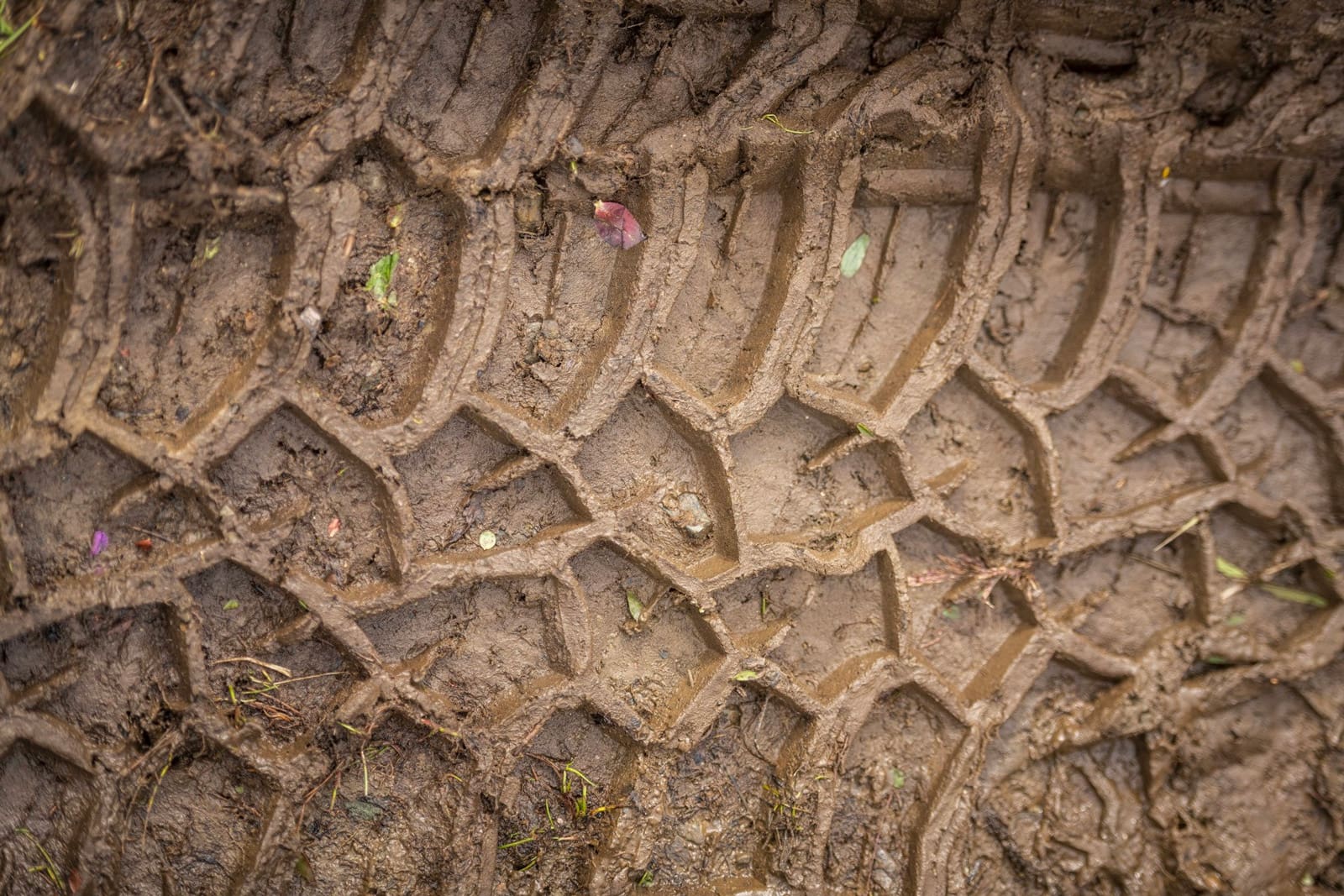 Customizing our Tacoma Armor
Around the body of Atigun are upgrades from CBI Fabrications in the form of custom-built aluminum rock sliders sporting a wider platform for our crew to stand on when filming from the side of the vehicle and an all-new wrap-around front bumper featuring recovery line wrap hooks to quickly store or deploy the Spydura Nightlife Rope of Atigun's when trail conditions get the best of us.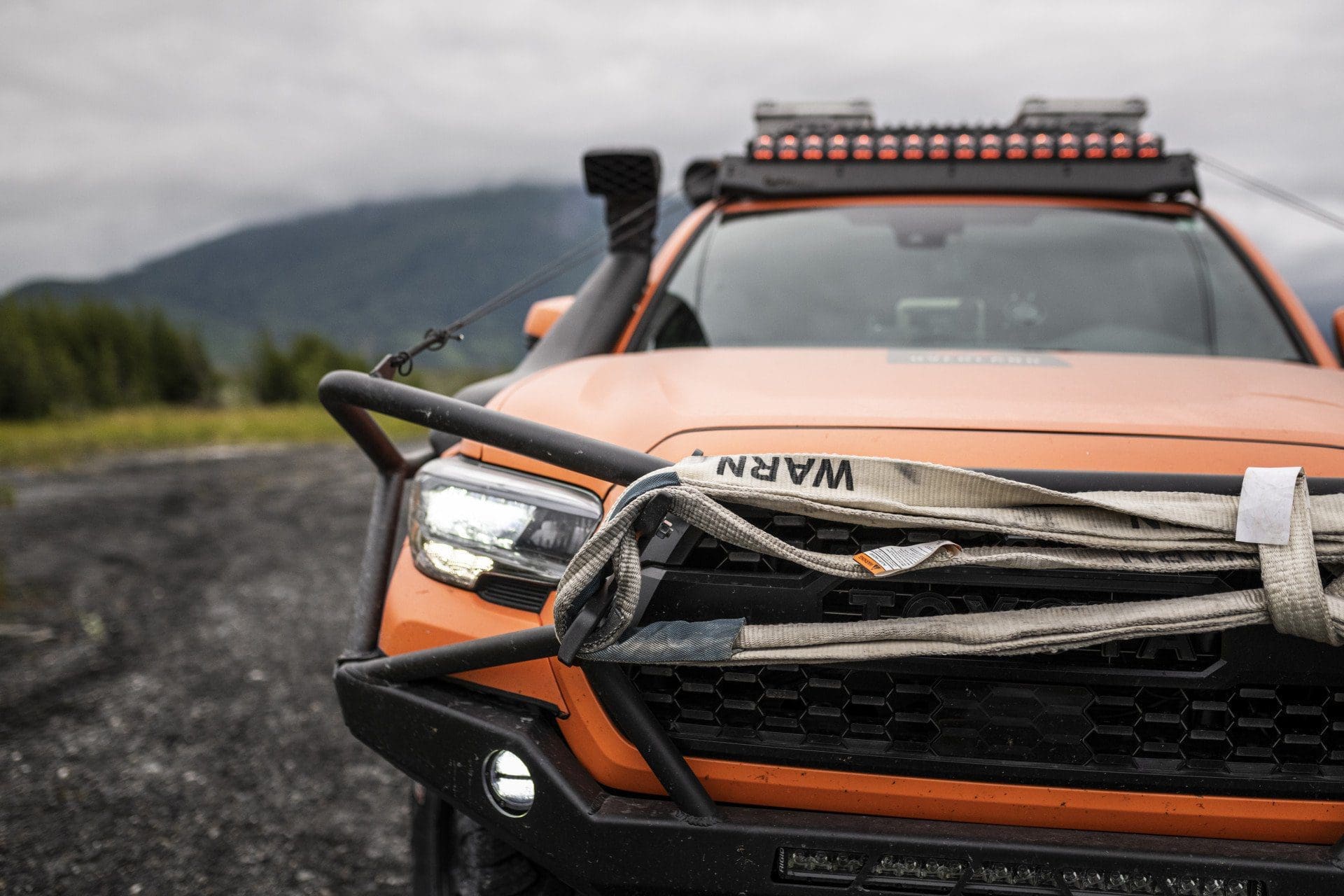 The Tacoma PCOR Difference
Attached to Atigun's greatly enhanced chassis, is an industry-first: a PCOR Rear Tray with a ¾ PCOR Canopy along with a PCOR Rear Tool Drawer and PCOR Awning. As seen in our Atigun build video, GoFastCampers came to our aid by using their scanner to provide a CAD drawing for Patriot Campers in Australia. The Tacoma isn't available down under, so having the rendering of the truck done in our shop was a must. The technology worked, and PCOR was able to build its first-ever system for a Tacoma and ship it to us here in the U.S. 
The canopy and drawers fit perfectly and provided the crew with the best film equipment storage system ever as well as capacity for 20L of water for camp. Combined with a REDARC Battery Manager 30 and a 180w REDARC Solar Panel, the PCOR system protects the team's sensitive film equipment while keeping all of the camera batteries charged and ready to go. 
Now add in the following components and you have an overlanding production vehicle par-excellence in Atigun:
a fit with two and a set of for added gear storage and recovery equipment

a complete featuring a 40" Adapt Series rooftop and 30" SR-Series bumper-mounted light bar along with Rigid Scene and A-Series rock lights for illumination

 two Big Sky Rod Boxes so we can pack along our favorite fly rods

a to get through the deepest rivers and optimize engine air-intake on dusty roads

a long-range automotive main fuel tank to make sure we don't run dry when fuel stops are few and far between

a Garmin Overlander w/inReach Mini to find our way and keep us connected to our team members back home 
Atigun's Tacoma Insight
How did Atigun perform? What would we change after the truck's first field test? We might consider running a slightly smaller and narrower 34" tire and we may decide to equip Atigun with a sleeping system; otherwise, we like him just how he is.
Our long-running partnership with Toyota has given us a unique level of insight and experience when it comes to building out a Toyota and Atigun's now proven reliability and functionality reflect that relationship. 
While it is in our nature as a team here at X Overland to never be complacent and always search for improvement, the evolution of our build process has made us more efficient and effective at everything we do when it comes to building our vehicles in what we now refer to as "The XO Way."
The failure rate in our modifications continues to diminish, the result being the confidence in our builds to perform as intended continues to rise which allows us to push farther than we ever in our attempt to travel to the world's most extraordinary places and bring that experience to our fans. 
Purpose-built
It should be clear by now that Atigun is a truck that reflects the mindset and needs of the team that created him. He is a purpose-built, highly capable, and reliable overlanding production vehicle that will continue to take our film equipment and crew around the world with the kind of functionality needed to get the job done.
Stay true to your purpose
As you undertake your own build or continue to refine what you've started, remember to consider what you need and want your truck to do. What is most important is that your build reflects your own unique interests, needs, and desires. Take the time to figure out what these are. Then, get going. Remember our motto: Start somewhere!