While heading out for a quiet, solitary weekend outdoors is a wonderful experience in and of itself, exploring the world's beautiful places with others is something truly special. Some are fortunate enough to have friends or family who share similar interests, but we know this isn't the case for everyone. Looking for an adventure buddy or group to travel with on your next overland trip? Here are five ways to connect with other overlanders in the community.
#1: Visit A Forum
Considered the largest and oldest overland forum, Expedition Portal is our go-to. The platform is divided into sections including Classifieds, Exploration and Adventure (including trip reports and adventure planning), Expedition Vehicles and Campers, Expedition Support Equipment and Adventure Activity, News, Conservation and Land Use. With an abundance of information, it's easy to spend hours soaking up the beta (and trust us, we have)! There are thousands of active members, making the Expedition Portal forum a great way to connect with fellow overlanders.
The Overland Bound forum is also popular, and includes threads specific to navigation, camp kitchens, photography, meetups, trip planning, land use, vehicles and gear. A section of the OB forum is dedicated to local meet-ups and get-togethers by region.
For motorcycle riders, Expedition Portal has a Two-Wheel Expedition Vehicle forum, while the ADV Rider and Horizons Unlimited forums are chock-full of tips, tricks and fellow ADV riders to chat with, both in person and online.
If you are looking for specific vehicle forums, the possibilities are endless. IH8MUD is a go-to for Toyota platforms, Jeep Garage and JeepForum.com will satisfy any Jeep enthusiast, while Pirate 4×4 is a solid all-around off-road forum. Driving a Ford, Dodge or G-Wagon? A quick Google search should provide a good result.
#2: Meet People Via Social Media
Love it or hate it, social media platforms such as Instagram, Facebook and Twitter can be a fantastic way to meet fellow overlanders. We've connected with so many people all over the world through these channels. An added bonus: they can be helpful research tools for trip planning!
There are many ways to seek out others with similar interests online, including hashtag searches, following other accounts or individuals with similar interests, contributing to a comment thread or initiating a conversation. Many clubs, events or overland-related businesses regularly share upcoming events or get-togethers, including trail runs or camping trips on their Instagram or Facebook feeds. See below for some specific suggestions. 
Regarding international travel, Facebook groups are essential places to ask questions about visa requirements, border crossings, find shipping container partners, and much more. Some of our favorites include:
PanAmerican Travelers Association
Australian Overlander Community
Facebook groups are also an excellent way to meet people. In fact, we created a space specifically for those interested in meeting fellow travelers, overlanders or are new to the overlanding community: the Overlander Community Facebook Group! With over 13,000 members, it is a great place to post questions, engage in conversation and swap stories with other overlanders and outdoor lovers.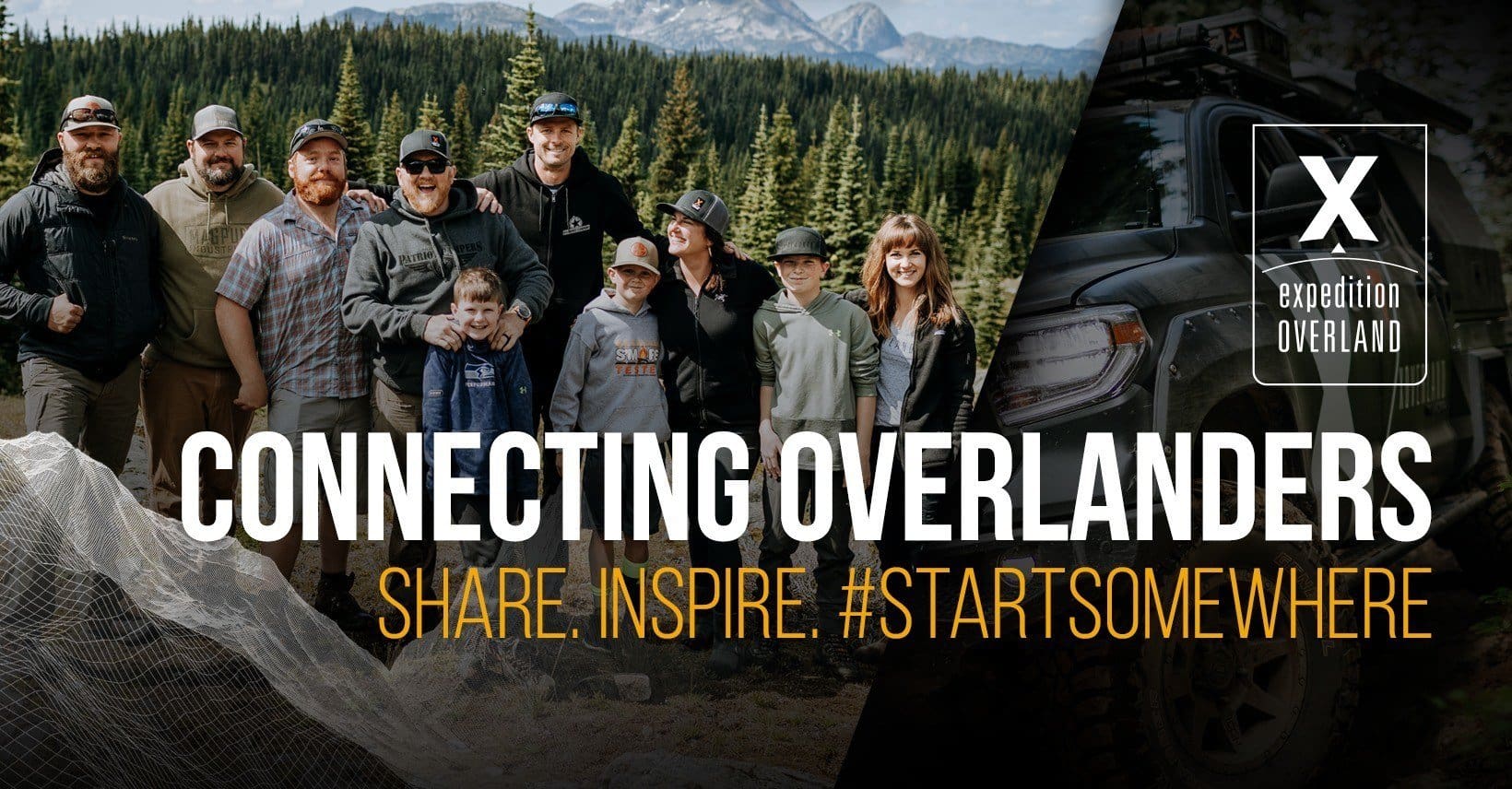 #3: Head to an Event
Overland events are a great opportunity to meet people in the community or connect with those you've met online. From panels to roundtables, group rides and training sessions, expos are the perfect place to learn, improve your skills, meet other enthusiasts and owners of overland-based companies you love and browse some unique and interesting vehicle builds. 
Some notable expos include:
Overland Expo Mountain West (Loveland, CO) 
Overland Expo West (Flagstaff, AZ)
Overland Expo East (Arrington, VA) 
Northwest Overland Rally (Plain, WA)
BC Overland Rally (Whistler, BC, Canada)
Rocky Mountain Overland Rally (Gunnison, CO)
Midwest Overlanding and Off-Road Expo (Springfield, MO)
Outside Adventure Expo (Salt Lake City, UT)
SEMA Show (Las Vegas, NV)
Adventure Overland Show (Stratford Upon Avon Racecourse, UK)
This list is by no means exhaustive. Check out Take the Truck's Overland Expos, Events, Groups and Rallies and Overland Expos and Events 2021 Edition by We're the Russos for more comprehensive lists.
Rigs & Coffee also hosts regional overland vehicle gatherings that occur monthly throughout the United States. What started as a small group of enthusiasts meeting for coffee has grown into a vibrant community that hosts events, training sessions, trips and clean-ups. Speaking of which, clean-ups are also a great way to meet people while giving back to the community. Head to the Trips & Events section of the Rigs & Coffee website, link up with a local clean-up in your area, or visit the Tread Lightly website for more.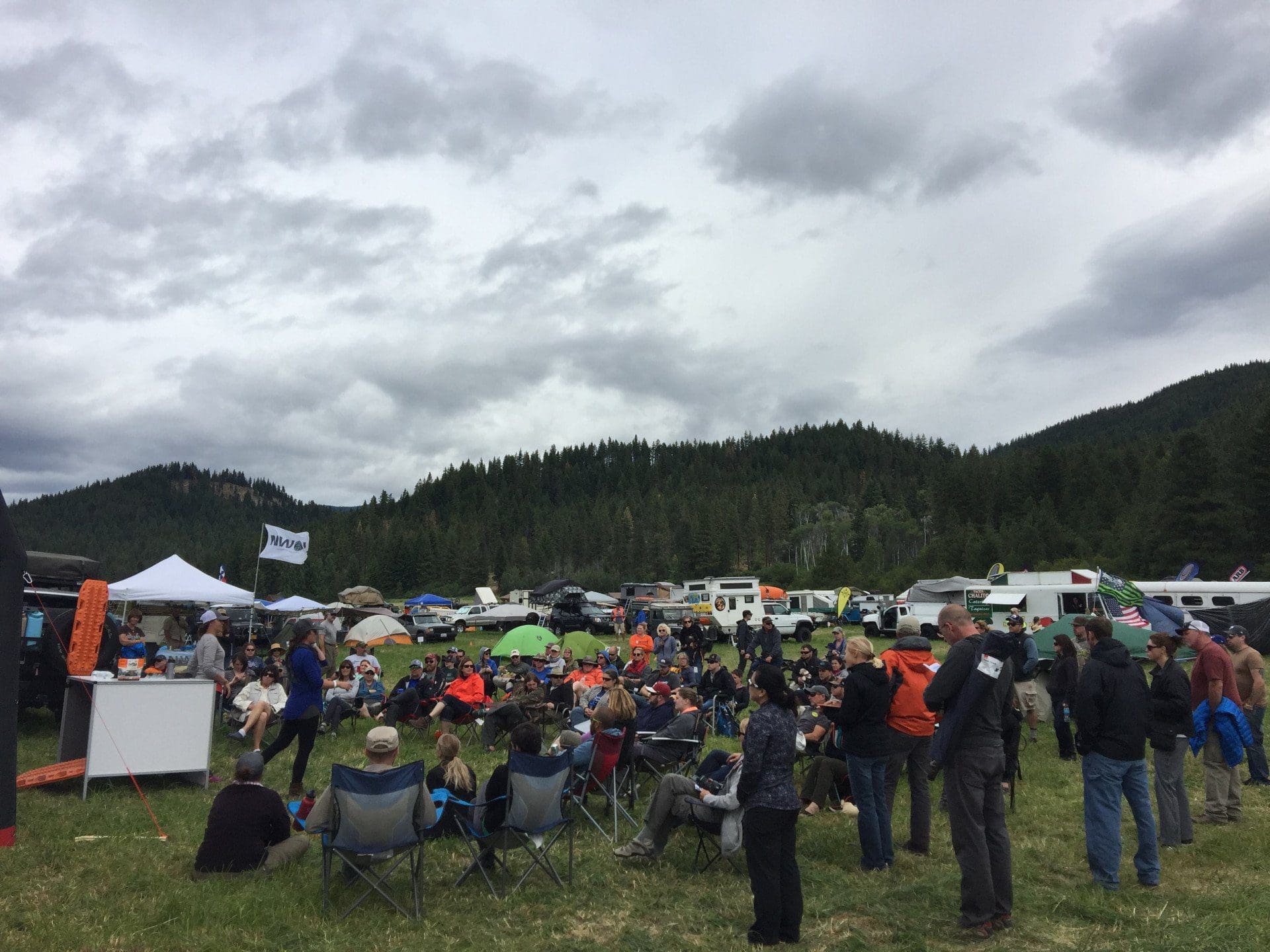 #4: Join a Club!
Typing '4×4 club' plus your locale into Google's search engine opens up a world of possibilities. If you live in a small remote town, search the next-closest county for 4×4, overlanding or camping clubs. 
Some of the most popular clubs include Expedition Utah (recommended by XOverland team member Kurt Williams), Overland Bound, Montana-based 406 Cruisers and Lone Star Overland. Canadian readers might be interested in 410 Expedition and Untitled Offroad. There are many other clubs out there, so don't hesitate to mention a few in the comments below!
#5: Sign up for a Course
The beauty of signing up for a class lies in the fact that it doesn't have to be directly related to overlanding to find members of the community with similar interests. Topics like Wilderness First Aid, self-defence, compass-reading, basic vehicle mechanics or an outdoor rock climbing training attract people with diverse interests. 
For those who want to meet people in the off-roading world, training programs are a great way to brush up on your skills and make new friends. Outfits that host training events include Rebelle University, Ladies Offroad Network, Barlow Adventures, Overlanding BC, Northeast Off-Road Adventures and 7P Overland.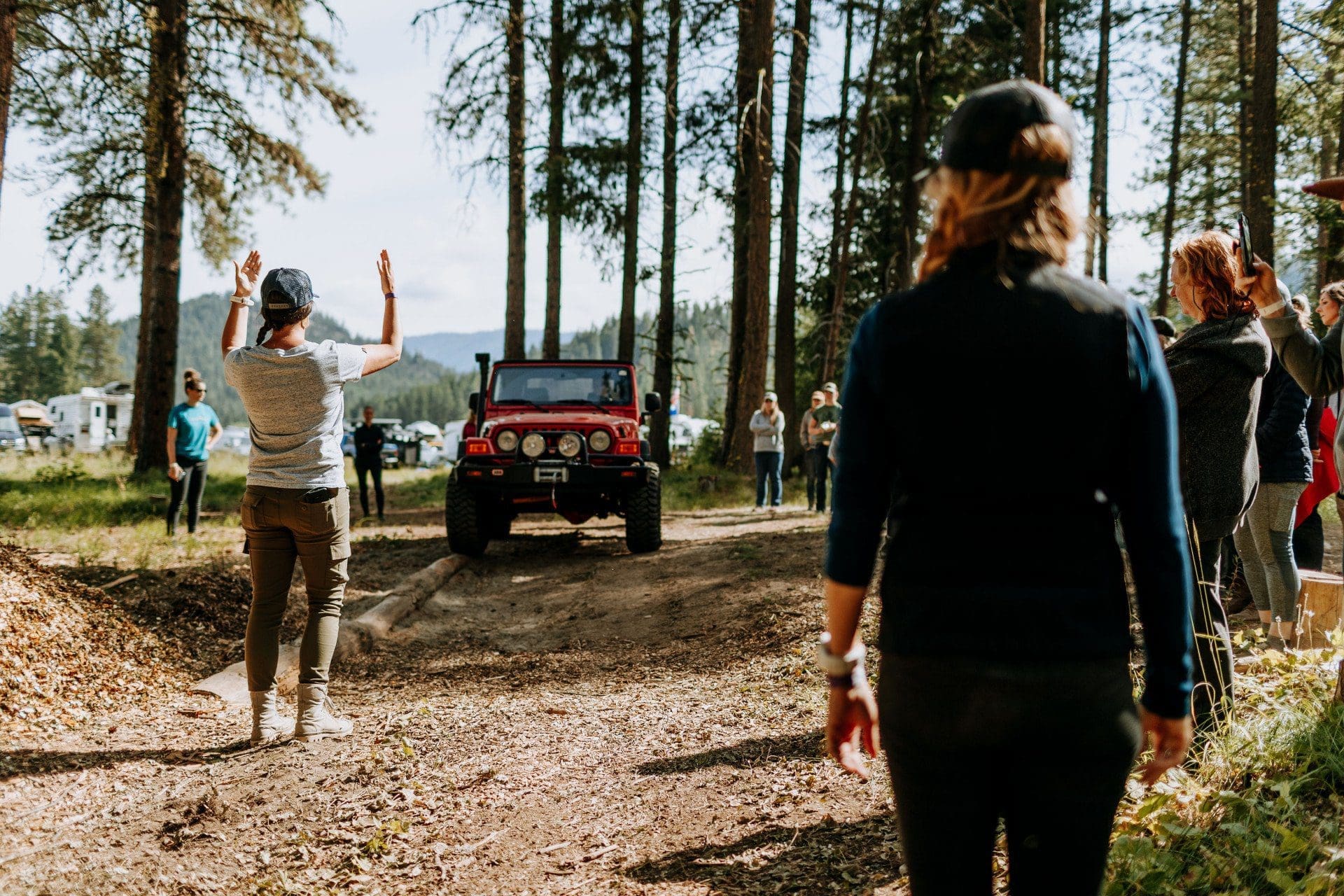 We hope these resources have been helpful and encourage you to connect with other overlanders in the community. Whether you're traveling in your home state or through other countries, there are a ton of ways to find potential friends for life. And if all else fails, take off on your own trip! You'll likely be surprised at how many people you meet along the way.
We would love to hear from you! Are you looking to build your own community of outdoor adventurists, overlanders or off-roaders? Want to promote a great club, event or training opportunity? Leave us a comment below!