Building an overlanding vehicle is a complex challenge but a lot of fun. We're here to help you with the process!
Building an overlanding vehicle is fun. Building an overland vehicle can be expensive. Building an overland vehicle is complex, and building an overland vehicle is a challenge. The rewards, however, are many. Capability, reliability, comfort, and performance come out of a well-thought-through overland vehicle build; the opposite can be true for a build that has not made space for the time and effort it takes to do it right.
Getting started, it is important to understand the key elements that go into an overlanding build and how those fit with your unique needs and desires for overlanding.
As you begin the process of building your overlanding vehicle, as in many things involving overlanding, you'll have to exercise your critical thinking skills. It's worth reiterating that you will be so much happier with the process if you methodically and patiently go about the steps of building your overlanding dream machine. Doing this front work will also save you lots of time and dollars that could be spent overlanding.
Our goal here is to provide you with a proven strategy for building an overlanding vehicle that will ensure a successful outcome. Let's get started!
Determining Your Overlanding Needs and Wants
The first step in figuring out how to build an overlanding vehicle is to clearly define your needs and wants both as an overlander and in the rest of your life. Whether you're just getting started in overlanding or a seasoned veteran, if you're going about building an overlanding vehicle you must determine what you need and, ultimately, want that vehicle to do.
Do you need a vehicle with lots of cab room for a large family or are you a solo traveler? Maybe it will just be you and a partner traveling? Do you have a dog traveling with you? Figuring out your social situation will help you determine a vehicle type.
Will you be using a ground tent for your camp needs or are you planning on a rooftop tent or camper system? Which approach you go with will determine what kind of payload you will need in your vehicle.
Will you be towing a trailer? If so, the vehicle's towing capacity will be critical to driveability and safety.
Will you be engaging in other recreational activities like hunting, fishing, climbing, kayaking, or mountain biking? If so, you may need a vehicle with more space and room for accessorizing.
Will you be traveling extensively in less-developed countries or remaining in North America or Western Europe? This difference could determine your choice of brand due to global availability of parts and service.
Hopefully, you are starting to see how honestly answering these questions will help you figure out the right vehicle platform with which to begin your build.
Dedicated Overlanding Vehicle or Daily Driver?
The next question you have to ask yourself is whether or not your vehicle will be a dedicated, purpose-built overlanding vehicle or daily-driver which also serves as your overlanding vehicle. The answer to this question will obviously have an enormous impact on the needs you have for your vehicle.
If your vehicle must serve as your daily-driver, then you will have to consider where you will make your compromises to allow the vehicle to serve the dual-purpose of overlander and grocery-getter. For example, while a rear-bumper with a spare tire swing mount is useful (and possibly even necessary) for creating room for a larger and/or spare fuel tank and makes a spare tire more readily available, the reality of having to open that tire swing every time you need to get into the back of the SUV or pickup truck for everything from soccer gear to house supplies from your favorite big box store is daunting. Equally unnerving is the thought of paying for 35" mud-terrain tires when 90 percent of the vehicle's use will be on pavement as a commuter.
For most of us, the reality of needing our overlanding vehicle to serve our daily lives is the norm. Consider, however, that if you can find a way to have a cheap, reasonably reliable runabout for a daily-driver, your opportunity to build a dedicated overlanding vehicle becomes your reality.
The advantages of a purpose-built, dedicated overlanding vehicle are many:
You can build and outfit your vehicle for overlanding-themed adventure and have it parked in your garage ready to go when you are. Everything from tires to tents will be 100% used for your adventures, significantly reducing costs of the wear, tear, and maintenance your vehicle requires.
You can spend time prepping your vehicle in the shop during the evening and have it fully geared up and ready to go come departure time, whether that is for the weekend or for a several-month-long overlanding journey.
During your daily driving for work, groceries, and the hardware store you needn't concern yourself with the possible theft of your expensive overlanding gear.
The fundamental difference between a dedicated overlanding vehicle and that which must serve as a daily-driver is the elevated need for compromise in a daily-driver. And while it may not be feasible in your immediate future to set aside a special vehicle for the specific purpose of overlanding, you might consider making this a long-term goal made feasible with patience and a plan.
Weighing Out Your Wants on an Overlanding Vehicle
If you're being honest about your overlanding build, the needs you have in an overlanding vehicle are non-negotiables; your wants are another matter.
Do you love the look of 35" Mud-Terrain tires and relish the thought of churning your way up a sloppy trail in the Northern Rockies? The 35s" are definitely cool looking and do add ground clearance; however, they will have an adverse effect on fuel economy and require significant additional modifications such as re-gearing, possible extensive body panel cutting, and suspension adjustments.
Do you like the thought of having a vehicle that is totally protected by plates of steel armor in all the right places? Those steel plates will protect your undercarriage, but they're also very heavy, a fact that will affect your vehicle's performance and handling characteristics, especially in the areas of braking and suspension. Truly, will you be doing a lot of rock crawling or could you get by with aluminum skid plates which will save you lots of weight and still protect your undercarriage in the event of an occasional rock strike.
Do you like the thought of gear ratios that will allow you to creep over boulders in Moab without breaking a sweat? True, lower gearing will help here, but are you building a rock crawler you will trailer to Moab or an overlanding vehicle with which you plan on circumnavigating the world?
Would a supercharged engine bring more smiles? Of course! However, will having that supercharger decrease fuel economy and range and possibly affect vehicle reliability when traveling long distances in remote areas?
I'm sure you're starting to see what we're getting at. Certain modifications may be desirable but, practically speaking, very detrimental to your overall build if all of the effects of the modification are not taken into consideration.
A final consideration to take into account when weighing out your wants is the benefit of the accessory vs. the value of travel. If the modification you have in mind could be done without for your overland journey, you could be putting that money toward the traveling itself.
Heading out, if your vehicle isn't equipped with a winch, for example, then just modify your travel plans to accommodate the limitations of your equipment. You may have to be more choosy about the terrain you can tackle, but at least you'll be on your journey and out seeing the world rather than waiting to add one more accessory before you begin traveling.
Selecting a Platform: Mid-size or Full-size Vehicle for Overlanding?
When trying to determine whether to go with a midsize or full-size pickup or SUV for overlanding, take some time to consider the pros and cons of each. Here is a list identifying some of the key advantages of each platform (weaknesses implicit):
Mid-sized Overlanding Vehicles
Mid-Sized vehicles are much easier to maneuver on trails which often become narrow in width and feature tight switchbacks which make travel for longer wheelbase vehicles much more difficult.
Mid-sized vehicles are much easier to maneuver when traveling within cities, especially cities in less-developed countries and even in the developed world of Europe. In America, many roads are designed for larger vehicles; in most countries, they are not.
Mid-sized vehicles are, generally speaking, more fuel-efficient. However, full-sized platforms are gradually improving in this area and may be more efficient if you are hauling and/or towing large amounts of weight.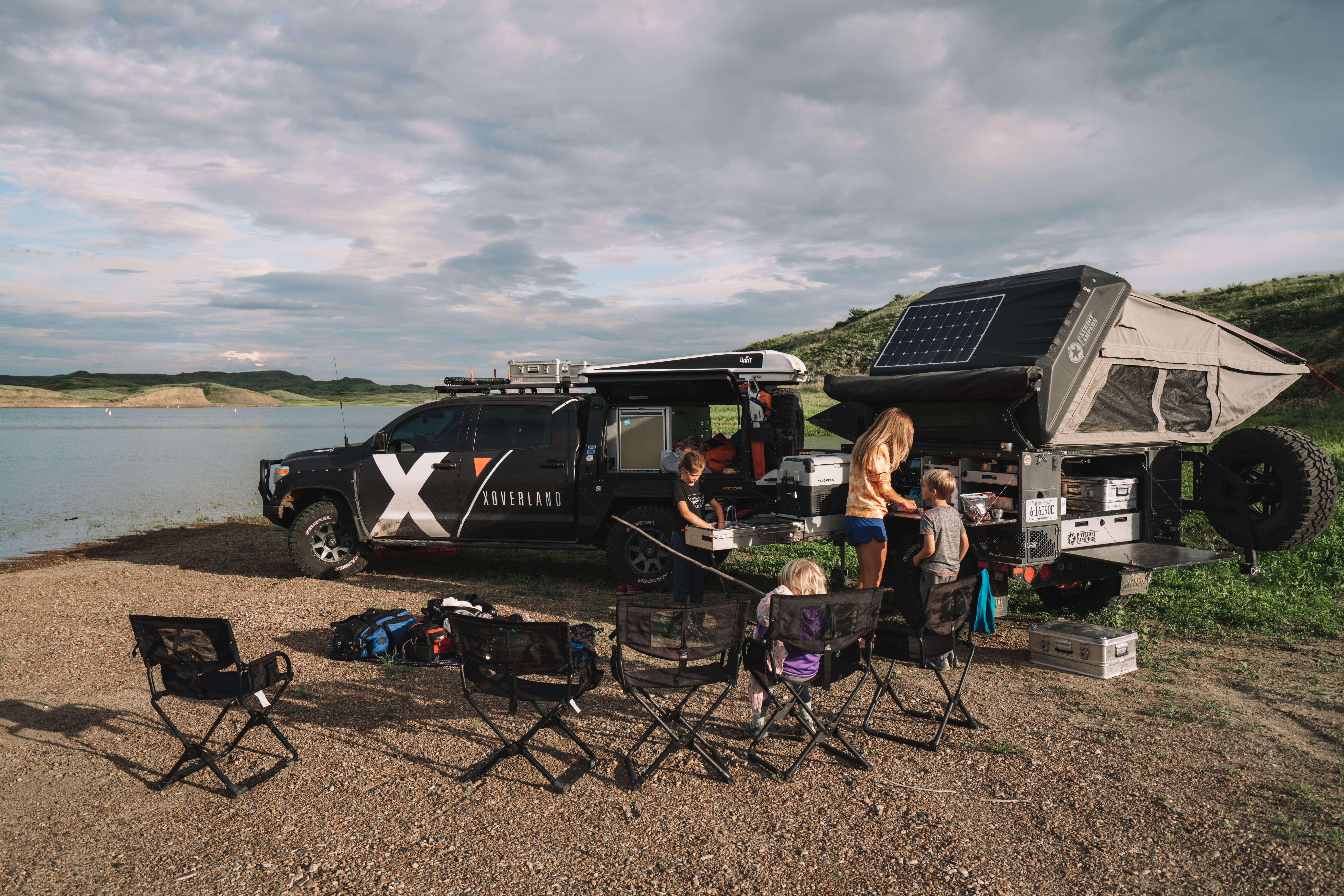 Full-sized Overlanding Vehicles
Vastly increased payload and towing capacity over a mid-sized vehicle often make suspension and braking modifications unnecessary.
Increased engine power enables better hauling and towing capabilities, especially when considering the likes of steep mountain roads, the need to pass slower traffic, and the demands of heavy headwinds.
Significantly more interior cab space for people and gear. Large families and tall, broader-shouldered people may find themselves more comfortable in a full-sized cab.
Selecting a Platform: Pickup or SUV for Overlanding?
Once you have decided between a mid-sized and full-sized vehicle, the next decision will likely be whether you are going to go with a pickup or an SUV for your overlanding platform. Here are some strengths of each (weaknesses implicit):
SUVs for Overlanding
Offer interior sleeping arrangements for extreme weather conditions or for when you're looking for sleeping space for one more person.
Generally feature very spacious interiors with lots of comfort for passengers.
Everyday driveability is very comfortable and these vehicles perform very well in terms of performance and handling.
Good daily-driver if that is your situation, especially if you need to do a lot of urban driving and have large family needs.
Pickups for Overlanding
Have capacity for larger, more sophisticated sleep/camp systems.
Have large capacities for storing gear and equipment, as well as room for accessories to house items like bikes, kayaks, and fishing and hunting gear.
Have a broader range of options, modifications, and accessories available for differing approaches to overlanding builds.
Work well as daily-drivers if your daily needs are centered around the benefits of a pickup bed; e.g., you're a contractor, rancher, lawn care specialist, etc.
In short, both SUVs and pickups make excellent overlanding platforms. Again, the key is to carefully assess your specific needs and interests to see which is the best fit.
Selecting a Platform: What Brand Do You Choose for Your Overlanding Vehicle?
Which brand do you choose for your overlanding vehicle? While this may come across as a loaded question, it is definitely not meant to be, as the objective of asking this question is a practical consideration. To answer this question, we must again reference the need for critical thinking skills used in all aspects of overlanding–beginning with the choice of your vehicle.
Here is the most useful question you need to ask yourself when considering which brand of vehicle you plan on choosing for your overlanding platform:
Will your traveling be largely domestic or within one particular region of the world? For example, will your overland travels take you into lots of less-developed countries in places like Central America and Africa or will you be overlanding within North America only, or perhaps only throughout Western Europe?
If your overlanding is likely to take you around the U.S., up into Canada, and perhaps Baja at some point, you are likely to find few issues with a wide variety of brands due to the massive infrastructure in the U.S. and Canada which allows for solid support when it comes to parts and service.
In contrast, if you plan on overlanding in less-developed areas of the world, you may find parts and service availability for certain brands minimal or lacking altogether. A fundamental reason we have always chosen Toyotas for our overlanding vehicles is the wide availability of parts and service for Toyotas found around the world. Toyota truly is a global brand; and, along with their ubiquitous global presence, Toyota vehicles also have a well-earned reputation for being remarkably dependable and durable–something we have found to be true in our experience.
How to Build Your Overlanding Vehicle Part I–Conclusion
Wrapping up, the first part of an overlanding build involves determining your wants and needs and deciding upon a platform. Remember to exercise your critical thinking skills here, and be patient in figuring out what is the best fit for you.
In Part II of this blog series, we will take a close look at suspension and tires, bumpers and skid plates, along with lights and electronics. Part III will explore the lifestyle/camping components of your build which include sleeping and camping systems.
Finally, keep in mind that building an overlanding vehicle is all part of the broader experience of becoming an overlander. Enjoy the journey!