We often become distracted by the tools, gear, and aftermarket accessories we need to bring on an overland trip – and these items are important – however, perhaps one of the most important items to include in your vehicle isn't for the health of your vehicle at all, but for your personal health and safety. We are, of course, referring to the ever-essential medical kit.
 We are frequently asked on YouTube and social media what we pack in our medical kits. Understanding how to use the items in a med kit is one of the fundamental skills an overlander should develop. So, before you decide what to include in your medical kit, we highly recommend completing First Aid training and/or Wilderness First Aid Certification as a base and additional training if it is available to you.
 Medical skills require re-training and frequent practice. We suggest the Wilderness First Responder (WFR) certification for a long-term overlanding trip. We've obtained certification from Aerie Backcountry Medicine, Remote Medical, and Wilderness Medicine Institute (WMI), a division of the National Outdoor Leadership School (NOLS). In addition, Clay is an active member of our local Search and Rescue (SAR) outfit in Bozeman, Montana.
Watch as Expedition Overland joins up with the Team 5 Foundation, as they provide medical care in the Mayan jungles of Guatemala >>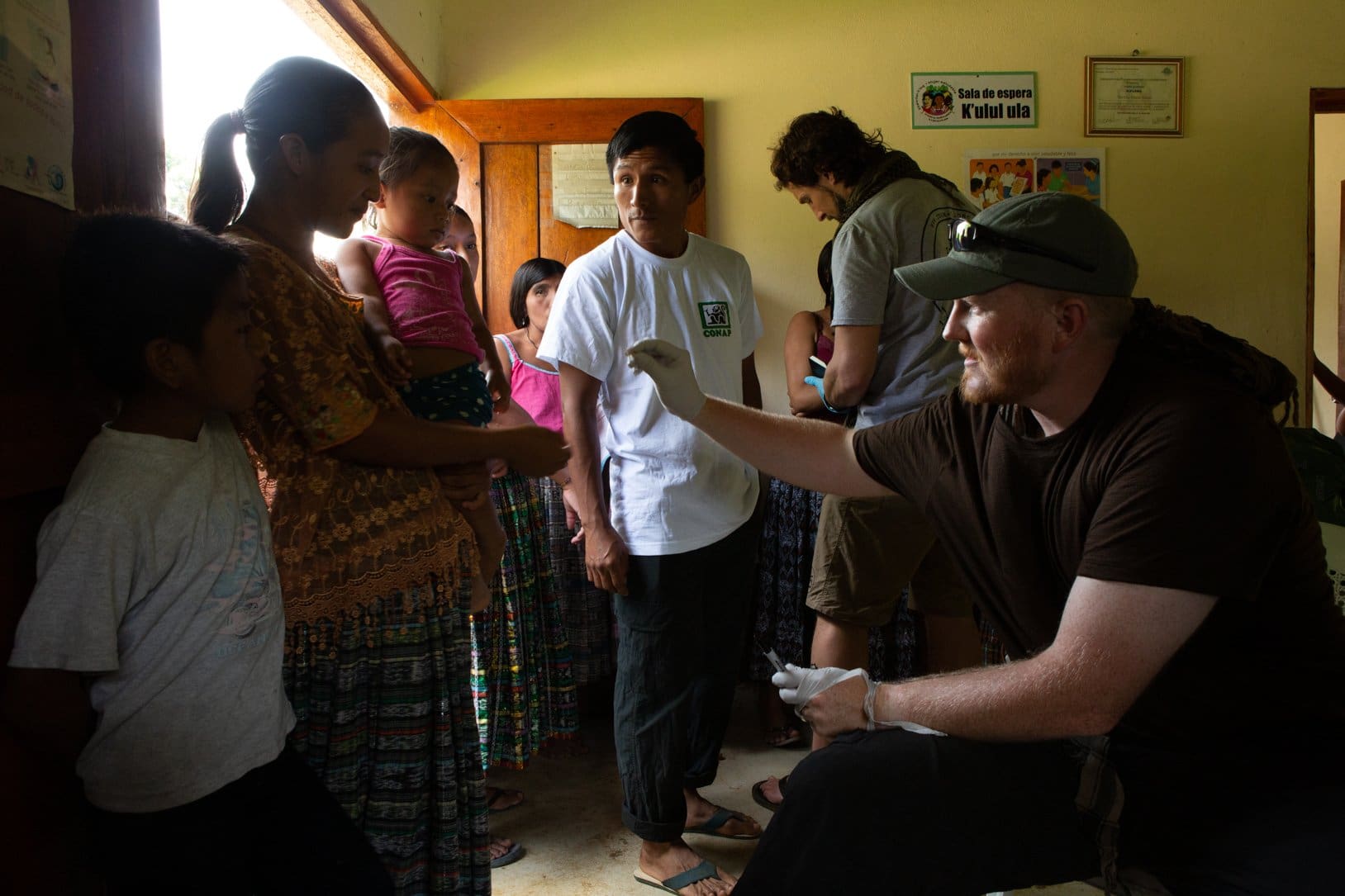 We've tailor-made our medical kits based on what we've learned from years of Wilderness First Responder training and re-training, and approach what we pack as if a rescue would take two days to reach us in a remote location. Our team carries one large medical kit with enough stock for each person, plus an Individual First Aid Kit (IFAK) in each truck. Let's break down each kit.
Note: This post merely gives an example of the items we carry in our own medical kits and is not meant to be used as a First Aid Kit checklist or as medical or First Aid advice.
Expedition Overland's Master Medical Kit
Our Master First Aid Kit is a beast! Because we travel in a team, we pack lots of gloves, gauze, butterfly band-aids, alcohol prep pads, and regular band-aids. We also include a few chest seals and tourniquets, some telfa paper, ACE wraps, and a pen and notebook. This kit is divided into the following compartments, which are all labeled clearly so that anyone, from a bystander to a medical professional, can access each section.
Cuts/Scrapes/Lacerations/Burns
This zipped compartment contains a large irrigation syringe, moleskin, alcohol prep pads, more band-aids, steri-strips, gauze, wound wash, and Neosporin. Cuts, scrapes, and burns are the most common afflictions requiring first aid, so we like to pack many of these items. We also consider this section to be a light to medium trauma level.
Splinting/Strains/Sprains
Some items include a SAM splint, triangle bandages, athletic or duct tape, more gauze, and a finger splint. We consider this section to be a light to medium trauma level.
Medications
We pack painkillers and anti-inflammatory medications such as Ibuprofen, Tylenol, and baby aspirin for pain. We also always include anti-histamines, cortisone cream, and items for digestive upset such as Imodium, laxatives, and Pepto Bismol. Make sure to check the expiration dates from time to time.
Eyes/Teeth
Items such as a toothache kit, pupil gauge, and a penlight can be helpful for eye, nose, and throat issues.
Heart/Blood Pressure
We pack a stethoscope and blood pressure cuff, as well as a wrist blood pressure monitor. 
Airways/Staples/Clamps/Scissors
Note: Members of our team are not medical professionals, and we carry these items for official medical personnel that may be traveling with us.
Some items include metal scissors (several), an airway kit, and a skin stapler.
Temperature Control
Dehydration is a common first aid affliction, so we include cold packs, oral rehydration salts, and an oral thermometer. We also bring body and hand warmers for cold temperatures.
Heavy Trauma 
This section includes items such as a stifneck collar, disposable safety scalpel, a variety of surgical blades, and syringes. Finally, we carry a rollable medical litter. Most of the items in this section would only be used by team members with the highest level of medical certification and training.
Want to know more about organizing your medical kit? Jeff has you covered in Episode #13 of 'Oh Hey There' – How We Organize Our Medical Kit >>
Expedition Overland's Individual Medical Kits (IFAK)
Traveling in a multi-vehicle convoy necessitates individual first aid kits in each truck. This ensures easy access in the case of a vehicle roll or emergency. Smaller than our Master First Aid Kit, we strap our Individual First Aid Kits (IFAKs) to an easily accessible location in the cab of each truck, such as the passenger side headrest. These kits contain multiple sets of gloves, a small CPR mask, chest seals, tourniquets, gauze, ACE bandages, butterfly band-aids, triangle bandages, quick-clot gauze, telfa paper, and alcohol pads. We also pack a few medications, such as Ibuprofen and Benadryl, an emergency blanket, and trauma shears. These items are all housed within a zippered canvas pouch.
Medical Kits Recommended by Expedition Overland
If you don't want to construct your medical kit from scratch, there are some excellent pre-made kits out there produced by reputable companies. We can recommend kits from North American Rescue and from . 
 We're also very excited to try MyMedic's MyFak, MyFak Large, and some supplemental burn packs during our Alaska trip this summer. MyMedic is a family-founded business whose kits are made in the USA. They offer various kits based on skill level (basic, advanced, pro), type, group size, and environment (dry, dirty, muddy, underwater). Their products are well organized, rugged, and the company offers discounts for military, firefighter, law enforcement, medical, and EMS professionals. We can't wait to add these to our medical kit repertoire.
We want to hear from you! Do you have a medical kit that you trust? How have First Aid, CPR, or Wilderness First Aid/First Responder certifications impacted the way you travel?