"Out of all the different methods of travel in this world, there is something uniquely special to traveling in your own vehicle, especially when it's built to take you farther than you expect and allows you to thrive in the journey." Clay Croft, Episode 1//Alaska: The Last Frontier
Truck Build Philosophy
In planning the truck builds for our most recent adventure into Alaska, we put our own philosophy into practice. The trucks built for Alaska: The Last Frontier are indeed designed to go farther than most might expect and for our XO team to not just survive the journey but to thrive.
The philosophy at X Overland is to build the very best overland vehicles in the world, the "Formula One" of the overlanding space as Clay put it recently during our live video discussing the Tacoma build prior to the release of the new AK series. With this in mind, XO has worked extensively with top-tier partners such as Toyota, General Tire, PCOR Systems, ICON Vehicle Dynamics, Patriot Campers, Pennzoil, Garmin, WARN, Redarc Electronics, and CBI Fabrication to create the avant-garde for vehicle-based adventure travel. At X Overland, we'd like the innovations established by our team to lead to useful improvements in your vehicle. Ultimately, we'd like you to be able to benefit from our thinking and ideas as you seek to create your own unique overlanding build! 
Purpose Behind the Build
Before beginning a build project, we always ask ourselves what the exact purpose of our vehicles will be. Similar to forming a team of individuals to go on the expedition, the question of what role/roles each vehicle will fulfill needs to be asked and answered. For this most recent series, that meant looking carefully at how best to approach an overland and film expedition to Alaska: 
How many miles would likely be traveled for the journey and on what kinds of roads and surfaces? 

What kind of weather could be expected in the region at that time of year? 

How many people would be on our expedition and what kinds of additional activities might the crew wish to participate in while there? 

In reference to the previous question, what kinds of extra gear and supplies might be needed for those activities? 
Prior to turning the first wrench or making the first cut in the sheet metal, the responses to all of these questions must be carefully thought through and answered, the first all-important part of the X Overland truck building process.
Rooftop Tents, Camper Trailers, and Overland Gear
"Once I establish what a vehicle needs to do, then I can start looking at its componentry and what I want to add to it. Then I use all that information to formulate the build plan." Clay Croft
Alaska: The Last Frontier is not a solo series, so the convoy approach familiar to so many of X Overland's expeditions was the chosen model around which to build our vehicles. The use of a convoy and a Patriot X3 Overland Camper Trailer meant that only two out of three vehicles would require a rooftop sleeping system, a fact which allowed "Atigun" to be built with additional features useful to the team while allowing it also to be able to make a quick exit from camp in the case of an emergency (no tent breakdown/pack-up necessary).
"Raven," Atigun's brother Tacoma, retained its factory pick-up bed and was equipped with a Decked Drawer System, , Redarc Redvision System, and a GoFastCampers rooftop sleeping system. This arrangement would allow for additional camera storage and a dedicated freezer for the team's food storage while providing sleeping space above. 
Finally, "The Clone," the fleet's 5th Generation Toyota 4Runner, would become the tow vehicle for the Patriot X3 trailer while being equipped, itself, with a rooftop tent from Equipt Expedition Outfitters by Eezi-Awn. With an additional single-person sleep system built into the interior of the 4Runner from Goose Gear, there would be comfortable sleeping quarters within the fleet for XO's team of seven along with ample room for gear and supplies. 
Let's Get Building!
"We are going to take this brand new 2021 Toyota Tacoma and build it into the coolest Tacoma we can muster!" Clay, X Overland's Ultimate Tacoma Build Two Ways
In developing our vehicles for our new Alaskan adventure, we doubled down on pushing the boundaries of innovation. A first for us was equipping both Tacomas with 35″ tires; a first for the industry was equipping Atigun with a Tacoma-ready PCOR system, as well as testing ICON Vehicle Dymanic's new with "CDEV" (Electronic Valving with App-Enabled Interface).
Along with these state-of-the-art modifications, CBI Offroad Fabrication engineered an aluminum front bumper in an all-new design that features increased vehicle protection from animal strikes as well as winching cord wrap points for scenarios in which quick recovery is paramount. Additionally, to assist the team with their production needs, also developed custom-built rock sliders that would allow for better footing for the crew when filming.
Each item required extensive collaboration with our respective partners. Consequently, one of the team's objectives for the expedition was to put all of the above products through a rigorous and authentic field test. 
Last Words and Final Thoughts
"Your vehicle isn't finished when you've bolted the last thing you want on it; your vehicle is finished when you take the last thing you don't need off of it." Scott Brady, founder Overland Journal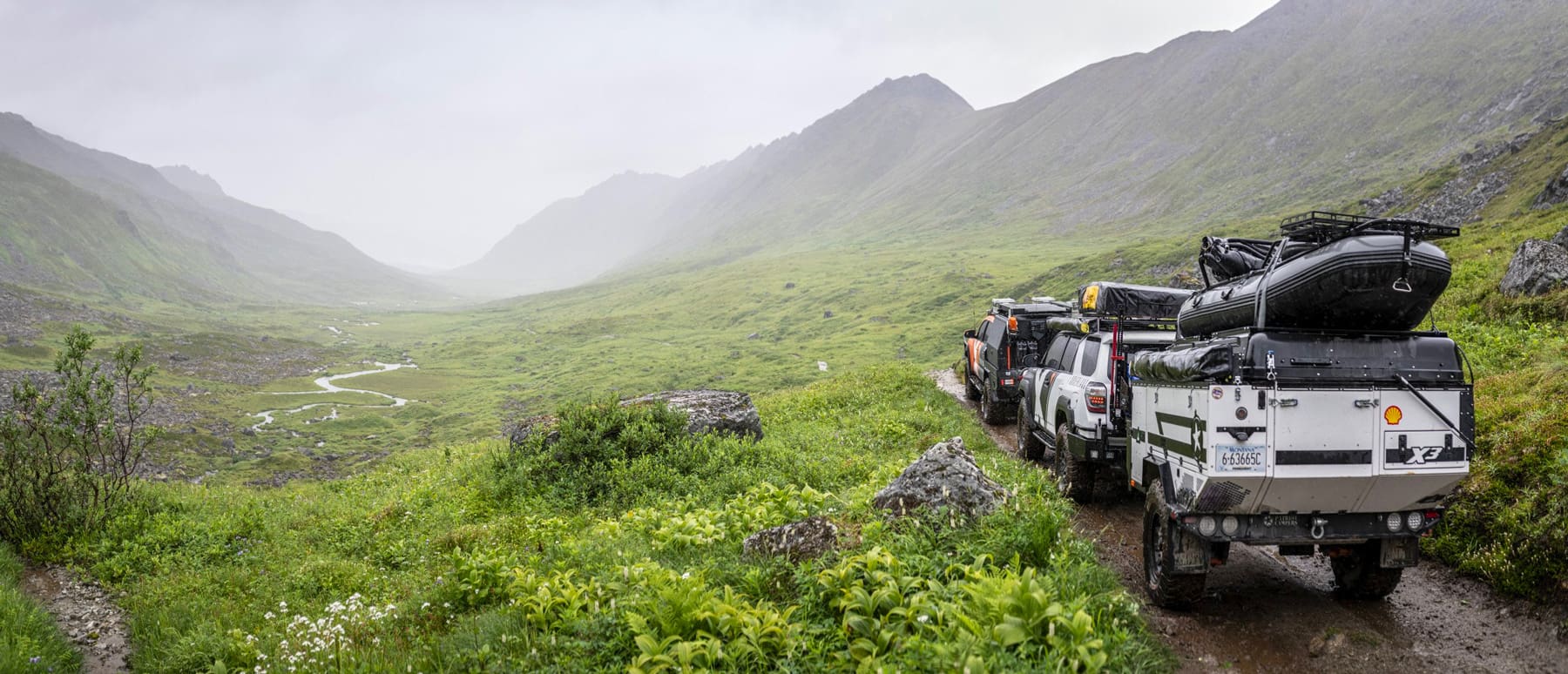 Surely, even with all of our experience here at X Overland, we are still finding items in our builds that we can do without. Doubtless, our recent trip to Alaska will provide us with insight as to how we can further refine our builds in our dedicated pursuit of building the preeminent overlanding vehicles on the planet. As Clay says, "It's a tall order." Yes, it is, but that is the XO way.