As winter rolls in to the Northern Hemisphere, colder temperatures shouldn't dissuade you from adventuring in the great outdoors! With the proper clothing, equipment and precautions, winter camping can be a fun endeavor. Helping to break up long winters, winter camping is also a great way to get your adventure on in the off-season. Grab a cup of hot chocolate (marshmallows and/or Baileys optional!), get cozy by the fireplace, and read on for our Guide to Overland Winter Camping.
Cold Temperatures Weaken Vehicles
It is important to be aware of the impact of colder temperatures upon steel, plastics, fuel, electronics and equipment. Some things to be mindful of:
Steel can weaken by as much as 20% in sub-zero temperatures.
Plastics can lose pliability. Only high-end plastics like those used in your vehicle are tested in below-zero temperatures for compliance and strength.
Batteries are less efficient in the cold.
Locks and seals can seize up.
Fortunately, there are ways to address these issues and keep your vehicle running at its best.
Go easy on it! Allow the vehicle to come up in temperature slowly, then start your drive. Remember that your transmission and differentials are still at ambient temperature, so drive slowly for the first 10 minutes to let fluids warm up.
Keep camera batteries and phones in warm coat pockets so they are ready when you need them.
Prep your vehicle with

D-ICE

lubricant in locks and seals to ensure you can get into the vehicle on cold days. It's also helpful to travel with a spare key and extra antifreeze.
All-terrain or a dedicated set of snow tires are hugely important here. If you want the added traction of snow chains, choose a spiked set and install them before hitting the trail to confirm they fit properly.
Ensure you're ready to get stuck (and unstuck!) by bringing the appropriate recovery gear. It's all part of the fun. , and are essential, and of course a legitimate shovel with a long handle is imperative. That being said, it is prudent to anticipate the possibility of overnight snowfall. Are you prepared to dig yourself out?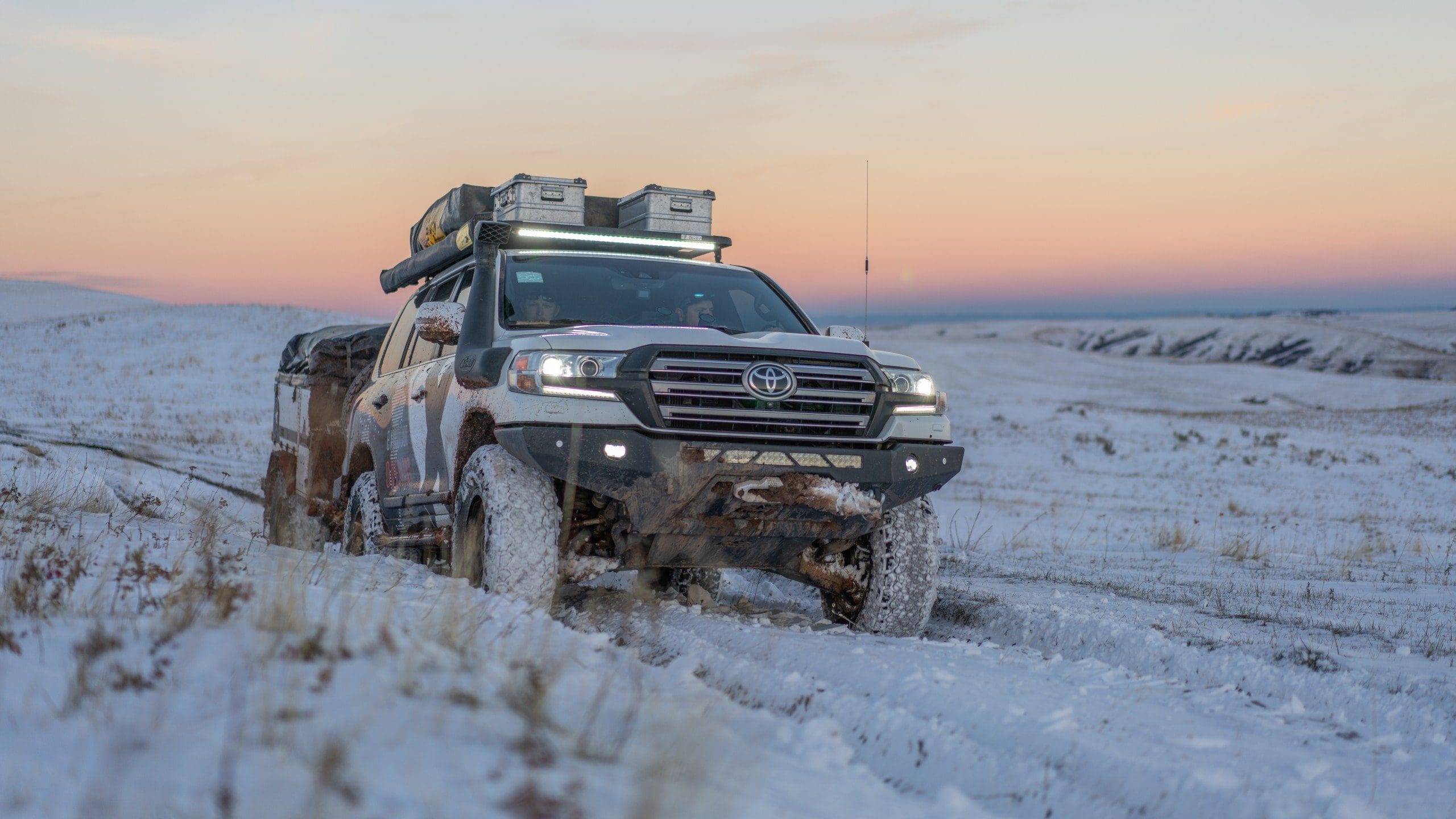 Water Freezes
This is a simple concept but results in some interesting work-arounds. We use plastic or MSR Dromedary bags placed near a floor heater to prevent freezing. Be aware that filtration systems like the Lifesaver jerry cans can stop functioning and be permanently damaged if frozen.
Canvas can become ice-encrusted in cold temperatures. If you are camping in a rooftop tent or camper with a lot of canvas, prepare a game plan for closure. In the Arctic Solo Series, Richard and Ashley ran the Habitat's diesel Webasto heater continuously to prevent this from happening. When the tent material was too frozen to close properly, they folded down the Habitat and waited until the heater melted the ice enough to close the tent.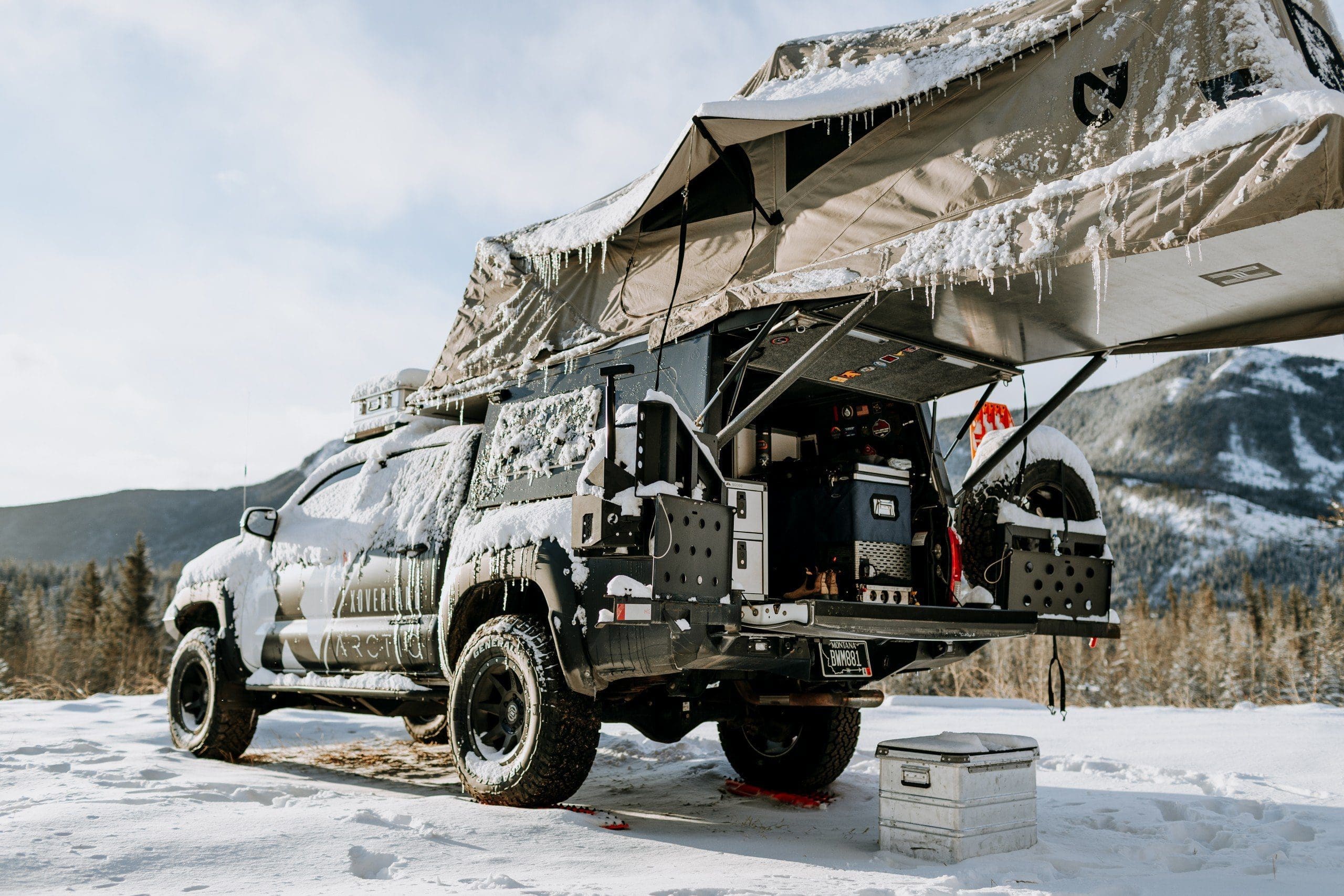 Choose Camp Fuel Wisely
Propane loses efficiency in cold temperatures, so fuel source selection comes into play here. If your stove is able to run off of a winter isobutane blend, that might be a great place to start.
White gas is also a solid solution for winter cooking, but it comes with its own risks and the stoves require a bit of practice. Coleman Camp Fuel is one example of white gas.
Some tips on using white gas:
Keep the fuel warm if possible.
Keep critical stove components warmer if possible.
Never store white gas above any food items. The sinking fumes will penetrate plastics and taint your food with the smell of gas.
How To Keep Warm While Winter Camping
There's no such thing as bad weather, only bad gear.
What To Wear
The key to staying warm in the winter: layer up! Merino wool is the go-to base layer material for winter camping. It's antimicrobial, warm even when wet, and performs well in a wide range of temperatures. Have a second base layer ready. If you're feeling chilly, it is sometimes your original base layer, so be ready with an alternate that you can swap out when the chill sets in. You'll often feel the difference instantly.
At night, slip on a special set of dry sleeping socks. You'll feel the comfort and warmth immediately. It is also super important to prevent heat loss through the top of the head by wearing a wool hat or beanie.
Top Tip: Keep gloves warm and make sure they don't get left behind by stashing them in your coat pockets.
For more on winter weather gear, check out this blog post What To Wear On An Arctic Road Trip. Even if you aren't heading to the Arctic, the principles of layering for cold weather conditions are the same.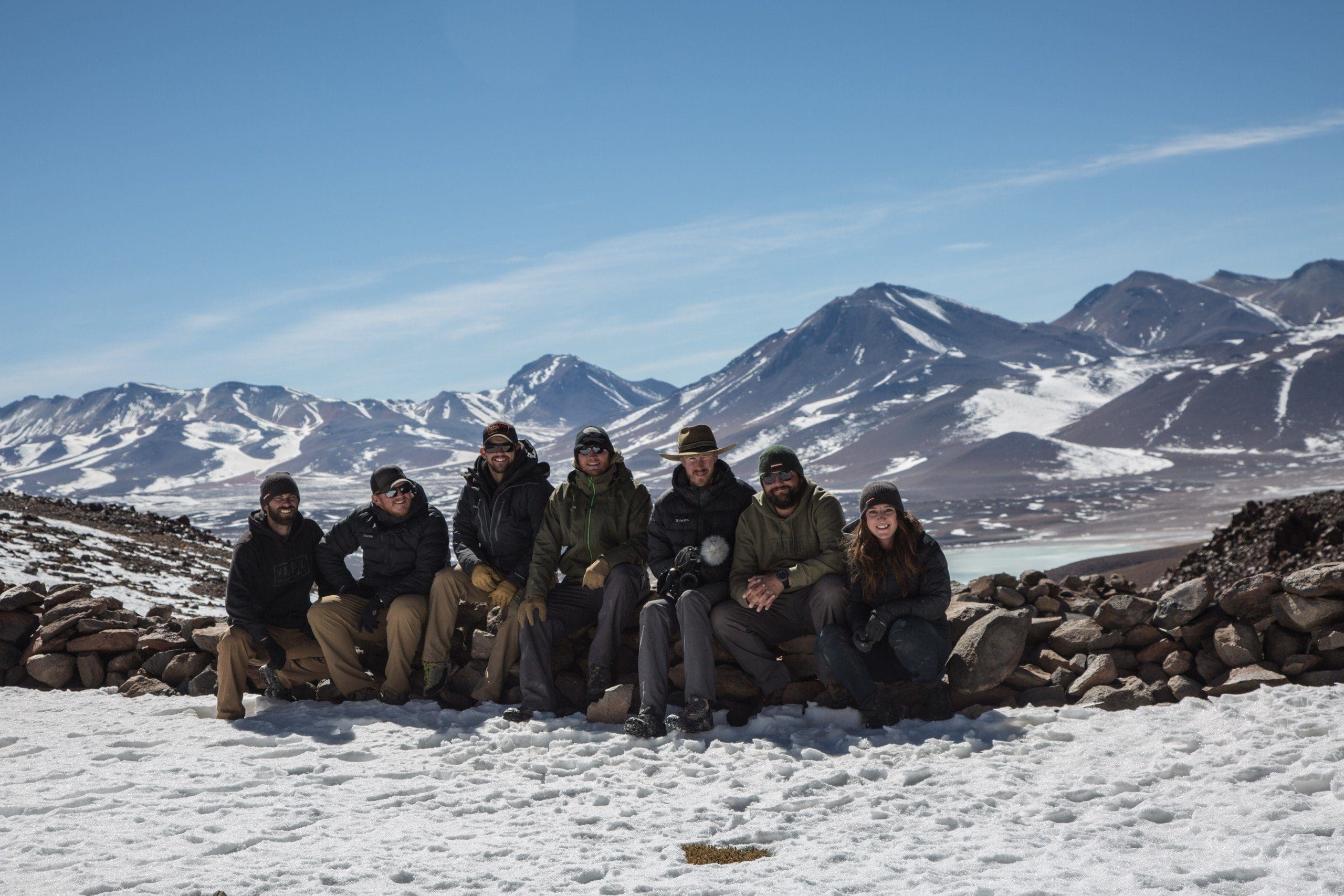 Food Is Fuel
It takes energy to keep the body warm! Stoke that inner fire burning by eating enough calories. Hot soups are easy to prepare and eat while on the trail or at camp in the evening. A helpful hint: boil water in the morning and store in a thermos for later in the day. When you're ready, pour the hot water into a cup of soup or dehydrated meal for a quick warmer on the trail.
Hot coffee, tea, and/or hot chocolate are also awesome options. An insulated mug or thermos is a great way to keep your drinks hot all day long. Winter conditions increase risk of dehydration, so make sure to keep hydrated!
Prevent the 5 o'clock AM chill by bringing a quick and easy snack to bed, such as a granola bar. Sometimes calories from the previous night's dinner run out, so keeping that inner fire stoked with quick calories can buy you a couple more hours of sleep.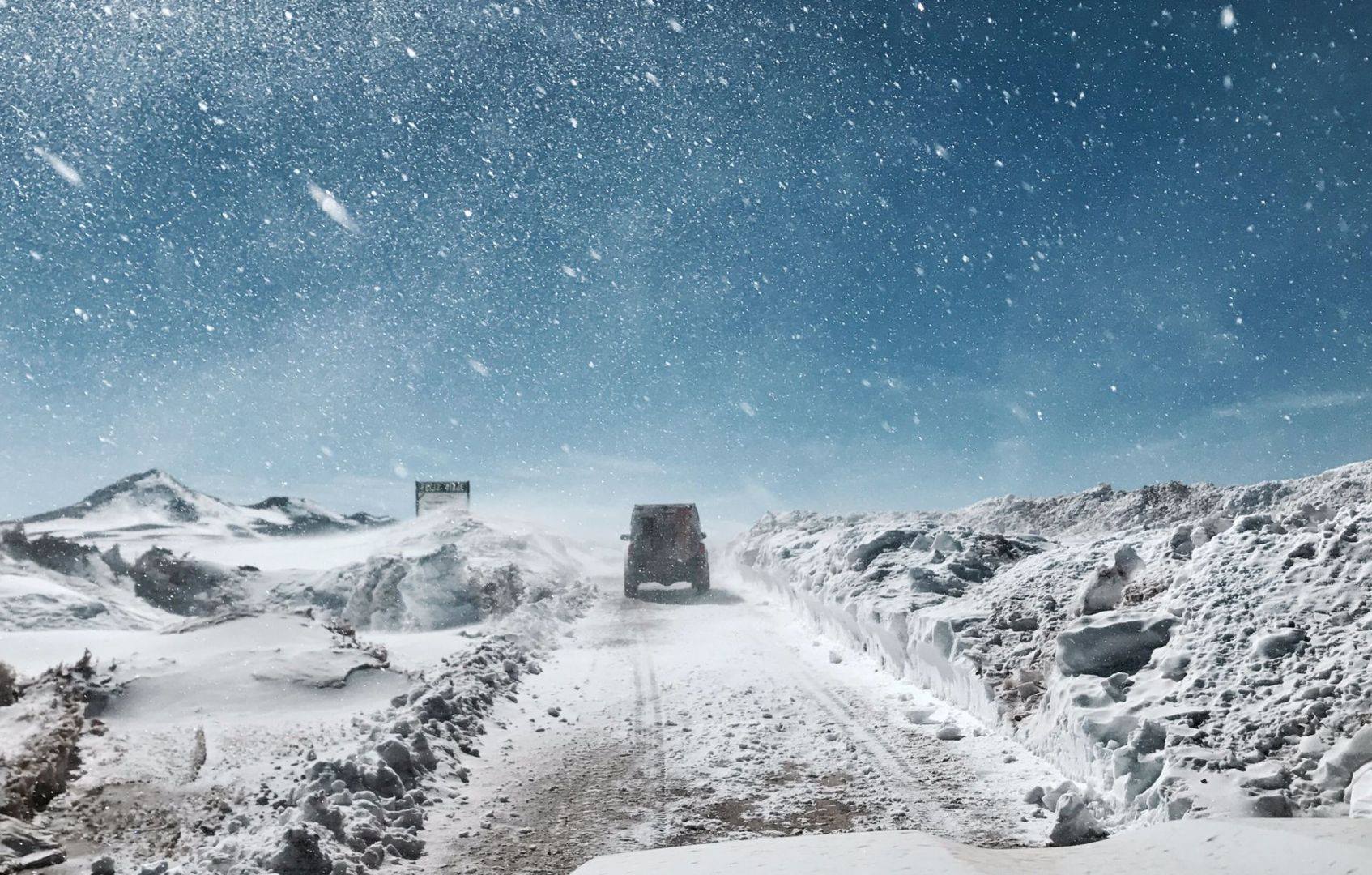 Keeping Warm At Night: Tents, Sleeping Bags and More
3- and 4-Season tents are best used for winter temperatures. 3-Season tents are adjustable to Fall, many with a removable fly for more ventilation. 4-Season tents are often more robust, single-walled (no tent fly), and are designed to take on significant wind and snow loads. These tents typically cost more and weigh more. The right tent for you will depend upon a variety of factors including capacity (are you camping alone, as a couple, with a family?), temperature, and cost.
A good sleeping bag can make a world of difference during cold weather camping trips. Choose a bag rated for 20 degrees below the temperature you expect to encounter. Remember that sleeping bag ratings are based on survival, not comfort.
We love our Nemo Canon sleeping bags. Designed for -40 degree temperatures, they'll get you through the worst of it. These worked like gangbusters for Clay and Kurt during the Greenland expedition where the nightly temperatures reached as low as -40C/F.
Equally as important as a good sleeping bag, a quality sleeping pad can help beat the chill by ensuring an adequate thermal barrier between you and your sleeping surface. We've found Nemo and Exped sleeping pads to be excellent. If you are car camping, a cheaper foam pad can also work underneath your current sleeping pad. This pad can double as a utility mat for working around the vehicle, and can be used for standing on if you get cold at camp. This thermal barrier between you and the ground will help you stay nice and warm on a brisk evening.
Two additional ways to stay warm in the night: a hot water bottle OR a 12v sleeping pad/ blanket. A hot water bottle goes a long way on a cold night. Boil some hot water and pour into a safe bottle (hot water bottle, could also use a Nalgene) and store it at the bottom of your sleeping bag for hours of added warmth. Just make sure the lid is on tight… speaking from personal experience. A 12v sleeping pad or blanket can also be used to pre-warm a down sleeping bag. To use, plug into an auxiliary battery or power source.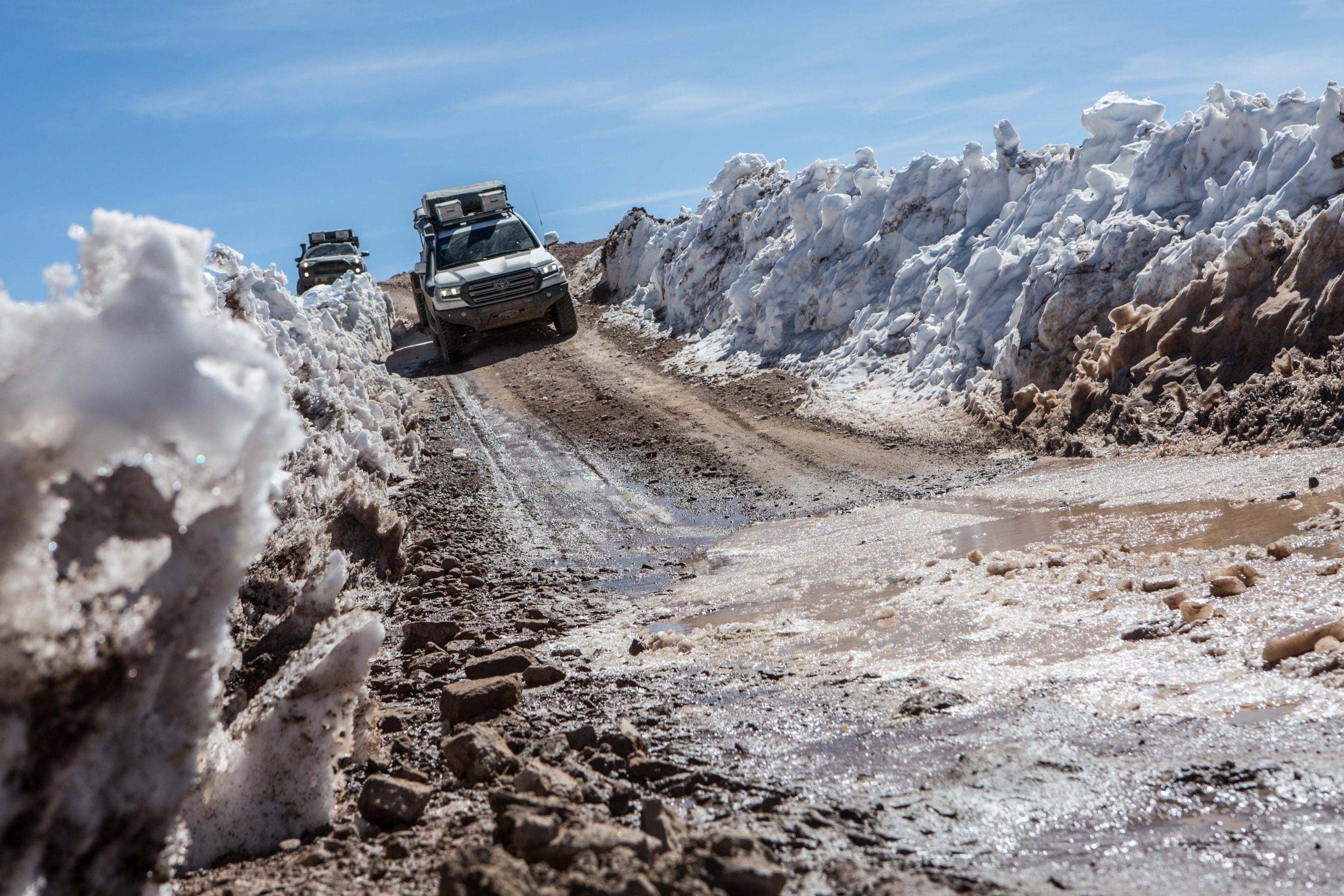 Tips on Tent Heaters
If you want to run a heater in your tent, there are some things to consider.
#1. Carbon monoxide is a killer. Do not cook with open flame or use open flame heaters without proper ventilation.
#2. Look for heaters that use conductive heating, such as Propex or Webasto, to reduce the risk of carbon monoxide poisoning.
#3. Consider using a wood stove. Limit their use to large walled tents that are well-ventilated.
Well, there you have it. We hope our Guide to Overland Winter Camping has inspired you to get out there and enjoy the winter season! Now we want to hear from you. What are your all-time favorite winter camping spots? Drop us a line below, keep warm, and happy adventuring!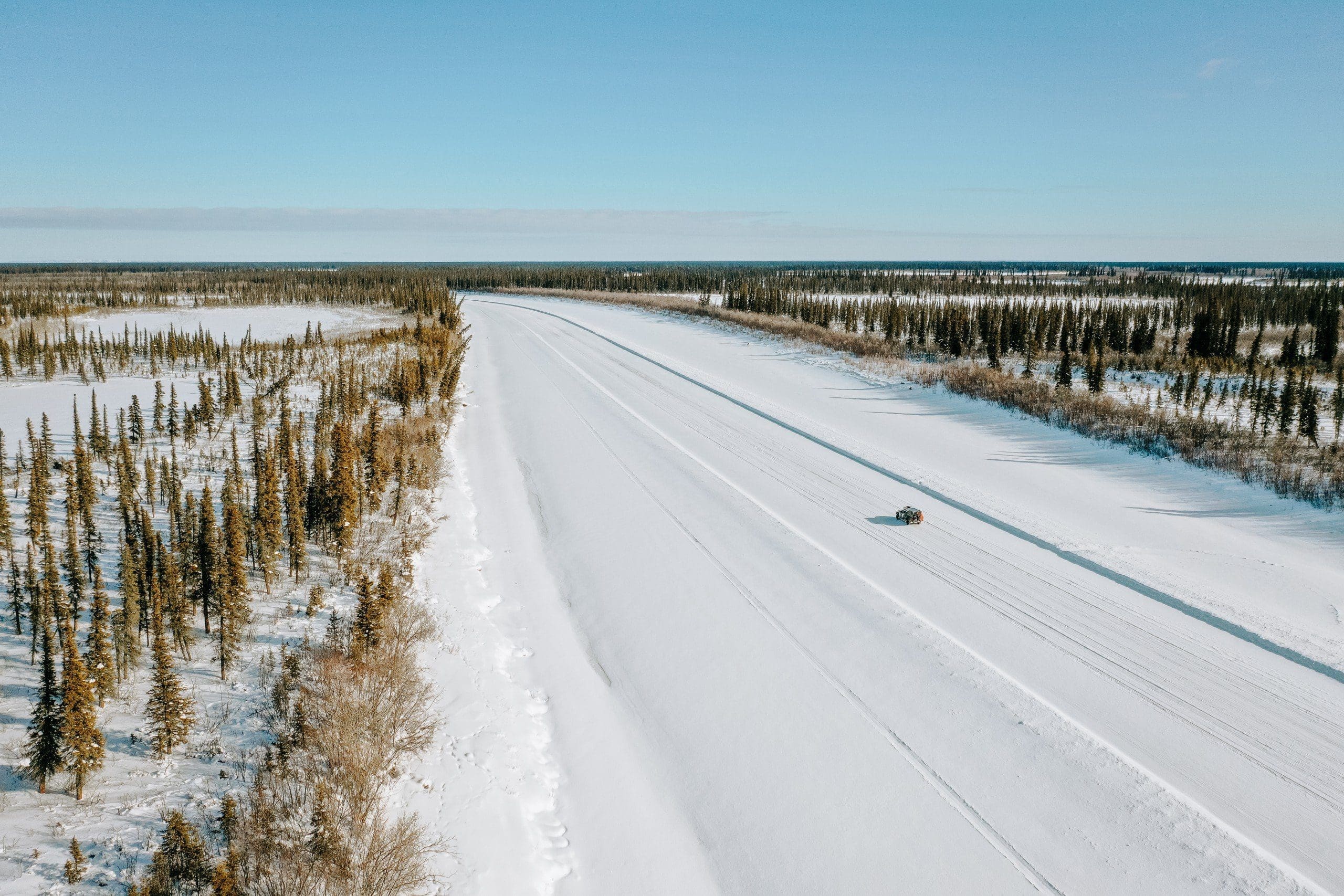 Want to go on a winter adventure from the comfort of your own warm home? We recommend these seasonal favorites from Expedition Overland:
Join the adventure through British Columbia's remote backcountry roads during one of the biggest storms of the season. Deep snow, fuel, and team communication all present challenges.
Watch Episode 1 of the Overlander Series
The team spends a wintery weekend in the Montana prairie. Snowmobiling, getting stuck, and embarking on adventure is what this is episode is all about!
The Arctic Solo Series follows the adventures of just one truck and a small crew tackling the Canadian Arctic during the winter. Crew members Richard and Ashley Giordano travel through sub-zero temperatures and remote landscapes in Expedition Overland's 2016 Toyota Tacoma.