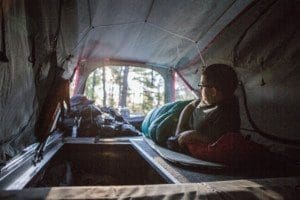 The overlanding community has continued to grow as new technology and engineering have developed new products to accommodate for the utilities and comforts of the lifestyle. The Habitat is no exception and we've had the privilege of testing out this new system. And we have not been disappointed.
Weighing in at a mere 340lbs (the average light-weight truck campers weigh in at around 1100lbs), the aluminum shell allows for a single-man deployment, as the weight is managed by robust gas springs. Deployment extends over the back of the truck, doubling as an awning. Once deployed, the Habitat floor opens to the bed below on the front end and the cantilever deck on the end holds a foam mattress, supporting up to 600lbs, i.e. three and a half Jeffs or two Steves. Removable floor plates allow for complete privacy in the ripstop, nylon Nemo Equipment tent. Removing one floor plate and the assistance of a couple alu boxes, creates a perfect desk setup when editing on the road.
This mulitpurposed camper model can be entered through the tailgate or with a ladder through side panels in the tent. Entering through the tailgate, with both floor plates removed, provides for a 7ft ceiling in the bed, allowing for all those T-Swift dance parties. Side panel entrance creates an alternative escape when the galley is preoccupied with the kitchen crew cooking up some delicious vittles.
When closed, the Habitat protects the bed like a topper, but leaves the bed completely empty and accessible for storage, or in our case, our power management system and alu box storage. The easy-access side hatches are designed for quick snack retrieval or grabbing an extra battery, without needing to unload bumper, tailgate, and alu boxes.
Standard Features include:
Easy 1 minute deployment and stowage
Sleeps 2 standard
Built in mattress
Clothing gear loft and 4 side pockets in tent
Insulated sleeping platform and shell walls
Built in awning by design covering entrance area
All aluminum composite construction
ruggedly designed for 4×4 travel
All season tent, no rain fly required
Standard color: Clear coated aluminum frame with white painted side panels
Specifications and modifications include:
Dimensions closed:
32.75″ tall with roof Bars, 32.25″ Tall with Track only, 60″ Wide Roof Bars
64″ Wide at base, 53″ Wide at top
93.5″ Long at top, 76.375′ Long at base
Dimensions open:
87″ x 48″ x 2″ Hi-Density Foam Mattress with washable cover
92″ Standing room at Rear, 81″ Standing room at front
186.5″ Long when deployed
51″ of headroom over bed area
Roof Overhang:
20″ on 6′ bed Tacoma, 32″ on 5′ bed Tacoma
23″ from top of truck bed to underside of overhang
Materials Specifications List:
Insulated aluminum composite panels, Nemo Equipment Habitat Tent: Teflon impregnated ripstop nylon
Stainless Steel hardware
.060″ 5052 CNC formed aluminum
Base weight: 340 lbs
Roof weight capacity: 350 lbs
Cantilever Bed loading capacity" 600 lbs