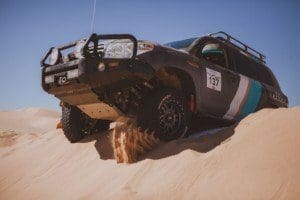 Whether you are new to the Overland community, or a long standing participant, most people have heard of or seen an ARB product at some point. That's because this company has seriously put their time in, starting in 1975 out of family garage in Australia. They saw a need for some serious equipment and strived to meet the demands of a growing industry.
ARB offers a huge variety of 4×4 accessories, and we have had the privilege to run quite a few of them, especially for the 2008 200 Series Land Cruiser. Whether you're needing front end protection, a sweet air intake, roof storage, lighting, on demand air compressors, or even a refrigerator, ARB has got you covered.
We have been running the infamous ARB Bullbar for years on a few of our vehicles. These guys actually pioneered the bullbar, putting in countless hours of research and development to ensure the consumer's safety and maximum strength. The safety and beyond heavy duty aspect can not be ignored in this product. The most important aspect setting these guys apart, is the airbag integrity that is kept with this product. They have made sure that the original triggers and sensors are 100% operational when your original bumper is replaced with their bullbar. It also doesn't hurt that many of WARN's winches integrate into them beautifully.
Another product you may be familiar with is the ARB Safari Snorkel. You may have even had the following dialogue with curious onlookers, "No, it doesn't turn my rig into a submarine…"'. For those who don't know, this device, when installed is used to relocate your engine's air intake to provide constant, cleaner air, whether that be dust or water. When you happen to be the last guy in the convoy, you will quickly understand the next time you clean your air filter. We knew a safari snorkel was a must have for the 200 Series build since we would be rallying 7 days, primarily on dirt roads and sand.
To top off our ARB build segment, we chose their Alloy Roof Rack, (no pun intended). Rated for 330 lbs and made from 6000 Series T4 alloy aluminum, we knew this lighter weight rack would carry our Maxtrax and miscellaneous items without adding a lot of extra weight to our rig. Since it is light, it's easy to remove when we decided to put on a rooftop tent. You can also order these with options for jerry can holders and wind deflectors.
If you're on the lookout for some solid, Australian, outback-proven kit, ARB is a fantastic company to consider. We can safely say that we have not been disappointed with their products.
*Since ARB has so many products we have run, we've included a short list below for quick reference.
Old Man Emu Suspension
Bullbar
Alloy Roof Rack
Air Lockers
Air Compressor
Fridge Freezer
ARB Intensity Off-Road LED Lights
Safari Snorkel
Roof Top Tent
Tire Accessory
Tow Straps & Recovery Gear Kit
Outback Drawers
Sliders/Steps
Written On: March 28, 2017