The Crofts started playing a new game with their 3 boys whenever there was time to kill, usually in the car, which they calls 'scenario'. Clay comes up with a situation then asks each boy what he would do. *Also look up 'CONFLICTED' on Amazon for a sweet card game*
For example: "We are traveling in the Land Cruiser and Dad hits a patch of ice and slides off the road. It is -10F outside and we've stopped in a ditch off the road, both Dad and Mom are unconscious. What is the first thing you do?" The youngest, Eli, was quick to respond with, "But Dad, you are such a good driver, that would never happen!" (Major brownie points for that one).
Pretty good question if you ask me. How many times do we wait for a disaster to hit before we talk about or practice these scenarios? The boys LOVED the game. It created great conversation and awesome ideas we never thought to discuss. It also directed attention to difficult things we often brush off as, "that will never happen to us". However, even if it doesn't happen to us, it could happen to someone we're with or come across, and no matter what, it's always better to be prepared.
So, all of this brings us to med kits. They are not all created equal and there are many out there to choose from. We, at Expedition Overland and the Croft household, use the A360 ATP RAPID Medical Kit from 'The Activity Group'.
These guys have just launched some amazing products we love. These small, lightweight, portable IFAK's (individual first-aid kits) developed for the U.S. Military, police, and first responder's, are so easy to pack and use, no one has an excuse to not be prepared.
Equipped with the unique ATP Vehicle Mount System, which uses a heavy hook and loop tear away panel backer that attaches to the seat's headrest, you can rip these off your head rests in seconds in an emergency, or chuck one in your day pack for everyday carry. No more digging under your seat or the trunk of your car for that little, red, weird-to-store hard case.
So, what's in the A360 kit? Pretty much everything you need from a traumatic or general injury. From heavy bleeding, airway issues, to light scrapes are efficiently mended until you reach definitive care.
Available in black and Coyote Brown, these med kits have a 4-year shelf life, which makes spending the $199 worth it. Another added bonus: you get to dress it up with all those patches you've been collecting due to its unique Velcro backing system. The med kit itself comes with a XO meridian patch as well.
One of our most favorite features in this med kit is the 'Ratcheting Medical Tourniquet, or (RMT). One of the best we've seen come on the market, this tourniquet is the best for its ease of use and speed with just one hand during self-rescue.
The bag is bomber too; a common problem in cheaper med kits. The bag will hold up to the adventures for years to come and its proudly made in the USA.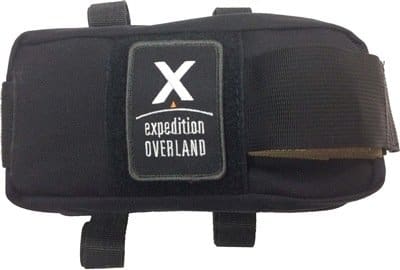 Contents Include:
1x – Ratcheting Medical Tourniquet (RMT) 1.5″ – Tactical
1x – CELOX Rapid Hemostatic Z-Fold Gauze 5'
1x – 4″ Emergency Bandage "Israeli Bandage"
1x – Nasopharyngeal airway 28Fr w/ lubricant
1x – FASTBreathe Thoracic Seal (FTS) – Vented
1x – FAST Combat Wound Seal (CWS)6
1x – Compressed sterile gauze 4″x4yds
2x – Telfa non-adherent pad 3″x6″
1x – Emergency Mylar Blanket
1x – Band-aid pack – (assorted)
1x – Surgical cloth tape 1" x 10 yards
1x – HD Nitrile gloves (Pair) XL
1x – Activity Trauma shears 5″
1x – Casualty/Treatment Card
1x – Active Trauma Pouch "ATP" Vehicle system
Written On: January 18, 2017