Do you ever feel the need to step up your photography game, but don't know where to start? From smartphones to professional-level cameras, there are many options available, it just depends on what you would like to achieve with your camera! 
It is said that the best travel camera is the one you have with you. Smartphones are a practical place to start due to their small size and great photo quality. From there, a basic working knowledge of photography, an entry-level camera and a good-quality lens can go a long way when it comes to capturing those epic shots.
From family photos to wildlife photography, automotive, travel and cinematic touches, we've put together our suggestions for great camera kits for travel, from the Expedition Overland photographers themselves.
Tanner | Wildlife and Automotive Photographer
Everyone has their own definition of travel. The size and type of camera really depends on what you're going to do. What is the trip going to entail?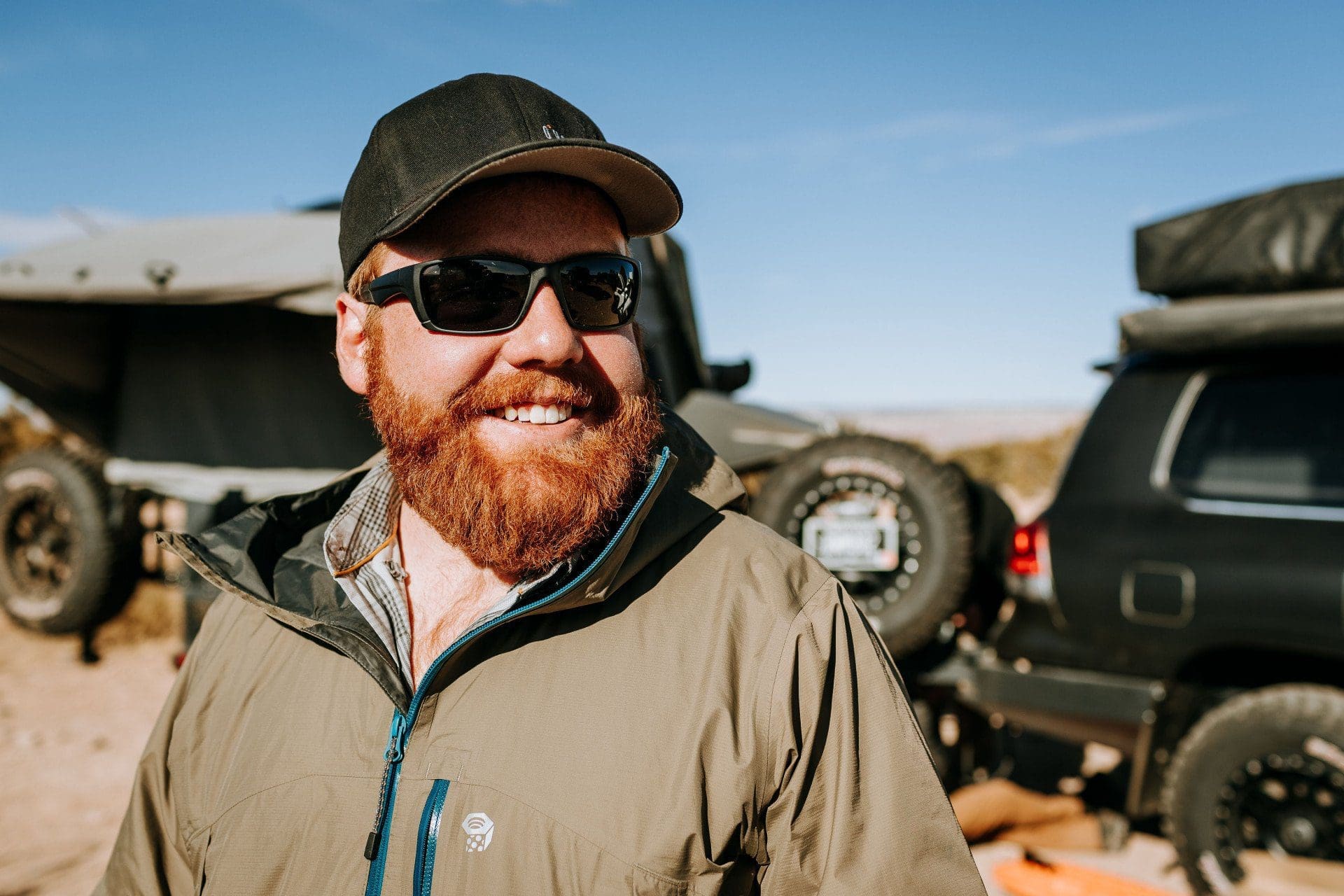 Fun Fact: Tanner worked at Bozeman Camera before he started with Expedition Overland. This is where Tanner and Clay first met!
WHAT HE SHOOTS
"I'm a wildlife photographer and I also shoot photography for Expedition Overland."
TANNER'S KIT
Camera: Nikon D850
Lenses: Nikon 200-500mm f/5.6 VR (wildlife lens), Nikon 20m f/1.8, Nikon 24-120mm f/4 VR, Nikon 70-200 mm f/2.8 II VR, Sigma 35 f/1.4
"The Nikon 24-120mm is my general purpose lens. If I'm heading out and unsure what I'll encounter, I'll grab that and maybe my wildlife lens (200-500mm) and have the entire range covered."
Tripod: Flip block tripod from Manfrotto 
"When shopping for a tripod, choose one from a reputable brand. It's one of those 'buy once, cry once' things. Folks don't think they'll use a tripod much, but I've been there – I didn't want to spend a ton of money on one. Coming back from a trip and seeing that all of my nice photos and landscapes were slightly blurred because I should have spent a bit more on a good tripod – that was rough."
STORAGE
"I really like the Lowepro camera bags. I carry a big backpack with everything I own, and it's really nice because it has a lot of room to store my gear. The size of your camera bag comes down to what you're going to do. If I'm heading to Yellowstone, I'll bring my large backpack, whereas if I'm heading out on an Expedition Overland trip, I'll bring my smaller one since I'm utilizing company-owned cinema cameras most of the time."
I also like Tenba cases for organizing the smaller stuff like batteries, cable releases, etc. They have a clear cover so you can see what's inside."
TANNER'S RECOMMENDATIONS FOR BEGINNERS:
"Mirrorless cameras are the future, in my opinion. They're also great for the size and weight. Most of the mirrorless cameras available will have an option of a standard zoom lens, which is helpful if you only want to carry one lens.
My suggestion for a travel camera/lens combo would be a prosumer Nikon, Canon, or Sony body with a crop sensor. The image quality out of a crop sensor is exceptional so they are a great value. Put an all-in-one wide angle/telephoto lens on it, such as an 18-300mm f3.5-6.3, and capture all things, close and far, that you encounter on your travels.
To learn more about photography, head to YouTube. That's what I used to recommend to customers at work. Search your camera model and 'landscape photography' or 'wildlife photography' – I guarantee you'll find a ton of tutorial videos out there. You can also search for the type of photos you want to shoot. For example, 'Nikon DSLR + Milky Way photos.' There are great tutorials explaining how to set up your camera to get the shot."
Richard | Automotive and Travel Photographer
If you're starting out, try renting lenses to figure out what you like, and what to invest in.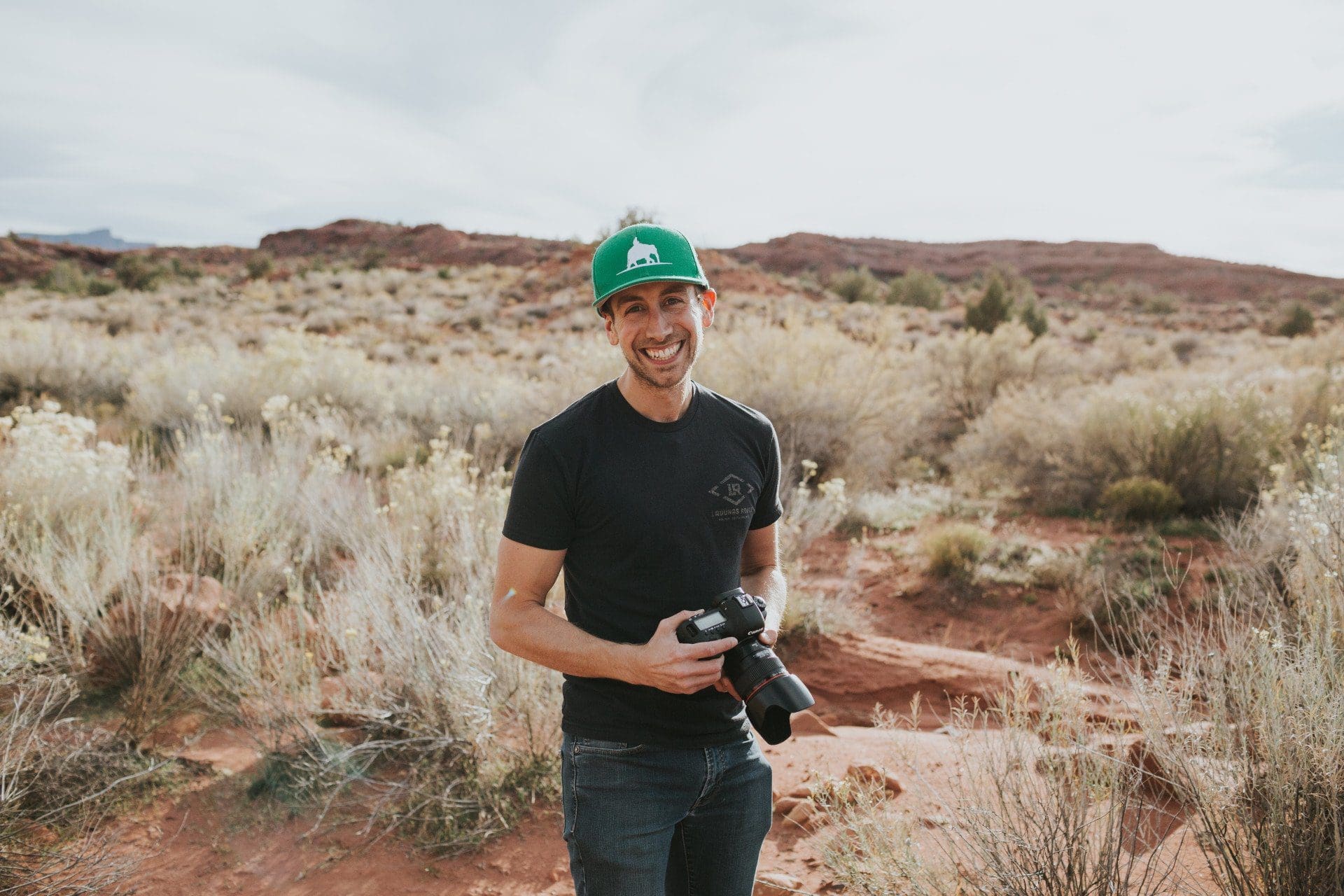 WHAT HE SHOOTS
"My camera kit is based around 90% still photography and 10% video production, used for personal travel, photographing desert races or automotive photoshoots." Richard also shoots photography for Expedition Overland.
RICHARD'S KIT
Cameras: Canon 1DX Mark II, Canon 5D Mark IV, Sony A7III
Lenses: Canon 35mm f1.4, Sigma 20mm 1.4, Canon 70-200mm f4, Sony Zeiss 16-35mm f4
"My favourite still camera/lens combination is the Canon 1DX Mark II and Canon 35mm f1.4 lens. This lens captures images like I see them in my mind. The 35mm is wide enough to capture a subject and also tell the story that is happening in the periphery. If I'm backpacking I'll just pop that lens on my Canon 5D Mark IV and wrap it in a jacket, as it is smaller and relatively lightweight. If I want a wide landscape I'll shoot multiple images and then stitch them together in Photoshop.
For video, I bring along a Sony A7III, Zeiss 16-35mm f4, and Rode Video Micro for any filming that's required. This along with a DJI Mini 2 drone makes for a super simple but high-quality video kit. I added a decent lavalier mic and recorder to step up the quality of the end product. I use a Zoom F1 Recorder and the included mic."
STORAGE
"I like storing and carrying gear in Pelican cases with TrekPak dividers when travelling in a vehicle. This keeps water and dust out of the case and allows it to be thrown around or have other gear stacked on it."
RECOMMENDATIONS FOR BEGINNERS:
"Buy one good quality lens at a time. Learn to shoot with it and buy another one when you feel like you need it. Not sure what you need? Borrow or rent lenses until you find one you like.
If you're new to video, the Sony RX100 is a very high quality point-and-shoot camera to start with. The Sony A6500 offers similar quality with the ability to change lenses and can be used for stills or as a camera/video hybrid."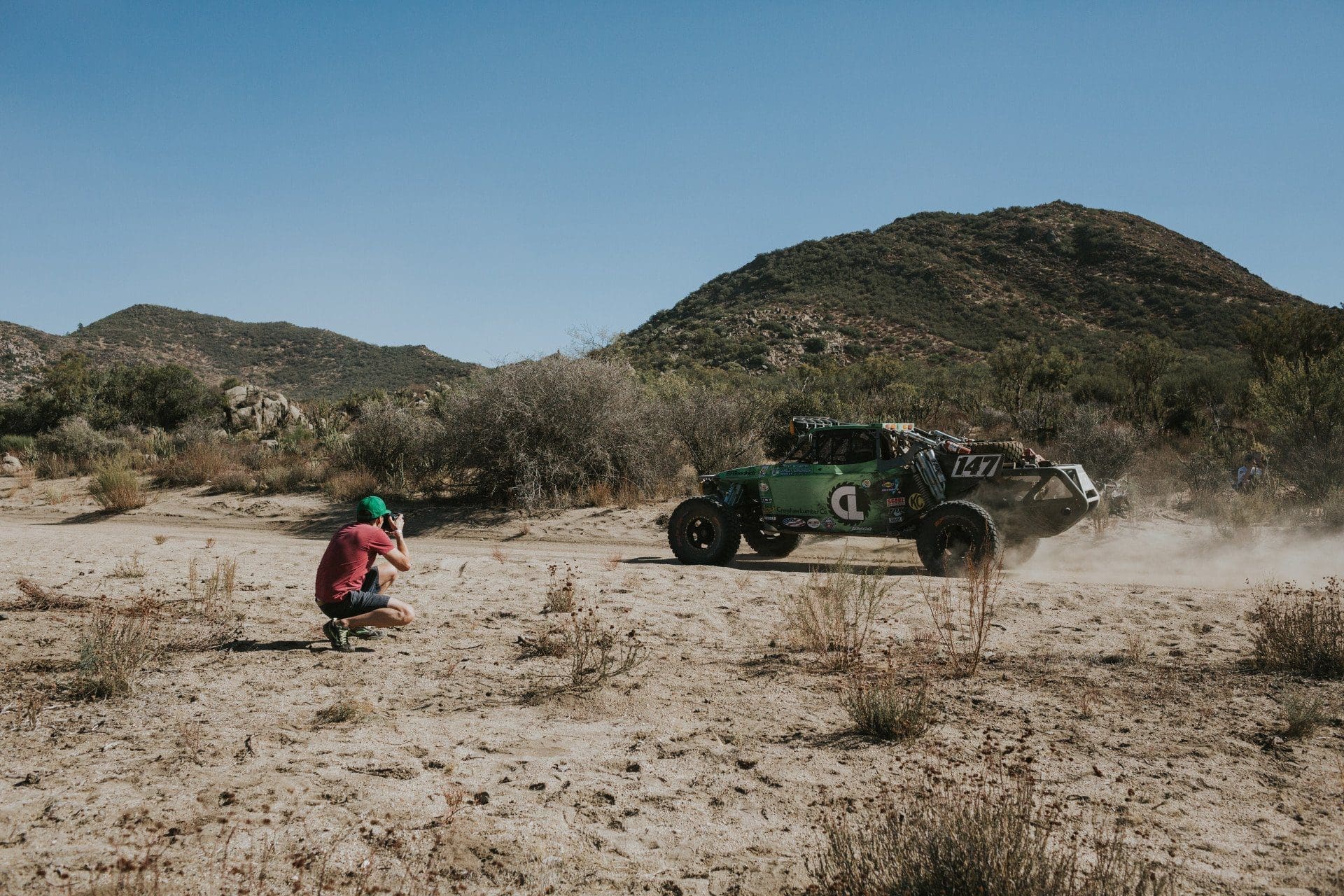 Clay | Expedition Overland Founder | Filmmaker
Camera choice all depends on what you are doing with it. Are you looking to shoot primarily photography, or is what you want video-based?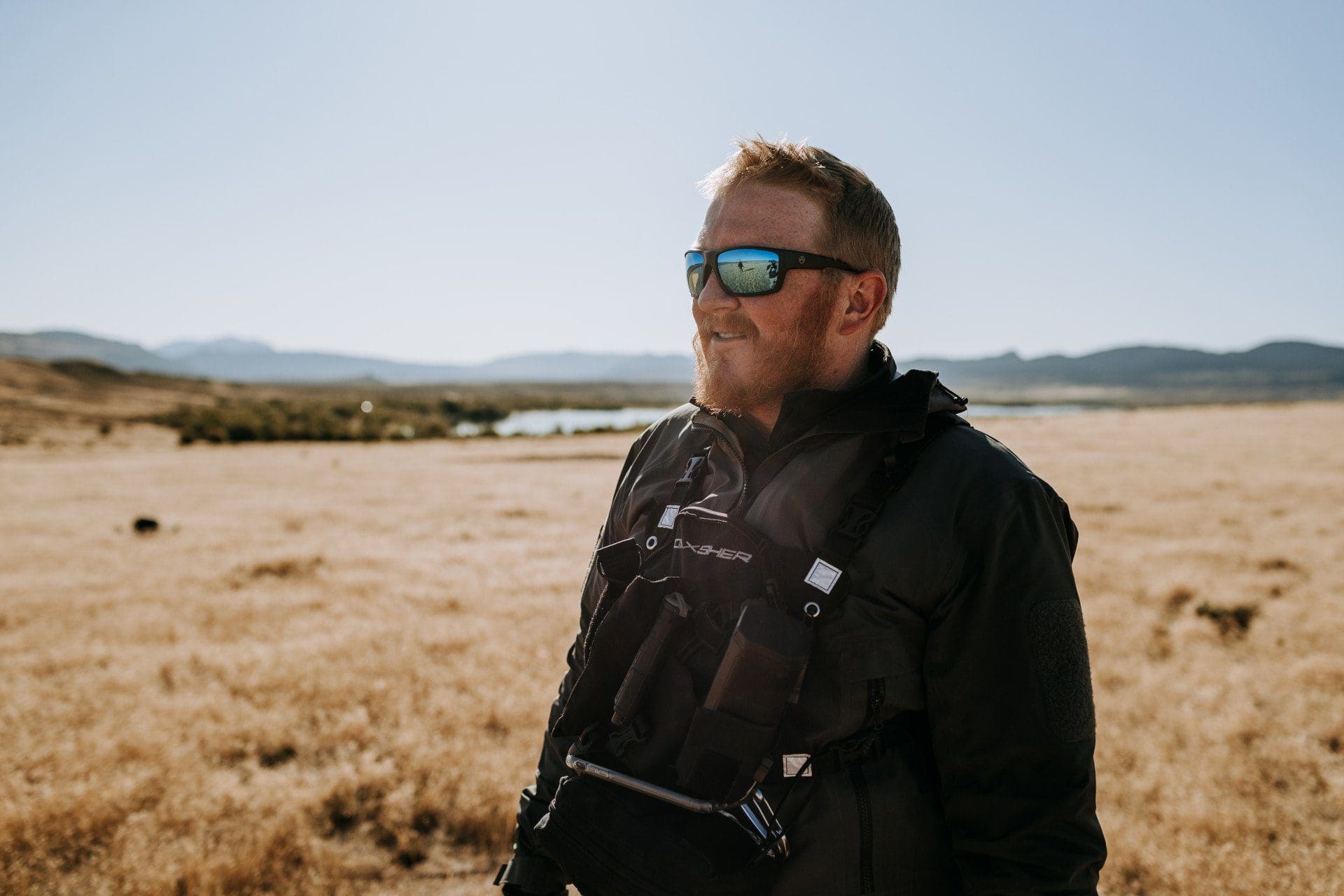 WHAT HE SHOOTS
Cinematic filmmaking with a touch of photography.
CLAY'S KIT
Camera: Sony A7R IV
Lenses: Sony 24-105mm f4 G, Sony 16-34mm f4, 100-400 f4.5-5.6 G OSS
Boom: Rode VideoMic Pro+
Film/Photography Hybrids: GoPro Hero 9, DJI Inspire II Drone, DJI Osmo Pocket Gimbal
TIPS FOR CINEMATIC MAGIC
"A good all-around kit includes a mirrorless camera body and a 24-105mm lens. To improve image quality, spend your money on lenses rather than camera bodies. Add a good plug-in mic and a shotgun mic with wind protection, a few extra batteries, and you have all the tools you need to shoot a movie. I shot the entire Greenland film on the Sony A7R IV with a 24-105mm lens and a Rode VideoMic Pro+.
If you're in the video world and would like to improve audio quality, the Sony FS5 or Canon C100 and up are great choices."
STORAGE
"If your camera gear is going to be inside the vehicle, store it in a soft case. Hard cases can damage the interior of the vehicle, and can be a potential hazard in an accident. If you're traveling by air, Pelican Air cases are probably the best all-around storage option.
During Expedition Overland trips, we're mindful of dust, dirt and general wear and tear on our equipment, and store camera and video items inside dedicated drawers. Our X3 Tacoma is outfitted with Goose Gear drawers for camera storage, while the Tundra and Jeep have electronics-specific storage built into their PCOR canopies. We also use neutral density UV filters to help protect lenses from damage."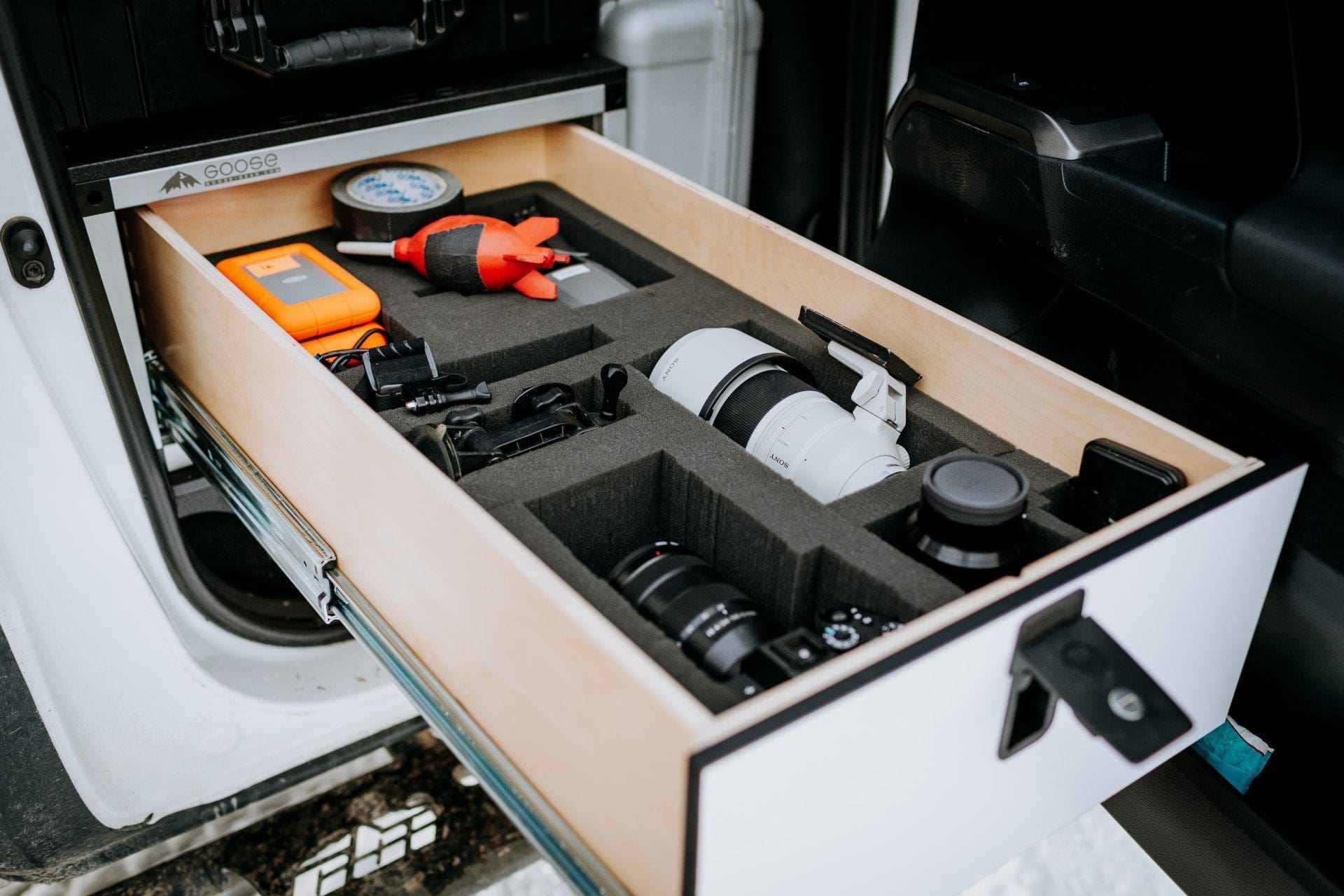 Whether you're in the market for a new camera, or would like to learn more about how to better use the camera you have, we hope these tips and tricks have been useful! Do you have a favorite travel camera kit? If not, what are you looking for in one? Let us know in the comments below.