This is the third blog in our three-part series focused on teaching you the best practices for building an overlanding vehicle. In Part 1, we covered the basics:  Determining needs and wants, the difference between a dedicated overlanding build and a daily driver, selecting a platform (mid-sized or full-sized/pickup or SUV), and brand choice. In Part 2, we covered tire selection, suspension setup, and body armor. We conclude the series with how to choose the right sleep system. Let's dive in!
What is the Best Sleep System for Overlanding?
When it comes to sleep systems for overlanding, there are many options and approaches for the overlander to consider. We're here to educate you on the subject so that you can make the choice that is best for you.
By the time you are selecting a sleep system for your overlanding vehicle, you have probably chosen a platform: pickup or SUV, midsize or full-size chassis. Your available options for sleeping systems will, in part, be determined by this choice. 
Your approach to sleeping will ultimately factor into your choice of a complete lifestyle system for your overlanding vehicle. In fact, it can be argued that the first question to answer before starting an overlanding vehicle build is this: What kind of sleeping system do you prefer?
What kind of sleeping system do you prefer?
The sleeping system you choose is fundamental to how you'd like to live while overlanding. Would you prefer to live simply out of a ground or rooftop tent (RTT) while in camp? Perhaps you'd rather have the hard-sided protection of the back of your pickup or SUV? Maybe you'd like to enjoy the luxuries and amenities provided by a well-appointed live-in system or slide-in pickup camper?
It should be noted that sleeping well while overlanding is essential to thriving in the experience. Start by getting into the field on weekend-warrior trips or even in your own backyard or driveway to begin experimenting with different sleep systems. Soon you will find an approach that works well for you and you'll have a lot of fun in the process!
Today, there are more sleeping options available for someone getting started into overlanding than ever and each year sees more innovative new products when it comes to how we can set up our overlanding vehicles to meet the need of getting a good night's rest.
It should be noted that sleeping well while overlanding is essential to thriving in the experience. Start by getting into the field on weekend-warrior trips or even in your own backyard or driveway to begin experimenting with different sleep systems. Soon you will find an approach that works well for you and you'll have a lot of fun in the process!
Ground Tents and Rooftop Tents (RTTs)
With the exception of sleeping on an air mattress within the cab of your vehicle aboard something like a Goose Gear system or within your topper-enclosed pickup bed, a tent of some kind is the simplest and most affordable option available as an approach to sleeping out of an overlanding vehicle. 
Nowadays, most overlanders prefer rooftop tents, but the simple ground tent shouldn't be overlooked, as these shelters are lightweight, easy to pack, and very affordable compared to their rooftop counterparts. 
That being said, there are good reasons why so many people have opted for RTTs as the foundation for their overland camping experience:
RTTs, especially the newer, hard-sided models, are fast and easy to set up compared to pitching a large ground tent. 

RTTs are permanently mounted on the roof of your vehicle, thereby allowing for more interior storage for other gear to be placed within the vehicle. 

And, of course, RTTs simply keep their occupants off the ground. That means staying dry amidst wet, muddy surfaces and minor ground flooding formed by rainy days; keeping a safer distance from snakes, creepy-crawly insects, and the likes of bears and other large creatures of the forest; and enjoying a better-ventilated shelter.
There are two different classes of RTTs: Soft-Sided and Hard-Sided (a.k.a. "Hard-Shell). Let's examine their key pros and cons.
Soft-Sided RTTs
Pros
Lots of space/room for occupants. (Good choice for large families!)

Expansive, built-in awning systems that allow for protected outdoor cooking space, shade, and walled-in, stand-up privacy areas for changing clothes, showering, etc.

Less weight than hard-sided counterparts, making for improved vehicle performance off-road.

Price. Most soft-sided RTTs are significantly less expensive than their hard-sided counterparts.
Cons
Difficulty of set-up and break-down (especially break-down!)

Vehicle transport issues: bulky, not aerodynamic, noisy.

When camping, very noisy in windy conditions. Walls are not rigid like most hard-shell models.
Hard-Sided RTTs
Pros
Ease of set-up and take down

Vehicle transport: aerodynamic and generally not as noisy as soft-sides

Less noise experienced by occupants in windy camping conditions and improved overall weather protection due to hard roof, rigid tent walls, and, in some models, insulation

Often come with built-in mattresses so no need to pack and inflate a portable air mattress

Rooftop rack systems for gear storage and transport of bikes, kayaks, fly rods, etc. (often usable even when tents are open)
Cons
Generally not as spacious as their soft-sided counterparts

Heavier than their soft-sided counterparts

Price. Significantly more expensive than soft-sided counterparts
Given some of their noted advantages, it is easy to see why hard-sided "clam shell" RTTs such as those made by iCamper, Eezi Awn, Roofnest, and Alu-Cab Canopy are becoming increasingly popular. However, the soft-sided option still has its merits, especially when price, weight, and space are taken into account. 
The RTT is an exciting category within the space of overland sleeping systems because of the huge demand for this concept and the concomitant innovation. Stay tuned for updates!
Truck Bed-Based "Live-in" Sleeping Systems
If ground tents can be considered entry-level and rooftop tents take your camping experience to a more convenient and comfortable space, then truck bed Live-in camping systems take your lifestyle arrangement to the next level in comfort, amenities, and security. The sleeping systems featured within these units are very similar to those found within hard-sided RTT. Since these particular systems have the foundation of a pickup bed/frame serving as their platform rather than the roof of a vehicle they often feature more space and comfort than an RTT. Here are their pros and cons:
Pros
Lots more room/space than most RTTs

Even better weather protection and insulative qualities

The option of installing a permanent heating system to improve comfort

The option of creating a full "Live-in" system featuring a galley, refrigeration, supplemental power by means of solar and additional batteries along with extensive interior lighting
Cons
Very expensive compared to RTTs. Base price for many of these units is in excess of $10,000.00

Heavier than an RTT 

There can be a loss of space and functionality to the interior cab space but not always

Once installed, these units are difficult to remove, making them suitable for a dedicated overlanding build but not for someone who would like to have use of their conventional truck bed for work, landscaping, etc.
Truck Bed Live-in sleep systems come in a wide variety of styles and configurations. There are several brands to choose from and all offer significantly more in the way of comfort and amenities than a typical rooftop tent. 
Let's begin by looking at designs that have been purpose-built for overlanding. Earlier, we referenced the Alu-Cab rooftop tent; here we see the full Alu-Cab Canopy Camper system, a fully enclosed, hard-sided platform which essentially turns the interior of the pickup bed into a kind of cabin-like environment where one can seek shelter from everything from gnats to gale-force winds.
Here are some key advantages to a truck bed-based sleep system:
These units can be developed into a complete overlanding camp, sleep, and galley system which is self-contained and permanently installed. Such systems are perfect for dedicated overlanding vehicles.

Most of these systems are suitable for adding a heat source of some kind. At X Overland, we have added Webasto heaters to our newest builds featuring Alu-Cab Canopy Campers. Permanently installed heating units like these allow for warm, dry cabs even in harsh winter conditions.

Most of these truck bed systems can be easily set up to include high-capacity water storage and integrated refrigeration units.

Compared to slide-in truck camper systems, these units are relatively lightweight and do not place as much demand upon the vehicle's suspension system. 
In summation, you might consider this class of sleep system to be a crossover/hybrid between a rooftop tent and a full slide-in truck camper. For the overlander, their advantages are many, but they will significantly alter the functional layout of the vehicle. 
Truck Camper Sleep Systems
Moving up from lighter weight, pickup truck-based live-in systems, we arrive at the "truck camper." Originally, this type of camper platform was designed to be inserted into the existing bed of a stock pickup truck; increasingly, users are permanently mounting these units onto aftermarket flatbed platforms such as that offered by PCOR. 
While there are extremely large units available, for overlanding purposes, we need to limit our review to those truck camper platforms that have been purpose-built for overland-style travel and camping with some degree of technical off-road use. 
Popular brands in this category include the Four Wheel Camper, the Nimbl Camper, and the Scout.
Truck Campers: Pros & Cons
Pro
The truck camper is a complete setup that offers–along with a comfortable sleep system–protection from the elements, onboard heat, running water (often including hot water), refrigeration, a power source that includes additional house batteries, a built-in power management system, solar panels, ample lighting, and possibly even a toilet system of some kind. (Truly a cabin on wheels!) 
Cons
Truck Campers are the most expensive option in the class, often significantly so.

Truck Campers are very heavy compared to a live-in system like a GFC (Go Fast Camper) or RTT and often require significant modifications be made to a vehicle's suspension and possibly even the braking system.

Truck Campers create a lot of drag when driving and significantly decrease fuel economy.

Truck Campers are difficult to fit on tighter, more technical trails.
Pop-up vs. Hard-Sided Truck Camper?
Pop-up models, such as the popular Four Wheel Camper, have the advantage of traveling with a lower center of gravity and with more aerodynamics for fuel savings.
The downside is that you need to "pop" them into position upon arriving in camp and they will be prohibited from campgrounds requiring hard-sided campers (such as in a place like Yellowstone Park where there are ample grizzly bears roaming about).
Hard-sided models feature a permanent structure; there is no "take-down" or "set up" required with the exception of lashing down items within the camper before traveling. Hard-sided units are generally better insulated and offer increased protection from the elements along with enhanced security.
The downsides to hard-sided truck campers are that they are very tall and catch a lot of wind while in transit (somewhat like a van). The increased bulk and height also make them more difficult to fit onto a tight and/or heavily wooded trail.
 Truck camper systems are generally very expensive compared to a typical live-in system, but it must be considered that fully outfitting a vehicle featuring a rooftop tent or live-in style system for overlanding can add up quickly once one adds essential components a la carte like refrigeration, heat, water storage, additional batteries and power management systems, and solar. Equipping an overlanding vehicle in this manner can ultimately lead to a very expensive build. 
What is  the Best Overlanding Sleep System?
With all of the options available and with the likelihood of more to come, what will your overlanding sleep system look like? That depends upon what your specific needs and wants are and what you wish your overlanding experience to look like.
If you are interested in a very inexpensive, minimalist approach and wish to overland out of a basically stock vehicle, consider a ground or rooftop tent-based system. 
Moving up from there, you could go to a live-in system like the Alu-Cab Canopy Camper or Go Fast Camper platform.
If you really need or want to have more amenities, consider a well-appointed truck camper as a lifestyle platform. 
There is no wrong answer when it comes to choosing a sleep system; the right answer is always being well-informed and making the choice that's right for you.
Consider what your ideal overlanding experience looks like:
Is it fording the flooded, crocodile-infested waters of the Kimberly River along the Oombulgurri Track in Australia?

Hopping from one established campsite to another along the PanAmerican Highway?

Are you going out only on weekends or on longer trips?

Is this vehicle also your daily driver?
What you're into as an overlander will affect your choice in sleep system and, ultimately, your overlanding approach and lifestyle.
A final thing to consider is that as you evolve and change as an overlander, your sleep system is likely to do the same. You may start out with a simple ground tent. Then decide you are starting to really like overlanding, and move on to a fully equipped live-in system.
At some point, if you have a family or decide you'd like a little more comfort, a truck camper may be just the ticket. 
And don't forget you can always tow along an overlanding trailer to serve as your sleep system. Once arriving at a place you'd like to spend some time exploring, overland trailers offer the advantage of serving as a base camp while you're out in your vehicle hitting the local trails.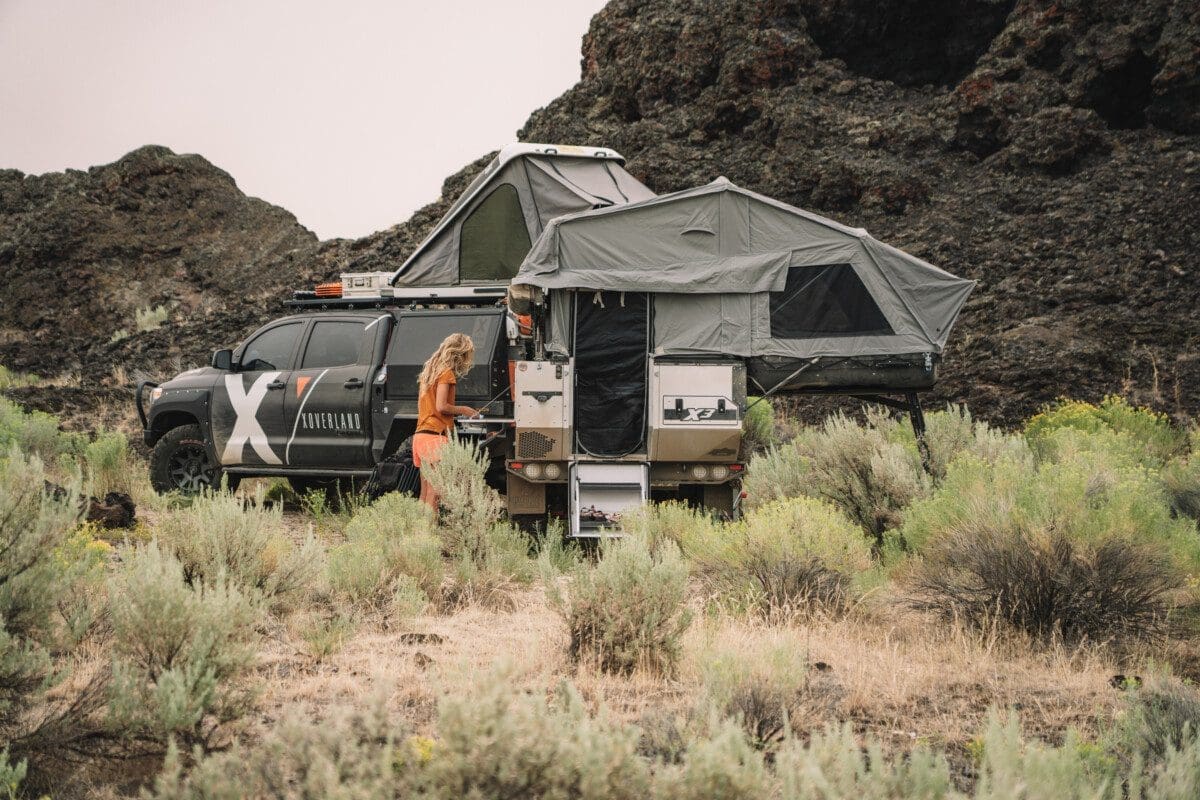 Caption: Yet another option is to tow an overlanding trailer like the Patriot X3 featured here. An overlanding trailer could serve as your only sleep system or as an additional unit for large families.
Like all aspects of your overlanding vehicle build, when it comes to choosing your sleep system, be willing to experiment as you gain experience and figure out which approach is best for you. Sweet dreams!