EP16 | Top Ten Mods for Your Overlanding Vehicle
Episode Description
Buying a vehicle with plans to set it up for overlanding adventure? Already own a vehicle you're ready to start building into an overlanding rig? Whether you're buying new or used, you will gain a lot of useful ideas by hearing Clay and Rachelle's take on the Top Ten Modifications for your overland vehicle.
In this episode of the X Overland Podcast, Clay, Rachelle, and host, Jimmy Lewis, share their opinions on the Top-Ten modifications to equip a vehicle for overland travel. Winch or roof rack? 33" tires or 37s? Roof-mounted lightbar or S.A.E. fog lights? This discussion will provide you with useful answers to these questions and more of the knowledge you need to confidently and effectively modify your overland vehicle with a best-practices approach that is cost-effective and fulfilling.
This episode is brought to you by OnX Offroad!
Use the most trusted off-roading app, onX Offroad, to discover nearby trails, plan and track your trips, and get home safely. Get 20% off your subscription with code 'XOVERLAND' or by clicking here.
Detailed Episode Summary
Part 1 (1:30-7:00) Intro/Differentiation between a "Dedicated Build" and a "Daily Driver": Starting with a Daily-Driver and developing it into a Dedicated Build. The value of having Clay and Rachelle's differing perspectives on the subject of truck building, subjective aspects of a truck build vs. best practices. Theory vs. Practice of truck building.
Part 2 (7:00-11:00) The First and Most Important Elements of a Truck Build: Clay explains first priorities in truck building. What you should do vs. what you want to do when building your truck. Mechanical Reliability as a starting point for truck builds.
Part 3 (11:10-15:50) Pro Shop vs. D.I.Y: When do you take your truck to a pro shop? How do you choose a pro shop to work with for your truck build? How do you best communicate with a pro shop to achieve the best results for your truck build?
Part 4 (16:00-23:50) Selecting the Right Tires for Your Overlanding Vehicle: Mud-Terrain vs. All-Terrain tires for overlanding. General Tire Grabber X3 is a favorite. How an off-road tire is built and differences between mud-terrain and all-terrain tires. How to select the right size tires for your overlanding vehicle. Pros and cons of going to larger tires on your overlanding vehicle. The need to "think-through your vehicle build" and being patient with the process.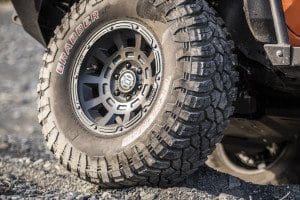 Part 5 (23:50-34:00) Every Modification is a Compromise: Clay, Rachelle, and Jimmy discuss the wisdom in being patient with the build process, the need to think through your build and not getting ahead of yourself. Clay explains the theme of compromise when building an overland vehicle. How some aspects of how you modify your vehicle are subjective to your needs, wants, and style. Also, more on overland tires, their design, usage, plies, and why it is worth it to buy a premium tire.
Part 6 (34:00-42:30) Suspension Mods for Overland Vehicles: Why do you need a better-than-stock suspension system for an overland vehicle? How does a well-tuned overland vehicle suspension system work? Clay explains exactly how a well-built suspension system works and why and how you benefit from such a system. An honest assessment of your suspension needs and matching your system to that. The difference between a shock and a spring and how they work together is discussed and explained.
Part 7 (42:30-50:35) Accessorizing with Bumpers and Roof Racks for Overland Vehicles: After upgrading tires and modifying suspension, Rachelle explains what her next modifications would be and why. Why Clay chooses an air compressor as his next mod but might be persuaded to go with a front bumper. Clay explains front bumpers in detail. What are the differences among them? Why use-case matters when selecting a front bumper, as it does all overland vehicle modifications and accessories. When it comes to building an overland vehicle, what is the difference between a modification and an accessory?
Part 8 (50:35-52:58) The Value of Refrigeration and Roof Racks for Overland Vehicles: The fourth item on the modifications list: For Clay–a refrigerator; for Rachelle–a roof rack.
Part 9 (53:00-57:10) The Winch as a Top-Ten Modification for Overland Vehicles: Clay makes the argument for a winch being a top-ten overland modification. The value of Maxtrax as an accessory. How and why to use Maxtrax and a winch in a combination for vehicle recovery.
Part 10 (57:10-1:02) Organizing Systems for Overland Vehicles and Radios for Overland Vehicles: The value of organization when overlanding and in your overland vehicle. Equipment for organizing your overland vehicle. The difference between a daily-driver, weekender build and a dedicated overland vehicle build.
Part 11 (102:30-End) Auxiliary Lighting for Overlanders: Clay and Rachelle discuss the value of lightbars, examining best placement for lightbars and their overlanding application and use-cases. The meaning of "S.A.E." in auxiliary lighting and the advantages of S.A.E. fog lights. Auxiliary lighting and driving safety and camp safety from "Rock Lights" being used more as scene lighting for camp. Final thoughts on mods and accessories.
Helpful Resources:
Interested in how we built our 2022 Tundra?
Mud-Terrain or All-Terrain? Helpful article from Expedition Portal to help you answer this question.
Wheels and Tires Podcast from Overland Journal (Deep dive with Scott Brady into all-things overlanding wheels and tires.)
Try this Tire Selector from General Tire to help you choose the right tire for your specific vehicle!
Reputable/High-Quality Tire Companies Noted in the Podcast
General Tire
Toyo
Falken
BF Goodrich
Reputable/High-Quality Suspension Systems, Shocks, Springs Noted in the Podcast
ICON Vehicle Dynamics
A.E.V. (American Expedition Vehicles)
OME "Old Man Emu"
Fox Shocks
Bilstein Shocks
Noted Overland Storage Systems
Goose Gear Overland Vehicle Storage Systems
Noted Overland Lighting Systems
If you're enjoying the X Overland Podcast, please subscribe and take a moment to rate and review us!
Sign up for our X Overland newsletter to receive updates on our podcast releases and on everything Expedition Overland!
Listen to our other podcasts
Andy

2023-09-21T14:54:34-06:00

Share This Story, Choose Your Platform!