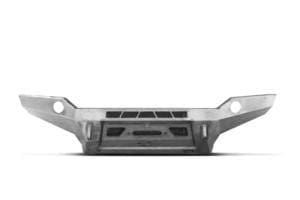 When thinking about building an overlanding vehicle that also doubles as your grocery-getter, soccer-practice-dispatcher, and the in-law's chauffeur, you need a rig that isn't overloaded with constant extra weight. So when building our new X3 Tacoma, we took into consideration the option of the Aluminum Gen 3 Front Bumper from CBI Offroad, rather than steel.
Whether you are operating a stock vehicle or you are upgrading the suspension, the vehicle payload should always be considered. Opting for a lighter bumper allows us to redistribute any additional weight we acquire from the Habitat and expedition gear. On the flip-side, for everyday-use the 42-pound aluminum bumper enables to truck to run without the constant weight a steel bumper can incur. What we are most concerned with is road handling and long-term wear and tear on the vehicle, in which weight is a major contributing factor working against you.
Although a steel bumper may handle greater abuse, the aluminum bumper held it's own while on the Return to the MacKenzie, as we encountered many fallen trees and river crossings. Also in comparison with our previous steel front bumpers, the aluminum bumper still offers the internal mount for 20" single row light bar, factory fog light bracket mounts, shackle points, winch-mounting option, and greatly increased our approach angels.
Written On: December 15, 2016