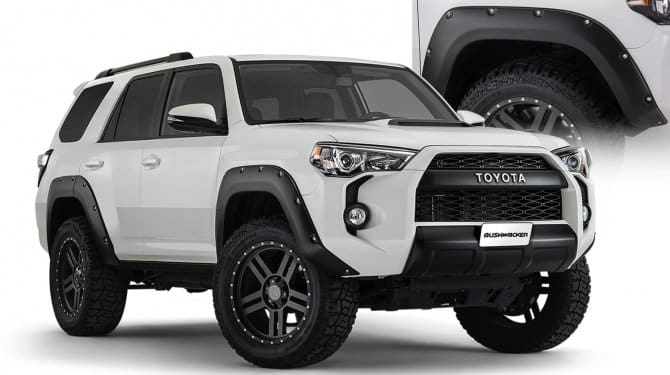 We get more questions about the pre-production Bushwacker Fender Flares for our Toyota 4Runners than any other item on the vehicle, bar-none. Most of that is probably because you couldn't actually buy them—until today that is! Bushwacker has just announced that they're putting fender flares for the 2014-2016 Toyota 4Runner into full-scale production, and that's a good thing.
Offering 1.5-inches of additional tire coverage front and rear, this will 4Runner owners legal in the eyes of the law (in some states) and at a minimum prevent mud from coating the side of their vehicles (we're not sure that's a bad thing).
We tested them on our Central America expedition from Montana to the Darien Gap in Panama without flaw, and it's a product we can stand behind. They're made from UV-protected Dura-Flex 200 material that matches the OE plastic and can be easily painted by most professional body shops. Bushwacker covers their products with a limited lifetime warranty and makes their flares in the good-ol' United States.
Get the full details here: http://www.bushwacker.com/fender-flares/toyota-pocket-style-fender-flare-set-of-4-oe-matte-black-30921-02
Written On: December 7, 2015