At Expedition Overland, we're all about getting out there and having an epic adventure, but we're also about getting home safely. That's why we take our recovery gear seriously. You never know when things will go wrong—so we always error on the side of caution. Factor 55's ProLink and FlatLink winch safety thimble allows us to easily and safely create a closed-system winching operation, allowing us to safely attach a rated screw pin shackle to our synthetic winch line.
It's not widely known that most hooks that come with winches from the factory aren't meant for the applications we use them in. Not only do they have the ability to release or damage the rope if used improperly, they have a failure strength much below that of your recovery straps. The ProLink from Factor 55 is up to five times stronger than the usual winch hook, adding some serious functionality, and a bit of bling to your vehicle.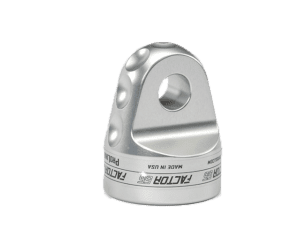 Rated to 16,000 pounds, they're made right here in the United States, and fit all winch cables and ropes up to 3/8" in diameter. Did we mention they'll fix that annoying rattle caused by your winch hook on the front of your truck?
Written On: December 17, 2015