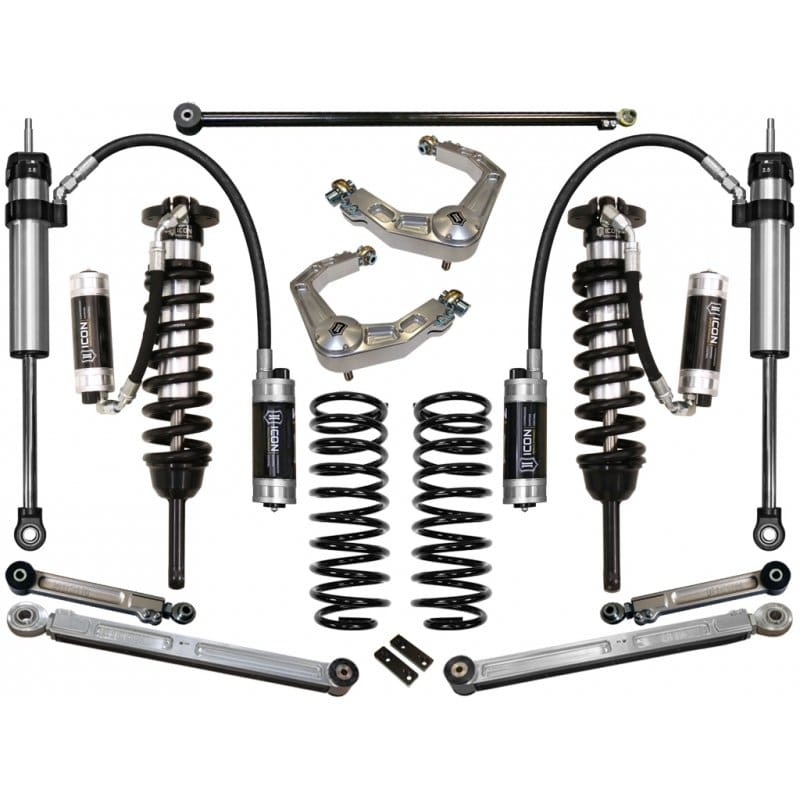 Somewhere on a rugged dirt trail in Baja, we realized how good we had it. It wasn't the fish tacos or the beautiful scenery and people we'd been enjoying that made us come to this revelation. It was, to be honest, a combination of potholes, speed bumps, and Baja's infamous whoops. There was chatter about how bad some of the roads would be: 40 miles of up-and-down whoops that could break anything thrown at it. But here was a group of guys down from Montana just cruising along—with no idea that they'd conquered some of Baja's roughest trails. It was all thanks to our ICON suspension.
We're not saying that the suspension is terrible on a stock Toyota 4Runner, actually we're saying quite the opposite, with a factory setup like we have on the Trail Edition, paired with KDSS that's constantly working to keep the vehicle level, it gives suspension gurus like our friends at ICON a playground of opportunity. We opted to test the limits of what's possible with their best—and most expensive—suspension kit, the venerable stage 7 system.
ICON's Stage 7 doesn't have many competitors on the marketplace, and few take it this far. Not only do you get adjustable, 2-1/2-inch threaded-body coilovers up front with remote reservoirs, you also get absolutely massive 2-1/2-inch remove reservoir shocks to control your load in the rear. Both are equipped with Icon's proprietary CDCV (Compression Dampening Control Valve) that gives you ten stages of on-the-fly adjustment in order to perfectly adjust your suspension to what you need it to be doing at the moment. When we came across a stranded and injured motorcyclist in Belize, you better bet we turned our Stage 7 to full Cadillac.
ICON doesn't just include what might be the best shock package in the business with their Stage 7 Kit, they also take care of upper control arms (ours are billet), and rear upper and lower trailing arms. These lightweight billet components reduce unsprung mass, increasing performance and ride quality, while also optimising the lifted setup for maximum articulation. The upper control arms alone are responsible for an additional 1-inch of droop, and the rear adjustable pan-rod makes sure your axle is properly aligned — no crab-walking 4Runners here!
We have nearly twenty-five thousand miles on EACH of our ICON Stage 7-eqiupped 4Runners, with no complaints what so ever. That's fifty thousand miles of combined testing and we won't even get into our ICON-equipped Tacoma at this time. That's as good of a testimony as any in our book.
Keep in mind that the ICON Stage 7 is an exercise in pushing the limits to see what can be done, so we're not saying that you need a $6,000 race-quality suspension to enjoy your Toyota, but we will say that there's no doubt in our minds that it's worth it. If you're not quite at the stage where you're taking driving lessons from Baja champions, ICON has a plethora of options, all of which are modular and allow you to upgrade as need be—starting with their still high-performance Stage 1 system.
Don't have a Toyota 4Runner? Don't worry, ICON has suspension systems for most major brands. Give them a look here: http://www.iconvehicledynamics.com
Written On: October 31, 2015